You can walk and can handle going up a few stairs.

Maximum of 15 steps (1 floor up) to reach the accommodation or manoeuvre into it.

You can only handle one step at a time.

The accommodation is quite accessible, can suit wheelchair users.

You need a fully accessible accommodation.

Maximum thresholds of 3 cm (1 inch), suits wheelchair users.
Podcast
Podcast: Life as the Father of a Wheelchair User & Founder of Handiscover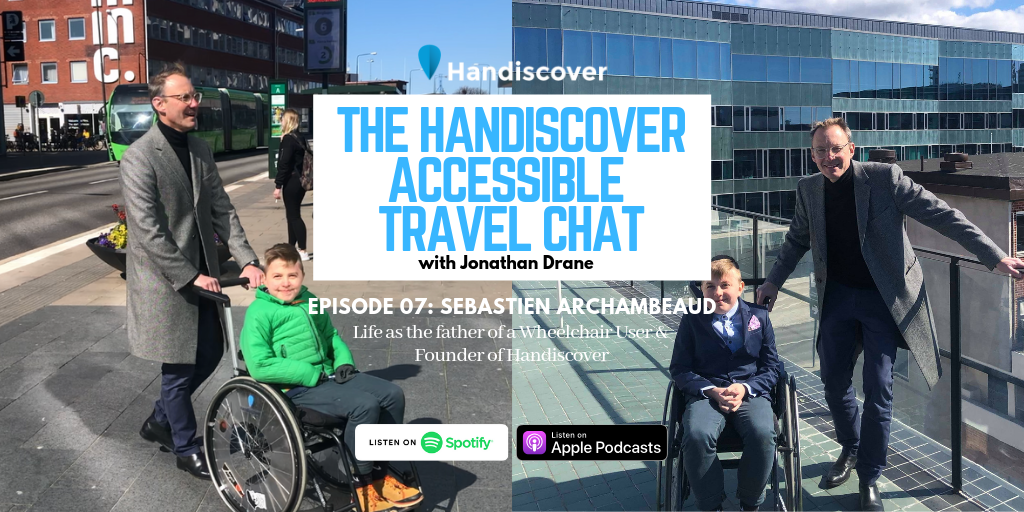 Podcast Episode 07: Sebastien Archambeaud, Life as the Father of a Wheelchair User & Founder of Handiscover
Sebastien Archambeaud, Founder and CEO of Handiscover, is an entrepreneur, surfer, husband and father living in Sweden. Travelling is a huge part of life for Sebastien and his family. They are constantly looking to escape the cold of Northern Europe searching for waves and warmer weather. However, Sebastien's son, Teo, has a muscle disease and requires a wheelchair. Throughout their travels, Sebastien and his family realised how challenging it was for them to find accommodations adapted to their son's needs.
Sebastien started the company Handiscover to address these particular challenges and to help those facing similar difficulties. Now, together with a great crew of supporters, ambassadors and a really strong team; Handiscover's aim is to empower and enable billions of people who have some form of disability, to discover the world.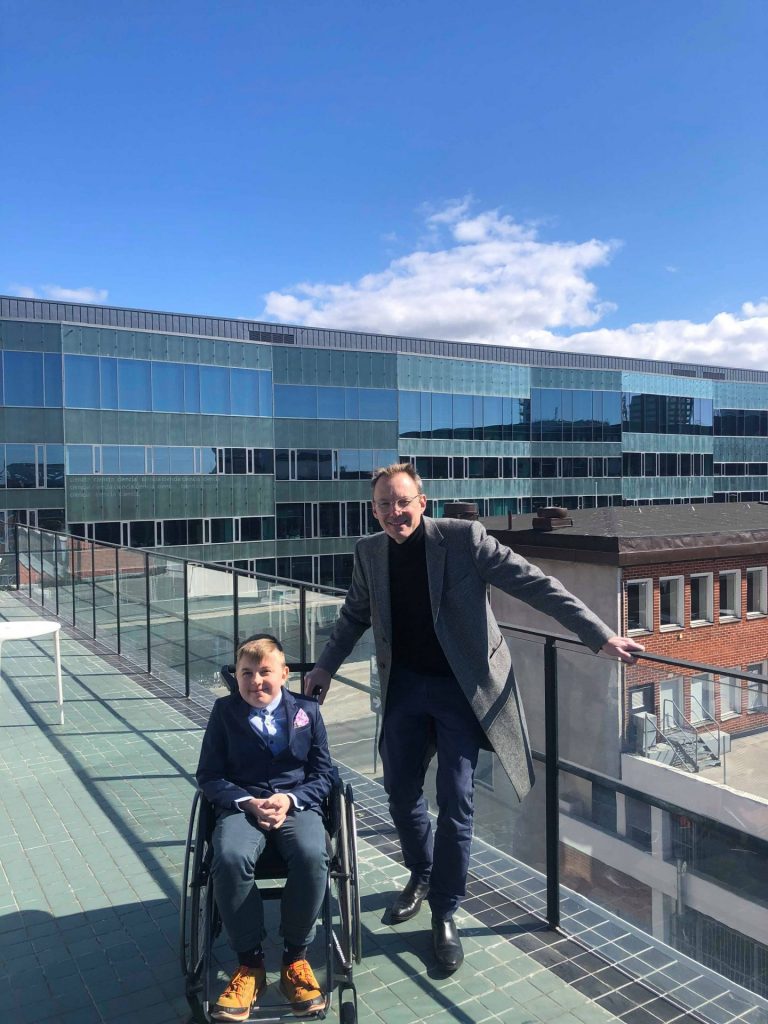 A Dramatic Lifestyle Change
Sebastien's 14-year-old son Teo has Duchenne Muscular Dystrophy, a muscle-wasting disease. They discovered this when he was 4 years old after he was falling regularly and had trouble running. As parents, this was devastating news. The next step for the family was to see what they could do, by meeting doctors and finding the right medicine and treatment for Teo.
Sebastien and his family then realised their lives had dramatically changed and they had to figure out how they were going to move forward. They had been very active and passionate travellers, Sebastien has been surfing his whole life whilst travelling to many destinations. They wanted to continue doing this, however, realised they had to take Teo into account when travelling.
The main challenges they faced, which most of the disabled community face when travelling, was finding appropriate accommodation that suited the needs of their son. They found that it was difficult to find accurate information that they could trust. They also found that people, in general, didn't know what actual accessibility meant.
Handiscover's Mission
With a background in business and tech, Sebastien thought long about how he could use his resources to have a positive impact on the world by helping people with disabilities, including his son, to realise their travel dreams. This is the vision of Handiscover, to facilitate the disabled community to discover the world. By offering validated accessible accommodations which enable their users to travel in peace.
The first step and main focus of Handiscover is the accommodation booking side of the business. The aim of the booking site is to facilitate the disabled community with the ability to choose and book accommodations on Handiscover directly. These can be private, professional hosts and now, hotels. Handiscover uses an algorithm and accessibility questionnaire that hosts must answer which classifies their property accordingly.
Depending on their accessibility needs, users can find accommodations which are classed to suit their requirements and book in a convenient way with a competitive price.
A Love Of Travel
Living in Sweden and being half French and half Swedish, Sebastien likes to spend a lot of time in France visiting family. South Africa also has a special place in Sebastien's heart as they get a lot of opportunities to spend time surfing and enjoying the warm weather.
One destination that Teo, in particular, really loves is the Caribbean. He can spend hours in the water, swimming, snorkelling and boogie boarding. For anyone with a mobility impairment, being in the water brings such a great feeling of freedom. Teo is still able to walk and is quite a good swimmer, discovering fish and other sea life is something Teo really enjoys.
Teo is extremely curious when it comes to food. He likes most seafood, especially oysters. However, he likes to try all types of food, as he doesn't want to miss anything good. On their first trip to the Caribbean, a man who had been diving for sea urchins brought his catch to the beach (for those who don't know, sea urchins are spiny, coral-like sea animals that can be extremely painful when trod on). As soon as Teo saw that the man was eating the urchin, he just had to try it.
The Importance and Challenges Of Travel
Sebastien and his family believe that travelling is important for opening up the mind, discovering new cultures, meeting new people and getting stoked on life. It's easy to get stuck in a complacent, depressive and complaining mood from the daily routine of work and home life. The struggles associated with travel is what makes it so interesting. It is a way of learning about life and discovering who you are as a person.
Teo's mobility is still quite good, so there aren't too many challenges when it comes to travelling for Sebastien and his family. However, it was the process of learning and understanding the nature of accessible travel at the beginning which was the most difficult part.
Ironically, Sebastien has found that it is harder for a wheelchair user to navigate in bigger cities. Where there might be accessible facilities but people in the street are less likely to help. In contrast to smaller, more remote locations, there are less accessible features for wheelchair users. However, strangers are more willing to lend a helping hand.
Sebastien believes strongly in defending Teo's rights. So when it comes to certain situations, for example, when people refuse to vacate the handicap spot on a bus, Sebastien believes that you should remain calm but also be firm and not let anyone question what you are entitled to.
Inspiring The Disabled Community
Realisations whilst travelling, for example, learning of the wheelchair access to The Louvre from the parking below, led to Sebastien's idea of the second branch of Handiscover. The Inspiration and Travel site offers hundreds of travel blogs and guides which include information regarding the accessibility of different locations around the world. Sebastien hopes to inspire readers to get out there and discover the world with peace of mind.
There are two aspects of life that Sebastien is most proud of. As the Founder of Handiscover, Sebastien is most proud of enabling people with accessibility requirements to feel comfortable when discovering the world.
As a father, he is most proud of his kids Teo and daughter Elise. Elise who has had to cope with the challenges and difficulties that come with a family member requiring a wheelchair. Also, Teo who has been so courageous by not letting life take its toll on him psychologically.
One positive that Sebastien takes away from his son's disability is that Teo gains an important perspective on life. He is able to see what challenges he can overcome which, in turn, inspires others.
Search where you want to go below and use our code Travel30 to get 30 GBP off your first booking with Handiscover!
To keep reading become a member.
Already a member? Login
Over 400 pieces of exclusive content
Tips and advice on Accessible Travel