Edinburgh accessible travel guide to disabled friendly holidays
Scotland's capital is a city in which the past meets the present. With a variety of attractions, everyone will find something to do. Most of the attractions and transportation in Edinburgh are handicap accessible. This makes the Edinburgh experience open to almost everyone.
Things to do
Edinburgh Castle
A famous icon of Scotland, the Edinburgh castle is a must see when visiting. With parts dating back to the 13th century, it is a journey back in time. The castle also houses the National War Museum of Scotland.
Royal Botanical Gardens
The Royal Botanical Gardens offer over 70 acres of beautifully landscaped scenery. The Gardens are home to plants from all corners of the world. Visiting the gardens are the perfect way to add a little tranquility during your trip to the city.
Edinburgh Bus Tours
Want to relax while discovering more attractions in Edinburgh? Edinburgh Bus Tours offer a variety of tours to help you learn more about the city. These tours can be helpful in learning about the history of this beautiful city.
Accessible Holiday Rentals Edinburgh
Handiscover will help you make all the necessary arrangements to find accommodation to suit your situation. Our website offers three accessibility options to choose from.
You can walk and can handle going up a few stairs
You can only handle one step at a time
You need fully accessible accommodations
What you need to do is select your option and a list of accommodations appears that offer what you require. Select from the list and have an easy and relaxing stay away from home. Here is one beautiful and fully accessible hotel shown on our website. If you want more choices, just contact us via e-mail: booking@handiscover.com or on the phone: +44 1550 400022 (UK). Handiscover always provides you with unique designed personal service. Click on the following pictures to see more detail information about accessibility inside and outside of the property!!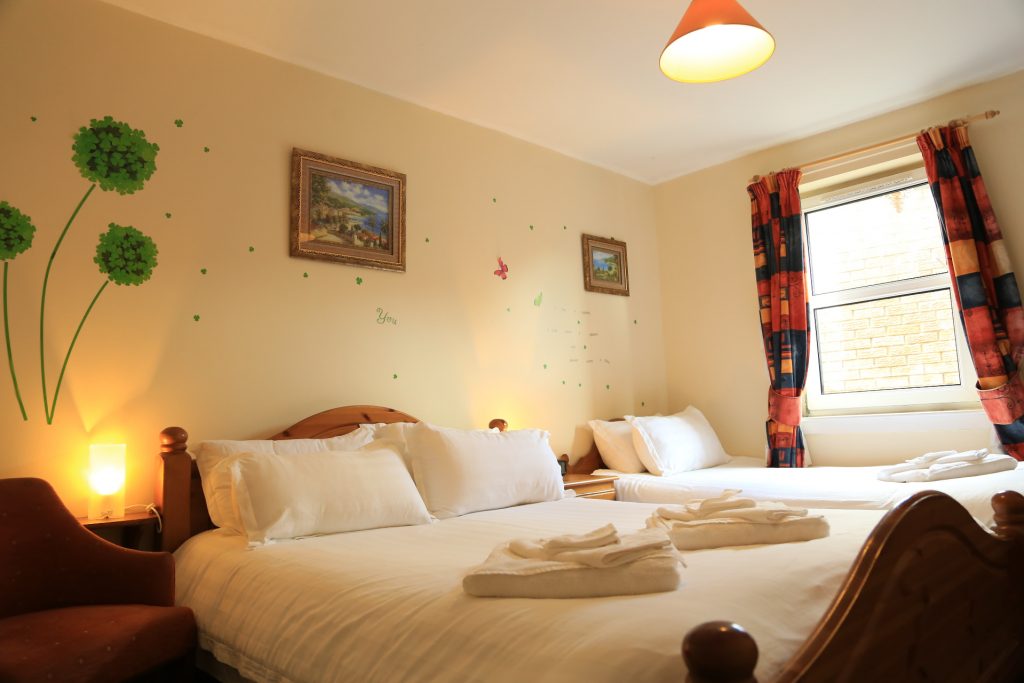 A truly warm Scottish welcome awaits you on arrival. This is a family room for three people, with either a single and double bed or double bed and sofa bed. It also offers disabled facilities such as the bathroom with roll-In shower with chair and toilet with one or two grab rails. Book your holiday in this family-executive-en suite with disabled access. When you book it, also remember to use our £25 discount coupon for your first booking!!
Transportation
From buses to trams to taxis, Edinburgh offers plethora ways to help you get around. Buses are active 24 hours a day, so you can plan your visit- day and night. All trams are wheelchair accessible, as ramps and lifts are located along every route. Convenient parking is available for attractions near the city center. Various options are available to those who want help planning their visit.