Brussels accessible travel guide to disabled friendly holidays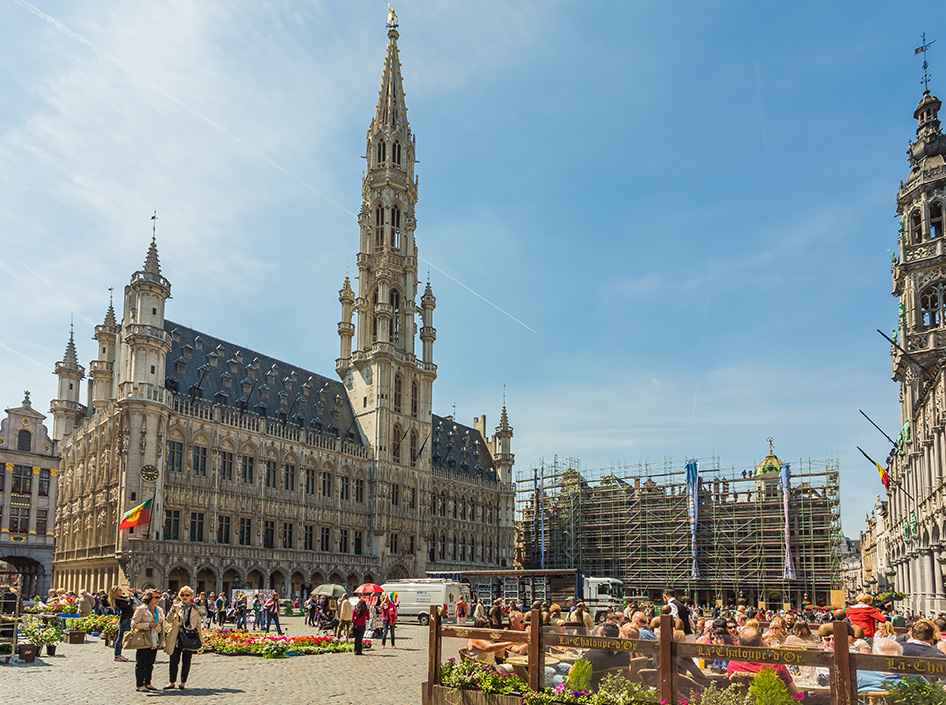 Belgium's alluring capital and the administrative capital of the EU is a fascinating place with stunning architecture and fascinating history.
Brussels is not just beer, chips, waffles and chocolate; although they are delicious. It is also a romantic city with tons of unique attractions from museums and monuments to parks and points of interest.
Disabled Friendly Activities in Brussels
Whether you want to enjoy refined and grand architecture on your next disabled holidays or simply sample the many delicious and rich chocolates handcrafted for a sublime taste experience, Brussels has it all!
Grand Place
Address:1000 Brussels, Belgium
Website: http://www.brussel.be/artdet.cfm/5757
The Grand Place is one of the world's most beautiful squares; with its baroque and gothic guild houses, is listed as a UNESCO World Heritage site.
It is a great place to enjoy a cup of coffee at one of the many terrace cafes. Every two years, during the third week of August you can admire the beautiful flower carpet made using around 750,000 begonias
MiniEurope
Address:Bruparck, B-1020 Brussels, (Laken)
Website: http://www.minieurope.com/
Mini Europe is part of the entertainment park called Brupark together with an amusement park, Océade Water Park, and the Atomium.
The park is home to about 350 monuments from across Europe. Observe the landmarks that characterize each European country; some of them are interactive and feature moving elements.
Also, discover miniature models that bring the streets of London, canals of Venice and Athens' Acropolis to life. You can also admire the Eifel Tower, Big Ben and the Bell Tower of Bruges. Furthermore, the animations present here to make the Vesuvius erupt, demolish the Berlin Wall and many more.
Chocolate Museum
Address: Rue de la Tête d'or 9, 1000 Bruxelles, Belgium
Website: http://choco-story-brussels.be/
You cannot come to Belgium without trying the chocolate. One of Brussels' gems is its chocolate. Discover chocolate's amazing journey from cocoa beans to the finished product.
Observe a demonstration by a master chocolatier and watch the chocolate go from liquid to hard shell. Smell the pungent aroma of melted chocolate and eat as much chocolate as you can on speculoos cookies. In addition, there are two floors that offer visitors a journey through the history of cocoa
Accessible Accommodations in Brussels
You will find many accessible accommodations that are wheelchair accessible in the beautiful European Union capital of accessible holiday rentals Brussels, Belgium.
Many hotels, cottages and apartments are outfitted with ramps and/or elevators, which makes getting around a breeze in these holiday rentals.
In addition, the wheelchair friendly rooms have roll-in showers, lowered counters, hoists, step-free access as well as accessibility equipment for the deaf or blind
Start by selecting the level of accessibility you require. Then, choose from the list of accessible accommodations. We have already prepared for you!!
Want to get away from the busy hotels and apartments in the city centre? There are quite a few beautiful and spacious cottages in and around Brussels that seem to have that little extra something. Here are some great examples!
Adorable Apartment:
1 Bathroom; 2 Bedrooms; 4 Guests; From 54 GBP Per Night

Greatly Decorated Hotel:
2 Bathrooms; 3 Bedrooms; 6 Guests; From 172 GBP Per Night

Furthermore, you can enjoy staying in one the many apartments or hotels that abound in this classic European city There is a large variety of vacation rentals that are perfect for your next disabled holidays, no matter how large or small your party. You'll love vacation rentals in the accessible Brussels.
Getting Around Brussels With A Disability-Accessible Transportation
It is easy to book a special taxi for those requiring wheelchair accessibility or who have another type of disability.
The public transit service makes every effort to make their network available to those with reduced mobility.
There is also plenty of parking reserved for those with disabilities so being able to enjoy the city centre's gracious plazas will be without difficulty.
Other Accessible Information About Brussels
Other Wonderful Destinations and Beaches in Europe!!