Marseille accessible travel guide to disabled friendly holidays
For a great holiday in Marseille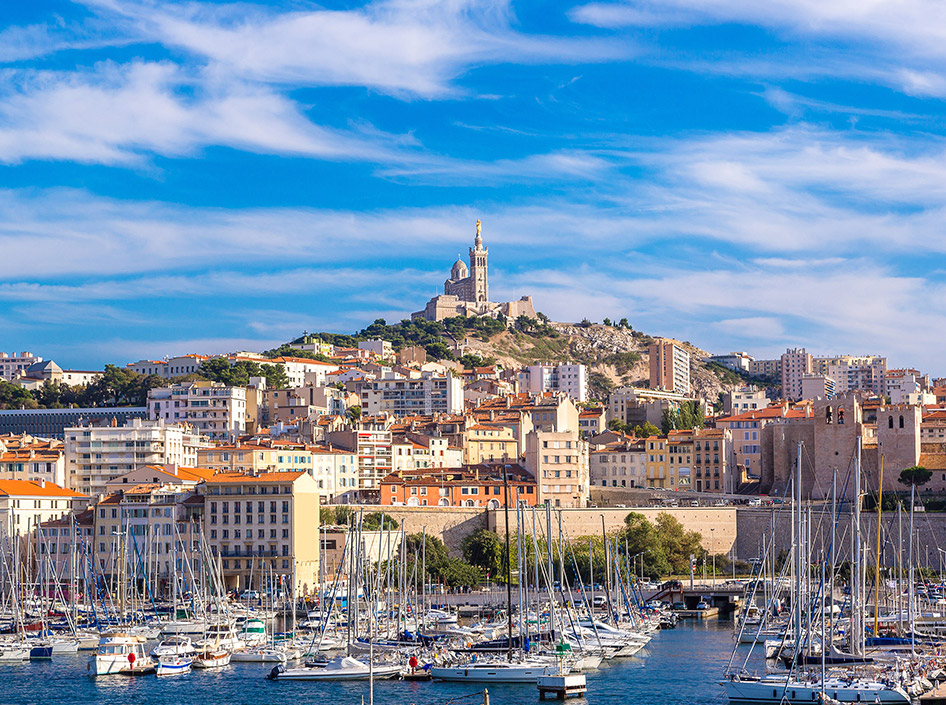 This popular port city offers a wide range of culinary delights due to the diverse culture and history. Experience vibrant marketplaces, areas of amazing natural beauty and dozens of historical sites all in one grand city for your holidays.
Enjoy all this city has to offer in stress-free comfort when you book an Accessible Marseille Holiday Rentals with Handiscover!
Things to Do in Marseille
Notre-Dame de la Garde

Address: Rue Fort du Sanctuaire, 13281 Marseille, France
Website:http://www.marvellous-provence.com/marseille/what-to-see/notre-dame-de-la-garde
Constructed on the highest point in the city, this magnificent church can be seen from many points in the town. Tour this symbol of Marseille to see the exotic Byzantine interior, learn more of its fascinating history and vibrant artwork.
Recently, the basilica added a lift which serves all floors and makes it possible for wheelchairs user, those with a disability and travellers with small children or strollers to access more of the church comfortably.
Musée d'Histoire de Marseille
Address: Centre Bourse, 2 Rue Henri Barbusse, 13001 Marseille, France
Website: https://translate.google.com/translate?hl=en&sl=fr&u=http://www.musee-histoire-marseille-voie-historique.fr/&prev=search
Discover more than 2,600 years of France's oldest at this museum which includes a hundred interactive displays. The entire exhibit is disabled accessible along with some signs in braille for the visually impaired.
Museum of European and Mediterranean Civilisations
Address: 7 Prom. Robert Laffont, 13002 Marseille, France
Website: http://www.mucem.org/en/contenu/museum-mediterranean
Breathtaking views and stunning artwork await you at this recently constructed museum which includes the much older Fort Saint-Jean. Permanent collections include pieces that demonstrate both European and Mediterranean culture and civilization.
The museum is committed to providing accessibility for all visitors including the physically disabled, wheelchair users and those with a mental, visual, or hearing disability. Their recommended, wheelchair friendly entrance is called J4.
This entrance along with the exhibits, auditorium, and information desks are accessible. However, some areas of the Garden of Migration and the Fort Saint-Jean have limited access. Learn more about all that they are doing to make every visitors' experience more enjoyable.
Accessible Accommodations Marseille
From posh apartments and hotels to cosy cottages and vacation rentals, Handiscover has a place to suit all your needs. Simply, choose the level of access you require from out list then pick from the selections that meet your criteria.
Our apartments, hotels and other rental types come with guaranteed features like step-free entrances, hoists, wheel in shower, handrails and more.
We have accommodation types to suit all levels of ability and travelling group sizes for your holidays. Here are three great examples from our website.
Click on the pictures to see more detail information about accessibility inside and outside of the property!!
For more options and personal support, you can contact us via e-mail: booking@handiscover.com or on the phone: +44 1550 400022 (UK).
How to Get Around Marseille
Bus, train, and underground metro all service Marseille. The trams are newly built and the most disabled-friendly while the buses are a bit more of a gamble. The Batobus boat shuttles are all wheelchair friendly and are a better option than the buses for those who need access.
Other Useful Accessible Travel information about Marseille
Other wonderful travel destinations in France!