Disability representation on social media is both active and educational. People are sharing their daily lives and using their reach to help create a community, as well as educate others on what it means to be disabled in the modern day. These influencers share the details of their lives, from how they live a day in their life to speaking engagements, acting, outdoor sports, and raising a family. These 10 influencers with disabilities are 10 that you should be following, as their content is informative, educational, real, and honest –
1: Sassy Wyatt
(Instagram: @sassywyattofficial, YouTube: Thinking Out Loud Sassy Style)
Sassy Wyatt is a blogger, speaker, Youtuber, and she "challenges stereotypes through education and humour: empowering others to be more disability confident." Sassy has progressive blindness that began at age 14, which has led to complete blindness. Sassy uses the platforms of Instagram and YouTube to offer honest and real insight into her life. With the goal of empowering disability confidence, Sassy highlights her daily life as well as traveling solo, and discusses topics such as mental health, social justice, and accessibility. Both Sassy's Instagram posts and YouTube videos discuss real topics that affect disabled individuals, especially those with blindness, highlighting how blind people navigate daily tasks as well as how access and ableism affect daily life.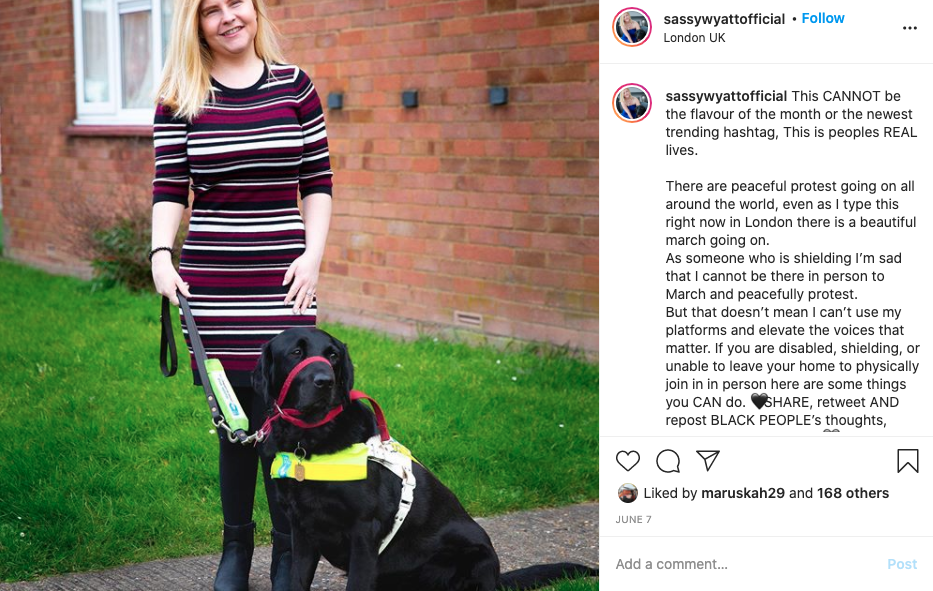 2: Alex Dacy
(Instagram: @wheelchair_rapunzel, Podcast: Big Disabled Energy)
Alex Dacy is a business owner, podcaster, and blogger that discusses body positivity, self-love, and empowerment. Through conversations on her podcast and documenting her experience on Instagram, Alex provides an honest look into how she lives her life. Alex is honest about her daily life and her posts explore the real situations she faces, including online criticism, mental health, body image, and living her life on her own terms. Her content is very real and she has honest, open discussions about what she experiences. Alex has spinal muscular atrophy and uses a power wheelchair. Her business, Wheelchair Rapunzel, provides creative, body positive clothing celebrating disabled bodies, inclusiveness, and kindness.
3: Brandon Farbstein
(Instagram: @farbstein, Book: Ten Feet Tall)
Brandon Farbstein is an activist and author who uses public speaking as well as Instagram to highlight the power of positivity and empathy. Brandon has a rare form of dwarfism that was diagnosed at age 2. Now at age 19, Brandon is 3 feet 9 inches tall and shares his story with the world. He was bullied as a child and when he turned his focus to empowering himself and using his experience to power change, he found that he could reach a large audience and bring people together. Brandon's Instagram offers motivational essays that support and empower the reader in addition to sharing his personal story.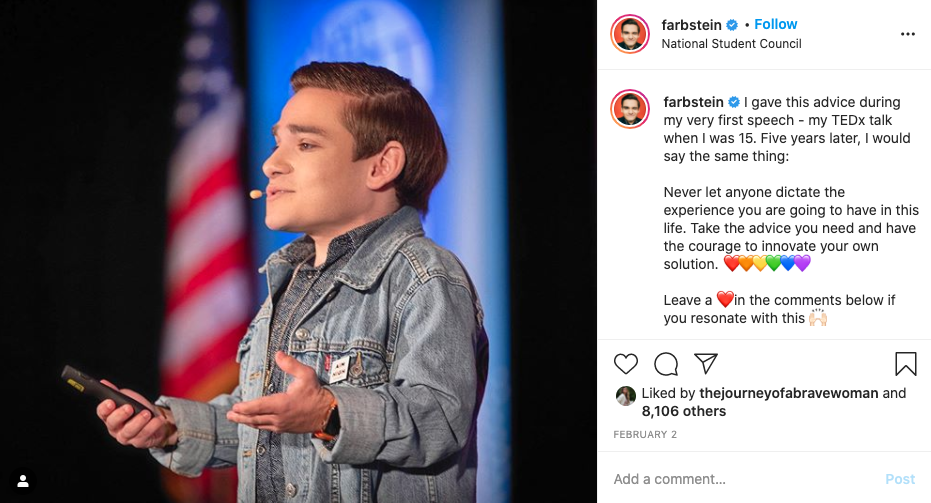 4: Stacey Valle
(Instagram: @deafinitelywanderlust, Blog: Deafinitely Wanderlust)
Stacey Valle is a U.S. born first generation deaf Mexican who "shares stories to challenge your perspectives about Deaf travel & Deaf communities." She primarily shares her experience on Instagram with photos of her travels and captions that highlight the challenges she faces as a deaf Latina. Stacey's blog, Deafinitely Wanderlust, is a travel blog highlighting the stories of deaf travellers. The blog aims to provide a space to discuss accessible travel as well as accessible and relatable content for deaf travellers. Her YouTube channel provides a range of travel experiences and highlights meeting deaf people around the world with some videos offering practical tips for traveling locally and abroad.
5: Erik Weihenmayer
(Instagram: @erikweihenmayer)
Erik Weihenmayer is an outdoor adventurer and enthusiast who has climbed the 7 summits and kayaked the Grand Canyon. Erik is completely blind and is the co-founder of No Barriers USA, an online community that provides access to events and classes highlighting how to overcome barriers and find inspiration. Erik is most known for being the first person without sight to reach the summit of Mount Everest. His Instagram provides a window into his adventures, giving descriptions of his climbs as well as his friends. Some of his posts are updates discussing his latest adventure, while others highlight other inspirational outdoor enthusiasts.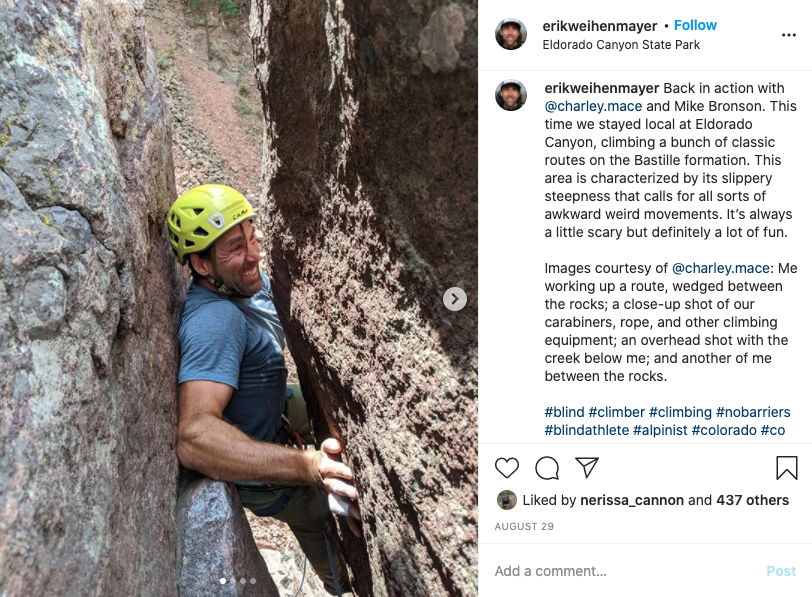 6: Cole and Charisma
(Instagram: @roll.with.cole, YouTube: Roll With Cole & Charisma)
Cole and Charisma are an interabled couple that share lifestyle content on both Instagram and YouTube. Cole is a C5-C6 quadriplegic. Their Instagram is a space where they share their experiences and how they live their lives, highlighting SCI and their unique perspectives. Their YouTube channel provides content that answers questions about Cole's condition, but also life updates such as buying a house, getting married, and home organisation. Their balance of lifestyle content helps educate their community about their approach to living as an interabled couple.
7: Ali Stroker
(Instagram: @alistroker)
Ali Stroker is a Tony award winning actress, as well as an advocate and role model. Seeing her on Instagram gives a look inside her life off the stage, as she shares her upcoming projects, like new roles on television, and pieces of her daily life such as kayaking, audiobook recording, and clips of interviews or print pieces. Ali shares a range of work and personal life posts, showcasing her reach as well as how she represents those that use a wheelchair. She also uses her platform to advocate for social justice, representation, and how she's working to represent wheelchair users in entertainment through the roles she takes in television, film, and the stage.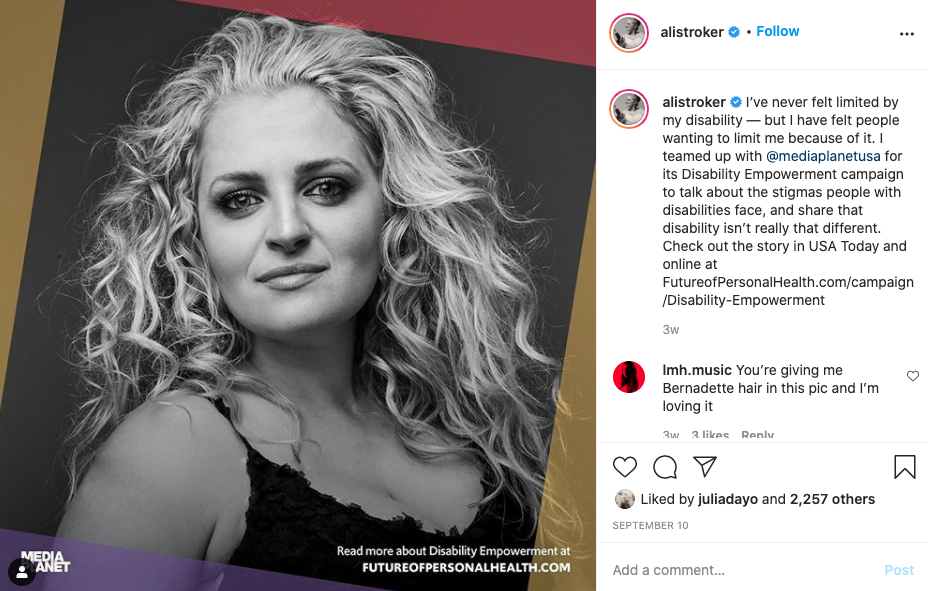 8: TaLisha Muzaya
(Instagram: @misstalisha, YouTube: Rolling Through Life with TaLisha)
TaLisha Muzaya is an author, mother, wife, and YouTuber who shares her life on Instagram and YouTube. TaLisha has CMD and uses a power wheelchair. Her series of children's books called Rolling Through Life with Mommy, center around her children as well as herself, talking about topics such as Christmas, a beauty pageant, COVID-19, and Black Lives Matter. Her Instagram is primarily focused on her family, with her YouTube channel, Rolling Through Life with TaLisha, showing day in the life style videos to show what a typical day looks like for her and her family.
9: Carrie-Ann Lightley
(Instagram: @carrieannlightleyblog, Website: Carrieannlightley.com)
Carrie-Ann Lightley is a disabled blogger with a specialty in accessible travel guides, reviews, and tips. Her Instagram is full of travel action shots, showcasing the places Carrie-Ann visits and how she lives her travel life as someone with Cerebral Palsy that uses a wheelchair. She also provides some insight into her home life, as someone who works a lot in addition to traveling. Her blog and website, carrieannlightley.com, has a range of posts, both on accessible travel as well as accessible lifestyle information. Carrie-Ann wants to show everyone that there is nothing she can't do and by sharing how she travels, others can explore as well.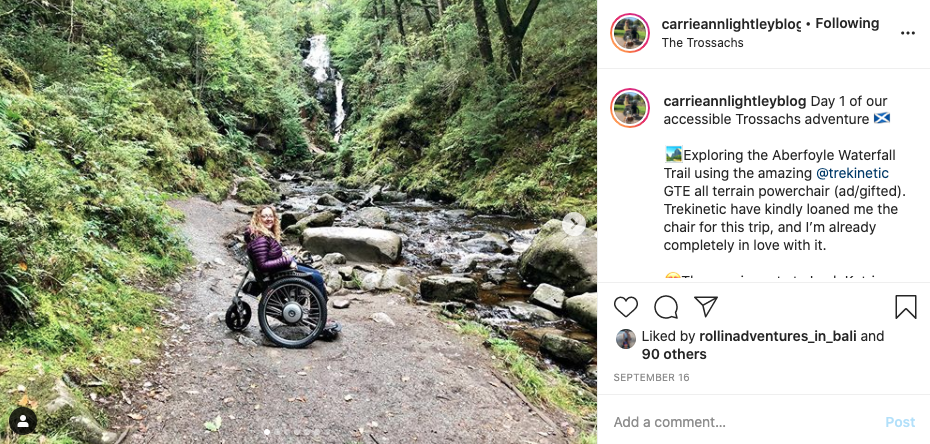 10: Julian Gavino
(Instagram: @thedisabledhippie)
Julian Gavino is an activist, writer, and model who uses Instagram photos and essays to talk about life with Ehlers Danlos Syndrome, as well as his experience as a trans person. Through social media, Julian shares his daily life, from time at home to working as a model and is honest about his experiences. Posts on his page include discussions about healthcare, chronic pain, body positivity, accessibility, and activism. Many photos center on Julian's self expression and fashion, dating, and transitioning, with many photos including Julian's wheelchair or other mobility devices.
All 10 of these influencers with disabilities are people you should be following, as they all offer unique and individual insight into life with a disability. From traveling to daily life, these accounts provide honest and real content that highlights the difficulties many face in terms of accessibility, representation, and body positivity. In addition to sharing their lives, they also offer tips, advice, community, and products like body positive clothing and educational children's books that highlight disability awareness, support, and education.
About the Author:
Cory Lee is a wheelchair user, travel addict, and accessible travel writer. On his blog, Curb Free with Cory Lee, he hopes to inspire others to roll out of their comfort zones and see all the beauty our world has to offer.