You can walk and can handle going up a few stairs.

Maximum of 15 steps (1 floor up) to reach the accommodation or manoeuvre into it.

You can only handle one step at a time.

The accommodation is quite accessible, can suit wheelchair users.

You need a fully accessible accommodation.

Maximum thresholds of 3 cm (1 inch), suits wheelchair users.
Podcast
Travelling as a Parent of a Child with a Disability | Access All Areas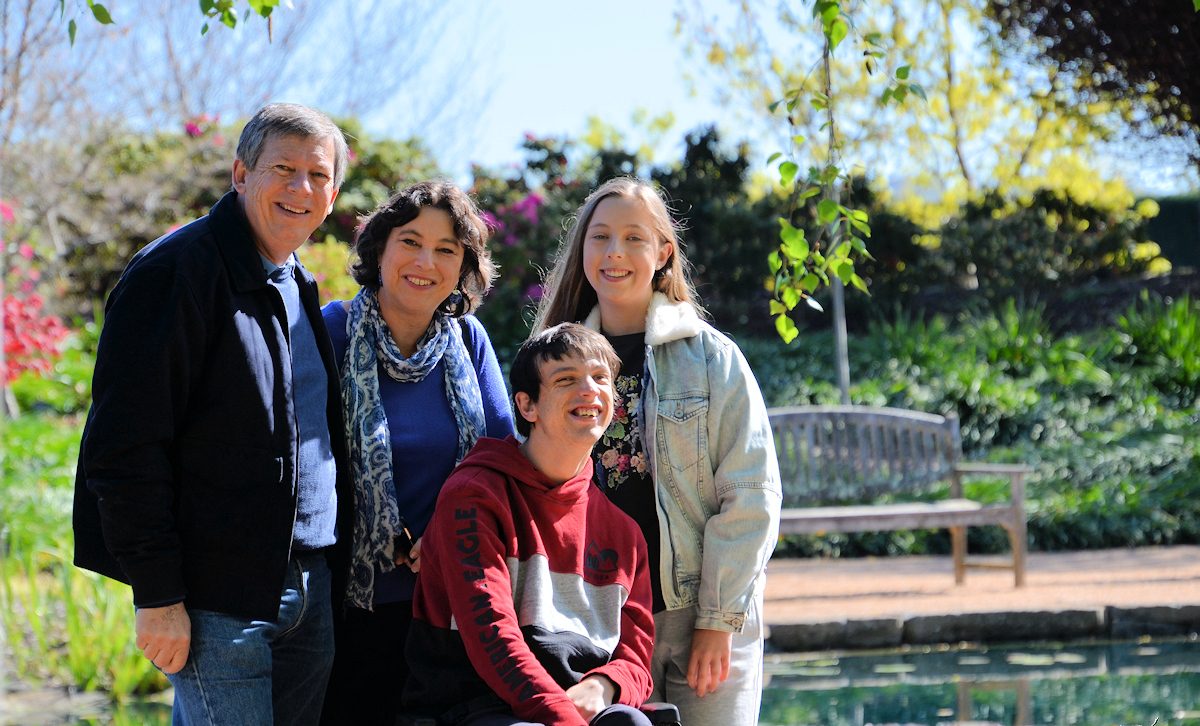 Our Content Manager, Cory Lee, spoke to accessible travel blogger Julie Jones of 'Travel Without Limits' magazine and 'Have Wheelchair Will Travel' a wheelchair accessible travel blog based in Australia covering worldwide destinations. As a parent of a child with a disability, Julie spoke about her family's incredible travels around the world.
You can watch the full video below and previous discussions on our Facebook page and YouTube channel. Follow us on Facebook for new episodes every two weeks.
Read the transcript of Cory's discussion with Julie about being a parent of a child with a disability below.
Cory: Your blog is one of the first accessible travel blogs that I stumbled upon when I started my own blogging journey, it's been a huge inspiration for me and I've loved following your travels across Australia and around the world. Can you tell us a bit about being a parent of a child with a disability and about your blog 'Have Wheelchair Will Travel'?
Julie: I enjoyed a career in the travel industry before my son was born and after he was born we eventually realised that he had Cerebral Palsy. After that, we thought that our lives would be mostly involved in therapy and that we would really miss travelling. We'd always imagined that we'd travel the world with our children and we didn't want a wheelchair to hold us back. So we started making tentative steps. We did a cruise, which seemed like an easy first step. We did lots of local travel.
In 2011, we actually won a trip to Disneyland. That was probably the most liberating feeling because, after that trip, we saw what that meant to the children. How it bonded my son, Braeden, with his sister, and learnt that we all enjoy the same things. Travelling with a wheelchair required more planning and research, but it was all possible. Having a travel background, I'd really researched every tiny detail. So it was a very smooth trip for us. But it didn't seem like that was enough.
So that's where we started the blog. We decided to keep it quite impersonal, because I felt like people just wanted the travel information and that they didn't care about the people behind the blog. But over time, we built a real community and we found that people wanted to know us and part of knowing us was gaining their trust that the information we provided was going to help them. Now we have some of our readers contact us and say 'if he can do it, we can do it.' It not only gives the adults confidence to travel but the kids as well.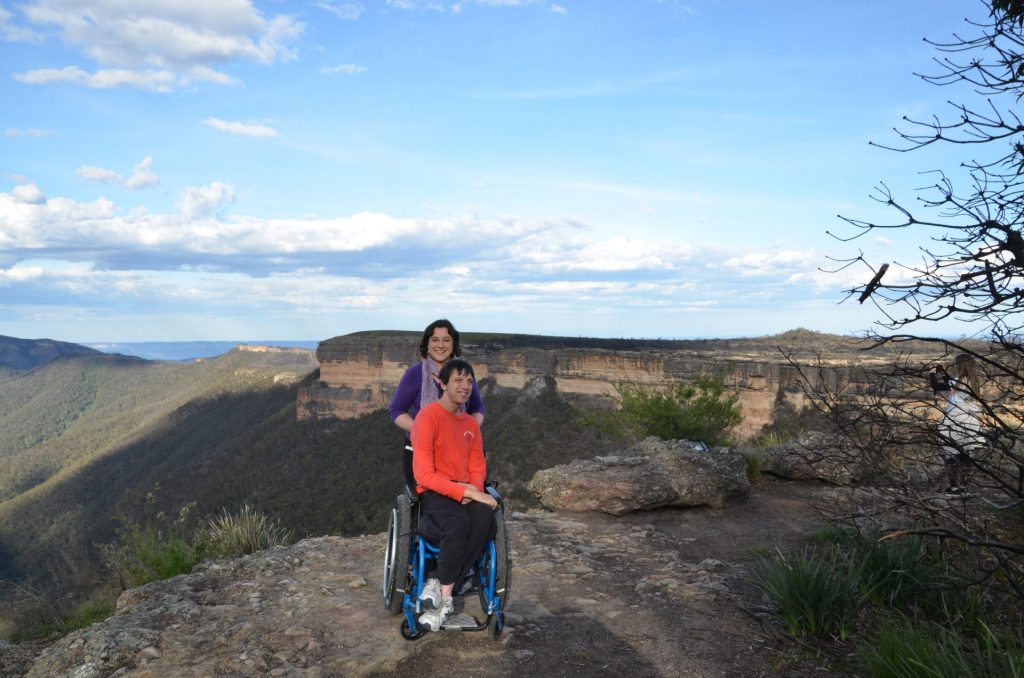 Cory: What were your travels, like before having kids and what adventures were you able to go on before having kids? How did that process change once you had a child with a disability?
Julie: My love of travel came from my mum and dad. They took me travelling to Europe for six months when I was nine years of age. This was was at a time when people weren't really leaving their jobs and becoming nomadic travellers. Travelling all around Europe, in Egypt and Scandinavia and all those countries really cemented my love for travel which always made me want to do the same with my kids. By working in the travel industry, I was very privileged as we had access to very cheap airfares or free trips, which was fantastic. So my husband and I would fly to Europe for three weeks and we would just grab a car and we would just stop here, there and everywhere on a whim. It was all very fast-paced.
I think one of the advantages of having Braeden in our life has forced us to slow down. I certainly appreciate everything so much more and I don't take travel for granted, I realise that this is a privilege. After COVID, I think more people will understand that travel really is a privilege. If you've had something taken away from you or are unsure about how you'll do it, which is how I felt when Braeden was born, really makes you appreciate every moment of travelling. We definitely travel slower, we research a lot more, we still try and have spontaneity in our travels. But we definitely find planning and research makes smoother travels.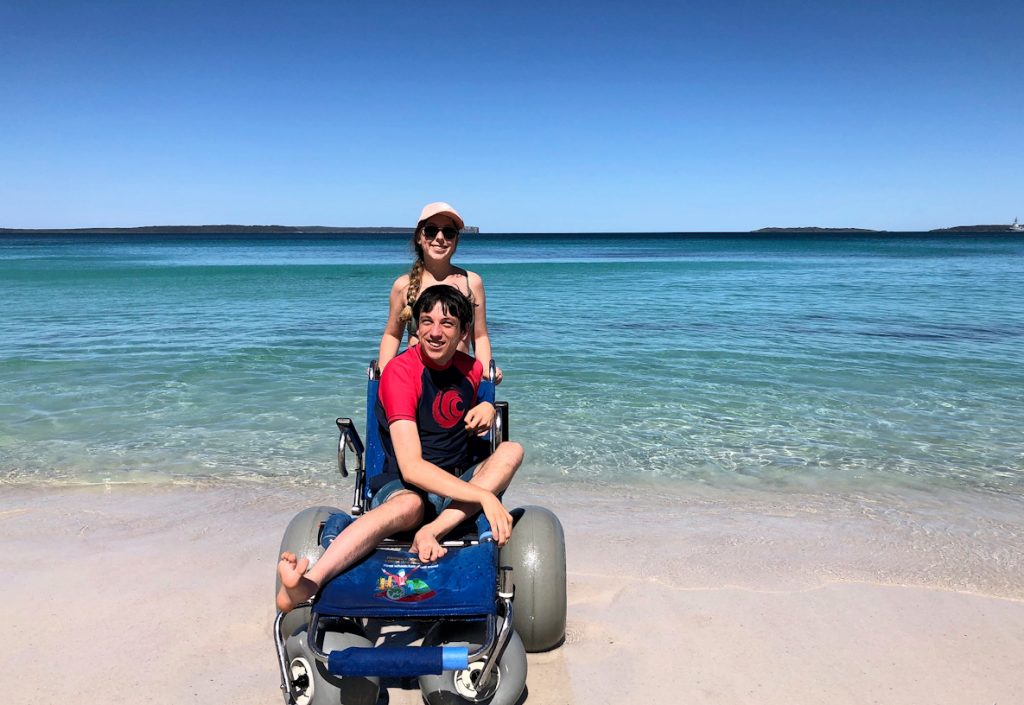 Cory: I would love to talk more about your son's disability. When your son was diagnosed with cerebral palsy, what was that like for you and your husband? How did you eventually get to the point where you accepted it and decided to show him as much of the world as possible? I mean, you guys look like rock star parents now.
Julie: We had a period where we weren't sure whether he had a disability or not. Then when he finally got the diagnosis, I just really wanted to get on top of everything. I became a bit of a woman possessed. I was just so eager to get him into therapy. We had fun doing the early intervention because that's what all the research says is so important. Then one day, a therapist said to me, you know, it's actually okay to have a holiday to take a break from therapy because often kids learn to consolidate all the things they've been learning if they get a break from it.
So, when we would go on holidays, Brandon had to go into a standing frame every day for about an hour to make sure that he was bearing weight. We would just dig a hole in the sand and he would play with his sand toys while he was standing up in the sand. So that was the way we take therapy on the road with us, but we'd still have a holiday, which was a good compromise.
But it did take us a while to have the confidence to travel, firstly, due to the guilt of not doing therapy, and secondly, just wondering how we were going to fly with a wheelchair. I think the world has evolved quite a lot, Braeden is 25 now. When we go to check-in, I don't have to explain everything that we need. Now we find that the airlines tend to know. It's always good to double-check, but back in the early days, we had to explain to airport personnel where to stick the baggage tag on his wheelchair, and that we needed his wheelchair right at the door of the aeroplane. So it's some there's been positive changes, that's for sure.
Listen to the rest of Cory's interview with Julie about being a parent of a child with a disability here…
Check out our other blog posts about accessibility:
To keep reading become a member.
Already a member? Login
Over 400 pieces of exclusive content
Tips and advice on Accessible Travel