You can walk and can handle going up a few stairs.

Maximum of 15 steps (1 floor up) to reach the accommodation or manoeuvre into it.

You can only handle one step at a time.

The accommodation is quite accessible, can suit wheelchair users.

You need a fully accessible accommodation.

Maximum thresholds of 3 cm (1 inch), suits wheelchair users.
The Urban Experience
Accessible Winter Activities in Europe | Handiscover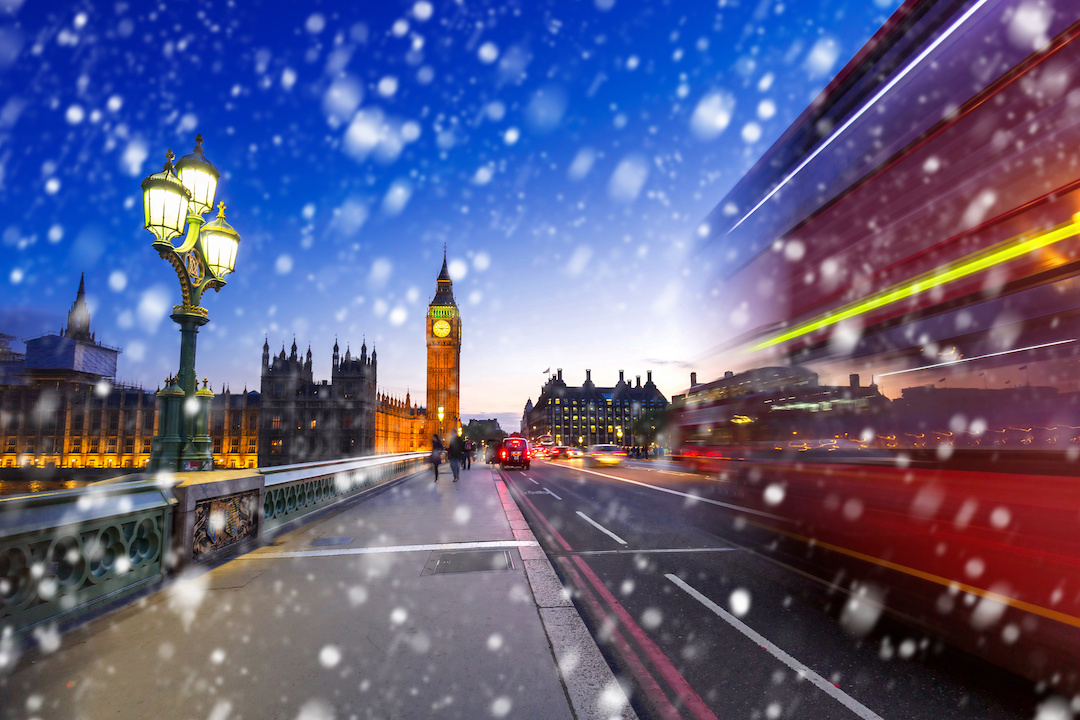 Fun and accessible winter activities in Europe
Winter is a great time for travelling in Europe. Not only is it less crowded, but you don't have to stretch your budget to have an amazing time. Here are our tips on accessible and disability-friendly city activities during the colder months.
1. Enjoy amazing London
London is our number 1 pick! This vivid and diverse European capital has so many iconic sites to visit and attractions to offer. London is gorgeous in all times of the year, but winter adds some magical charm to this lively city! Check out our guide for some useful tips on how to best get around by wheelchair.


Hyde Park's Winter Wonderland
If you want to light up your Christmas spirit, pay a visit to Winter Wonderland in Hyde Park, enjoy fairground rides, have some traditional Christmas treats – like gingerbread and hot chocolate, have fun in Christmas themed karaoke or just let yourself be charmed by magical lightings and decorations. Winter Wonderland is wheelchair-friendly. Still, informing the staff about your needs in advance is highly recommended. For more tips, check out our guide Handiscover.


Greenwich
Greenwich is a perfect spot for cosy, relaxed wanderings – it offers not only spectacular buildings, romantic atmosphere but also has a lovely market. It sells a lot of unique craftworks. It is nice to visit even in the winter time – the market is situated under the roof. Spacious enough for wheelchair users.


Christmas shopping
Go on a shopping spree! London is a famous shopping destination. Winter makes shopping even more exciting with all those amazingly decorated shop's windows and SALES!
Where to live: Accessible Accommodation in London

Good and accessible London experience starts from the comfortable, fully accessible accommodation. Here, at Handiscover, we help you with that! Here are some examples of our disability-friendly accommodations for you in London.

For more accommodations in London, click here!
2. Get cosy in Belfast
The Irish holiday spirit is truly irresistible and wintertime in Belfast offers something for everyone. Here are three accessibility-friendly activities in the city during the colder months. Check out our Handiscover for tips on how to get around during your stay.
A Christmas market for the foodie
The Belfast Christmas market offers mouth-watering food from all over the world. Apart from European treats such as German beer, Spanish paella and delicious Dutch mini-pancakes you can get a chance to taste alligator, kangaroo and wild boar this Christmas!
"This food-packed market is sure to offer something that will tickle your taste buds."
Switch-on of Belfast Christmas lights
Join in the festive countdown! The annual switch-on of the Belfast Christmas lights is a cheerful event with music, shows and fun before switching on the decorative lights of the city centre.
Go for traditional Afternoon tea
After a long day enjoying the city, what's better than a mug of hot tea and freshly baked pastries and sandwiches? Belfast is offering plenty of cosy cafés for your memorable afternoon tea experience. However, it's always best to phone ahead in order to make sure that a café meets your accessibility needs.
Where to live: Accessible accommodation in Belfast
We will help you to find the best accessible accommodation with features based on your mobility needs. Here are some handpicked examples of our disability-friendly accommodations for you in Belfast.
For more accommodations in Belfast, click here!
3. Discover your inner art lover in Florence
With some planning, Florence can be a great and accessible holiday destination. Winter is the perfect time to explore the rich Florentine culture and tradition.
Don't forget to check out our Handiscover for information on how to get around during your stay.
Experience the Nutcracker in Pergola Theatre
On the 23rd of December every year, the beautiful Pergola theatre hosts the ballet of The Nutcracker in Florence. Prepare for a spectacular evening that will get you in true Christmas spirit! Keep in mind that it's necessary to warn the theatre in advance in case you are a wheelchair user, so that the staff would leave enough space for a wheelchair.
See the works of Da Vinci in Uffizi gallery
The Uffizi Gallery lets you explore the artworks of icons such as Leonardo Da Vinci, Caravaggio, Botticelli and Michelangelo up close. See world-renowned paintings, sculptures and architectures in this historic 1500th­­-century building. Gallery is fully accessible, visitors will find elevators as well as accessible bathrooms there.
"Florence is magical in winter. The city is decorated in red and green with twinkling filling the streets."
Enjoy traditional hot chocolate
The sweet beverage has been part of the Florentine tradition since it first appeared at the Medici court in the 16th century. Soon the drink became a morning ritual amongst the aristocrats of Florence. Today the city is full of historical bars where you can still be served the most delicious, steaming cup of chocolate.
Where to live: Accessible accommodation in Florence
At Handiscover, we will help you to find the best accessible accommodation based on your mobility needs. Here are examples of our disability-friendly accommodations for you in Florence.
For more accommodations in Florence, click here!
Need more inspiration?
Check out our guide to Accessible holiday destinations for winter sun for more tips on disability-friendly places with wheelchair accessible accommodations nearby!
About the Author:
Emma is a freelance writer and road trip enthusiast. Through her work, she hopes to inspire more people to enjoy the world on their own terms.
To keep reading become a member.
Already a member? Login
Over 400 pieces of exclusive content
Tips and advice on Accessible Travel