You can walk and can handle going up a few stairs.

Maximum of 15 steps (1 floor up) to reach the accommodation or manoeuvre into it.

You can only handle one step at a time.

The accommodation is quite accessible, can suit wheelchair users.

You need a fully accessible accommodation.

Maximum thresholds of 3 cm (1 inch), suits wheelchair users.
Travel Destinations
Best Accessible Travel Packages Now on Handiscover
We Have Expanded Our Services To Our Accessible Community!
Handiscover is proud to announce that we are now partnering up with Travel-For-All, a Global Leader in Accessible Travel! With the accessible holiday packages offered by Travel-For-All combined with Handiscover's disabled-friendly accommodations, you will be ensured that your accessible requirements whilst travelling to remote locations such as Cuba, Africa, Thailand, Sri Lanka, India, Nepal and Malaysia will be accommodated for in the most wheelchair-friendly way.
This video is made using InVideo.io
Tarita, Founder of Travel-For-All, is an accessible travel and tourism author, speaker and global expert. As Tarita was diagnosed with Multiple Sclerosis, she knows disability firsthand. Tarita knows from her own experiences that accessible travel is tough and that there are not always the appropriate services available for people with disabilities. Sharing the same vision as Handiscover, Travel-For-All aims to enable all of us, regardless of our mobility or ability, the opportunity to travel the world. Travel-For-All has the capacity to provide full services for you to enjoy an accessible holiday including flight and on-ground transportation.
'Travel should be inclusive, not exclusive'.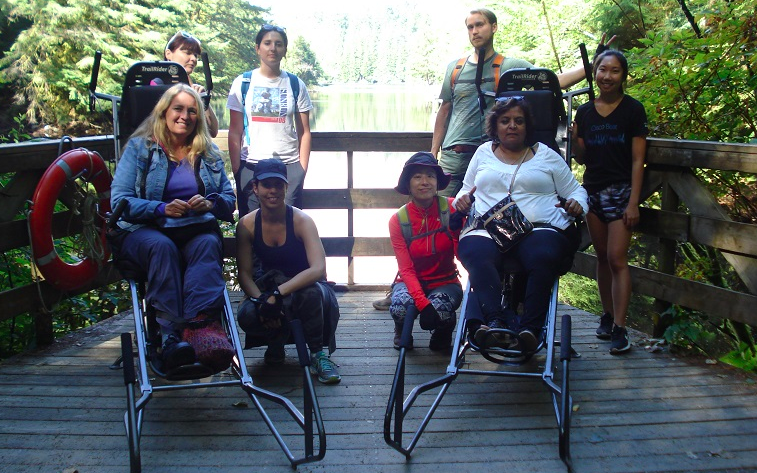 Enjoy Disabled-Friendly holidays in Sri Lanka
For example, a package for a 12-night trip to Sri Lanka includes car transfers, a local English-speaking guide during visits and transfers, for travellers in wheelchairs, an assistant during visits and trips, admissions fees to sites, assistance of your advisor (before, during and after the trip). Not only that but a full 12-day itinerary is included in the package. From visiting small towns and villages located in the mountains and experiencing the country's local art and religious culture to tastings at tea plantations. When it comes to the stress of organising all the extra details to ensure your accessibility requirements are met you won't have to worry as Handiscover and Travel-For-All has got that covered for you.
Check out our guide to disabled-holidays in Sri Lanka here and give us your specific requirements by making an enquiry now. You will have a USD 50 discount* from Travel-For-All for your first booking with Handiscover now.
Experience Cuba in an Accessible Way
You can plan your trip to Cuba now by filling out this form and providing us with your specific requirements. Also, check out our guide to wheelchair accessible Cuba here. Don't miss your one-off discount by booking with Handiscover. It's worth USD 50*!
Explore an Accessible Africa
Provide your specific requirements by reaching out to our Accessible Consultant to Africa now, and get USD 50* cheaper by booking with us now!
Explore an Accessible Thailand
Want to make an enquiry now and have USD 50* off your next Accessible Trip? Fill in the details with your specific requirements and our Accessible Consultant will get right back to you. You can check out our guide to wheelchair accessible Thailand here.
With Handiscover and Travel-For-All now in partnership, you will be guaranteed an accessible holiday specifically tailored for you. Handiscover and Travel-For-All are committed to providing full accessibility to travellers with a disability when it comes to venturing off the beaten path and experiencing some of the world's most beautiful hidden gems.
Travel-for-All is a Global Leader in Accessible Travel, a Flight Centre Independent Agency, they have over 20 years of experience within the travel industry and have accumulated awards from major cruise, land and tour companies. They also pride themselves in assisting disabled people in planning holidays and travel options that meet their specific requirements.
So if you're thinking of taking that next step and travelling to a more remote location don't forget to book with Handiscover and Travel-For-All today, and you'll get a USD 50 off* for your first booking for new vacation bookings only! Fill in the form now with your specific requirements and our Accessible Travel Consultant will get back to you shortly!
* Discount is only valid for new vacation bookings and for customers completing their first booking through Handiscover in collaboration with Travel-For-All.
Browse More Of Our Useful Travel Tips and Guides
To keep reading become a member.
Already a member? Login
Over 400 pieces of exclusive content
Tips and advice on Accessible Travel