You can walk and can handle going up a few stairs.

Maximum of 15 steps (1 floor up) to reach the accommodation or manoeuvre into it.

You can only handle one step at a time.

The accommodation is quite accessible, can suit wheelchair users.

You need a fully accessible accommodation.

Maximum thresholds of 3 cm (1 inch), suits wheelchair users.
Travel Destinations
Enjoy our favourite European Accessible city: Barcelona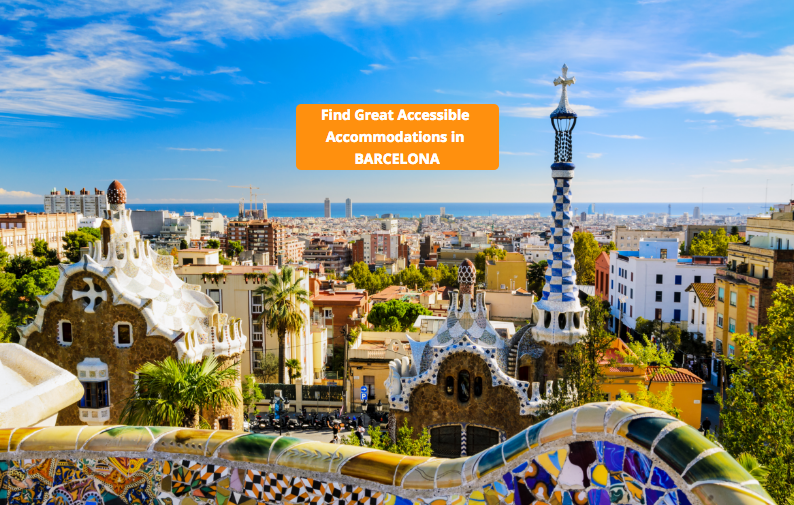 Enjoy our favourite European Accessible city
Incredible Barcelona is so much fun and accessible!
Rent Accommodation here with Handiscover, adapted to your mobility needs
What to do in Barcelona?
This is surely a city with something for everyone in the family to enjoy.
Just wander down the famous La Rambla with its lively atmosphere and significant history. The Boqueria marketplace that runs off La Rambla is definitely worth a visit as well.
Discover more about the Spanish artist Picasso, in the excellent Museum, located within the Gothic Quarter. The museum is wheelchair accessible and will accommodate the whole family.
If history is more your thing then the newly discovered Roman remains are a must see and can be found at the El Born Cultural Centre. And let's not forget the mix of Catalan and Spanish cuisine featured throughout Barcelona's many cafes and restaurants. The foodie in your group will not be disappointed.
The beach front is a must as this is the most modern part of Barcelona. It is a very accessible part of Barcelona and it is so enjoyable to go to the beach in such a big city.
With broad pavements everywhere you can really enjoy discovering the city on your own. Public transportation is also very accessible in the City, with most Tube stations having lifts and the buses providing ramps, to enable easy access with a wheelchair.
Getting to Barcelona
Most airlines, including the low cost ones, are flying to the Barcelona airport, so getting there at a reasonable cost is really easy. From the airport, you can contact Transport Adaptado if you need to book an accessible taxi.
Contact us if you are searching for other holiday rental destinations or if you want to ask any questions! We try hard to offer you a nice choice of both hotels, apartments, rooms and bed & breakfast.
And we really love it when you let us know of great places you've stayed at!
To keep reading become a member.
Already a member? Login
Over 400 pieces of exclusive content
Tips and advice on Accessible Travel