You can walk and can handle going up a few stairs.

Maximum of 15 steps (1 floor up) to reach the accommodation or manoeuvre into it.

You can only handle one step at a time.

The accommodation is quite accessible, can suit wheelchair users.

You need a fully accessible accommodation.

Maximum thresholds of 3 cm (1 inch), suits wheelchair users.
Mountains & Caves
Ideas for Accessible Sporting and Activity Holidays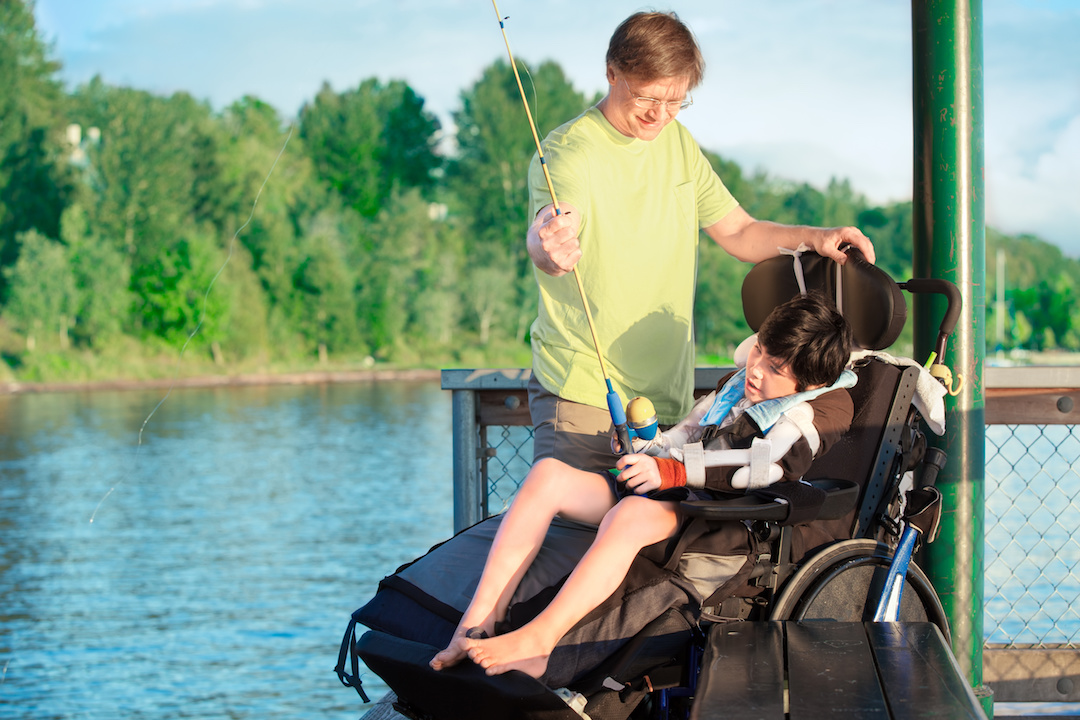 Type in where you want to go…
Ideas for Accessible Sporting and Activity Holidays
Being disabled shouldn't prevent you from experiencing the thrill and excitement of taking part in sports and other physical activities. Taking part in physical activities is not only enjoyable but beneficial for everyone, boosting your wellbeing no matter what your circumstances. Holiday companies and activity providers are increasingly providing adapted facilities and support services for disabled travellers, so there's never been a better time to get out there and find your adrenaline rush!
Planning your holiday
The types of activities you can take part in will, of course, depend on the nature of your physical impairment and how well it's catered for. It's always a good idea to inquire about provisions for people with your specific needs at the venue you have in mind before you book your adventure. Talking to the staff gives you a clearer picture of their awareness and the degree of assistance available, and gives you the chance to make sure that the place offering the activity has all the facilities you'll need.
Funding for your holiday
You shouldn't be asked to pay extra because you are disabled, and if you find any holiday providers or resorts are asking for higher fees from their disabled customers, don't accept the charges.
Holidays and trips away aren't very often cheap, unless you're lucky enough to find a bargain, and the financial commitment of a holiday may be a problem, especially if you're on a low income. Rather than getting into debt with a high-interest loan or expensive credit card charges, take some time to look for the most manageable forms of credit and read more about the options available to you that won't give you a financial headache.
Cycling
Cycling is not only great fun but is an excellent way to improve your fitness and enhance mental wellbeing, but it also offers the allure of independent mobility, and first-timers describe the experience as liberating and empowering. There are a variety of adaptive cycles available for disabled users, including:
The hand crank, which enables wheelchair users to propel themselves using their hands.
Tricycles, which are safe and stable for anyone with problems balancing.
Side by sides, which enable people with mobility or sight problems to ride a bike with the help of another cyclist
Tandems, where a sighted rider sits on the front seat of the bike and the partially sighted or blind person sits on the back seat, experiencing the joy of being on a bike without needing to be able to guide the cycle.
Horse riding
Riding for the disabled is a well-established therapeutic activity for people with a whole range of physical and mental impairments. However, it can also be a perfect way to spend a holiday or short break. Riding offers multiple physical and mental benefits, including:
Improving balance
Helping with correct posture
Increasing coordination
Relaxing the muscles
Building strength and stamina
Increasing self-confidence
The mobility and independence of being on a horse are thrilling and a real boost for anyone who is restricted in their day-to-day life. There's also the excitement of knowing that there is a slight risk involved – it may be a well-managed risk and horses used for disabled riders are highly trained, specialist mounts; but they are still creatures with minds of their own and the potential to behave unpredictably. It's often the risk involved in sports and activities that give them their ability to thrill, and riding is one of the best all-around activities for a balance of positive benefits allied with the hint of danger.
If horse riding isn't possible due to the nature of your disability, you could consider carriage driving – there are many opportunities to drive horses or ride in the carriage even if you have more severe disabilities.
Skiing
Another sport with the thrill factor is skiing, which has made great progress in developing specialist equipment and using adaptive techniques. Ski instructors can help people with a whole spectrum of challenges to take to the slopes, including paraplegics, quadriplegics, the blind, people with cognitive disabilities, and amputees. Skiing provides an exhilarating experience that gives disabled people a chance to feel free and enjoy the thrill of gliding along the snow.
Examples of how ski equipment has been adapted for disabled participants include:
Three track skiing with one ski and two outriggers, suitable for above-knee amputees skiing on one leg, below knee amputees skiing without prosthesis, double leg amputee skiing on one prosthesis, or anyone who is restricted to using only one leg.
Four track skiing with two skis and two outriggers, suitable for double above knee amputees using a prosthesis, people with arm disabilities, and those with cerebral palsy.
Sit-skis, including Bi-ski and Quad-ski, are suitable for paraplegics and quadriplegics, or anyone with severe lower limb weakness or who uses a wheelchair.
It's also possible to go adaptive snowboarding too, and many ski resorts have extensive facilities for disabled visitors.
Fishing
For a quieter holiday that can still provide plenty of thrills, fishing is ideal. Coarse fishing is the most sedentary branch of the sport, but even then you could find yourself wrestling with a 30lb carp! Coarse fishing lakes are now much better equipped with improved access and facilities that make fishing far more accessible for disabled anglers.
Game fishing and sea fishing are also increasingly available to disabled participants. On a fishing holiday, you can enjoy the countryside and the camaraderie of being part of the fishing community, and you'll never tire of the thrill of reeling in a catch.
These are just a few examples of sports and activities that are not only accessible but welcome disabled patrons. You could also have a go at waterskiing, shooting, archery, golf, water sports, sailing, scuba diving, flying, motorsports, and many other exciting and interesting sports. Being disabled shouldn't prevent you from experiencing the enjoyment of physical activity in a safe and supportive environment, so release your inner adrenaline junkie and book yourself on a sports or activity holiday this summer.
To keep reading become a member.
Already a member? Login
Over 400 pieces of exclusive content
Tips and advice on Accessible Travel