You can walk and can handle going up a few stairs.

Maximum of 15 steps (1 floor up) to reach the accommodation or manoeuvre into it.

You can only handle one step at a time.

The accommodation is quite accessible, can suit wheelchair users.

You need a fully accessible accommodation.

Maximum thresholds of 3 cm (1 inch), suits wheelchair users.
Travel Destinations
Lanzarote: great wheelchair friendly family trip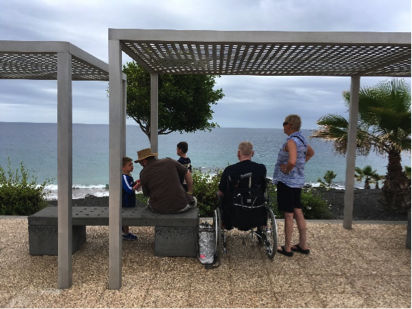 For the past 3 years we've been to Tenerife for our family holiday.
Why? Because it was easy, we knew it worked for my dad who following a stroke 8 years ago is in a wheelchair – and it suited the kids. This year was supposed to be the same, except 3 months before departure the holiday company announced that due to renovations, they couldn't guarantee us an accessible room in the hotel we had booked…. Cue much disbelief (how could they not have known about the renovations before?!) and disappointment, we looked ahead and focused on finding something else suitable. We soon discovered that due to the late notice we were unable to secure another accessible room in Tenerife that would meet our needs and therefore Lanzarote became our new holiday destination.
Fast forward to May and we were raring to go. We had an early flight from Stansted so booked to stay in the Radisson Bleu hotel at the airport the night before. The location is excellent, just a short walk way through to the airport. For us, waking up and knowing we are already at the airport with my dad makes us feel more comfortable – and of course starts the holiday off a little earlier!
As with every UK airport, Stansted has a special assistance desk located in the check in area that you need to register with if you are disabled and require assistance. From our experience we have found that sometimes the queue for assistance can be longer than the actual check in queue! But, once you get to the front it's usually a quick, seamless process and assistance was indeed there to meet dad at the departure gate to help him board the aircraft. We flew with Ryan Air and our seats going out were at the back of the plane, the complete opposite end to where we needed to disembark. Thankfully assistance promptly came with an aisle wheelchair and helped to get dad safely off the plane.
During our stay in Lanzarote, we didn't venture far. There was no need as the hotel we stayed in (Sol Lanzarote) was all inclusive, right on the beach, great accessibility and perfect for the kids. On one particularly cloudy day however, we got a taxi to the new town of Puerto del Carmen to explore.
As we were wandering we came across an accessible beach with a beach wheelchair. The lifeguards informed me that the wheelchair is free to hire, you can use it in the water for as long as you like (normally about 20 minutes) and that they prefer the flag to be flying green for the chair to be used, however within reason you can also use it on a yellow flag. There are accessible toilet facilities and refreshments right behind the beach.
We found the path way back from Puerto del Carmen to our hotel was fully accessible and we had no issues at all pushing the wheelchair along it. Back at the hotel I was informed that big investment has been made in Lanzarote to make it more accessible. Fantastic!
Before we set off to Lanzarote we worried, as you do about whether it would be suitable; would it be accessible and comfortable for dad, would the kids enjoy it and have enough to do, would we like it as much as Tenerife? Well the answers were yes, yes and yes! Lanzarote was a terrific destination and despite being slightly unlucky with the weather, we loved it. Getting us out of our holiday 'comfort zone' has been brilliant…… World here we come!
By Jodie
To keep reading become a member.
Already a member? Login
Over 400 pieces of exclusive content
Tips and advice on Accessible Travel