You can walk and can handle going up a few stairs.

Maximum of 15 steps (1 floor up) to reach the accommodation or manoeuvre into it.

You can only handle one step at a time.

The accommodation is quite accessible, can suit wheelchair users.

You need a fully accessible accommodation.

Maximum thresholds of 3 cm (1 inch), suits wheelchair users.
Travel Destinations
Live Interview: Accessibility in Barcelona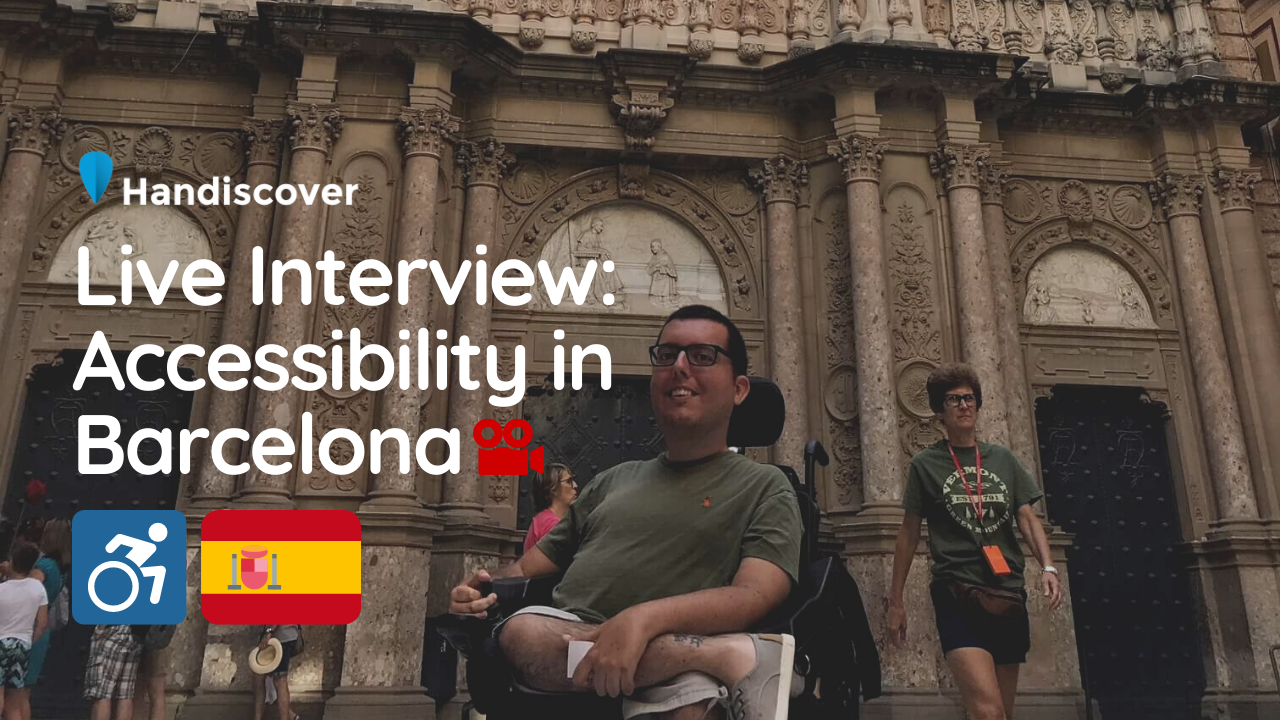 Have you ever thought about visiting Barcelona, Spain as a wheelchair user?
In our latest Live discussion, Cory Lee spoke with Mirjam Versteegh, founder of Disabled Accessible Travel, a tour company in Barcelona. They talked about what makes Barcelona a great destination for wheelchair users as it is one of the most accessible places in the world.
Cory and Mirjam talked all about the must-see attractions in Barcelona, accessible beaches, transportation and accommodations.
You can watch the full video below and previous discussions on our Facebook page and YouTube channel. Follow us on Facebook for new episodes every two weeks.
Accessible Experiences
Read the transcript of Cory's discussion with Mirjam below.
Cory: Can you tell us a little bit about you and your company?
Mirjam: I'm the owner of Disabled Accessible Travel. We are based in Barcelona and we arrange accessible travel services throughout Europe. All of our services are personalised as not every customer is the same. We try to customise the experience as much as we can to the needs of the customer. For example, what they would like to see and do and also how flexible they would like to be. We always try to accommodate as much as we can. In short, we have a few different types of services. Our main focus is on accessible tours and accessible excursions. Secondly, we arrange adapted transport. Thirdly, for those that are interested in mobility equipment rentals, we provide that service as well.
Cory: Can you tell us your top destinations that Disabled Accessible Travel provides services for?
Mirjam: Obviously, Barcelona is one of them. I'm Dutch but have been living in Barcelona for 9 years now and love it! Also, our company was founded in Barcelona in 2004 as a small service for wheelchair users. Since then we have grown to a European scale. Italy is also a personal favourite of mine as well. We have lots of customers visiting Rome and Florence. Also, Athens is another top destination of ours.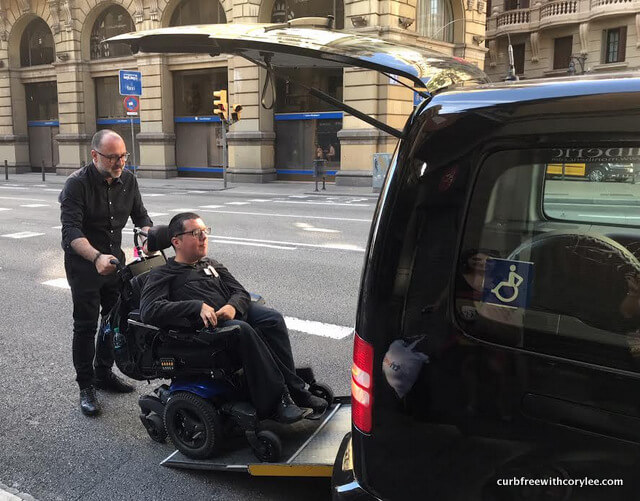 Cory: Let's talk more about Barcelona! It offers so many accessible places to see and things to do. What are some of the outdoor attractions or experiences that you would recommend for visitors to Barcelona?
Mirjam: The weather is so good in Barcelona which means you are able to do things outdoors all year round. For those visiting for the first time, I always recommend exploring the Old Town. It is a beautiful part of the city of which is mostly flat. Another is Montserrat. The building is wheelchair accessible and has amazing views of the entire city. There is a wheelchair lift to reach the top, however, be aware that sometimes this lift can be out of service.
C: There are also some beautiful parks in Barcelona with smooth paths that are very easy to get around on in a wheelchair. When I was there, there was a music festival in one of the parks with performers, food trucks and we were able to have a picnic and enjoy nature and the atmosphere of the park. Another outdoor experience is La Rambla. This is a famous street with a number of shops and restaurants. There is so much going on and so much to see, sometimes it's nice to just sit with some Sangria and people watch. Not only that, but Barcelona has some of the most wheelchair accessible beaches in the world. Can you describe the accessibility of those beaches?
M: Barcelona has 8 or 9 accessible beaches which are linked by a long and flat boulevard. These beaches have assisted bathing services. They have amphibious chairs for wheelchair users to use to go into the water via a wooden ramp leading into the water. There are also accessible showers and toilets at the beach.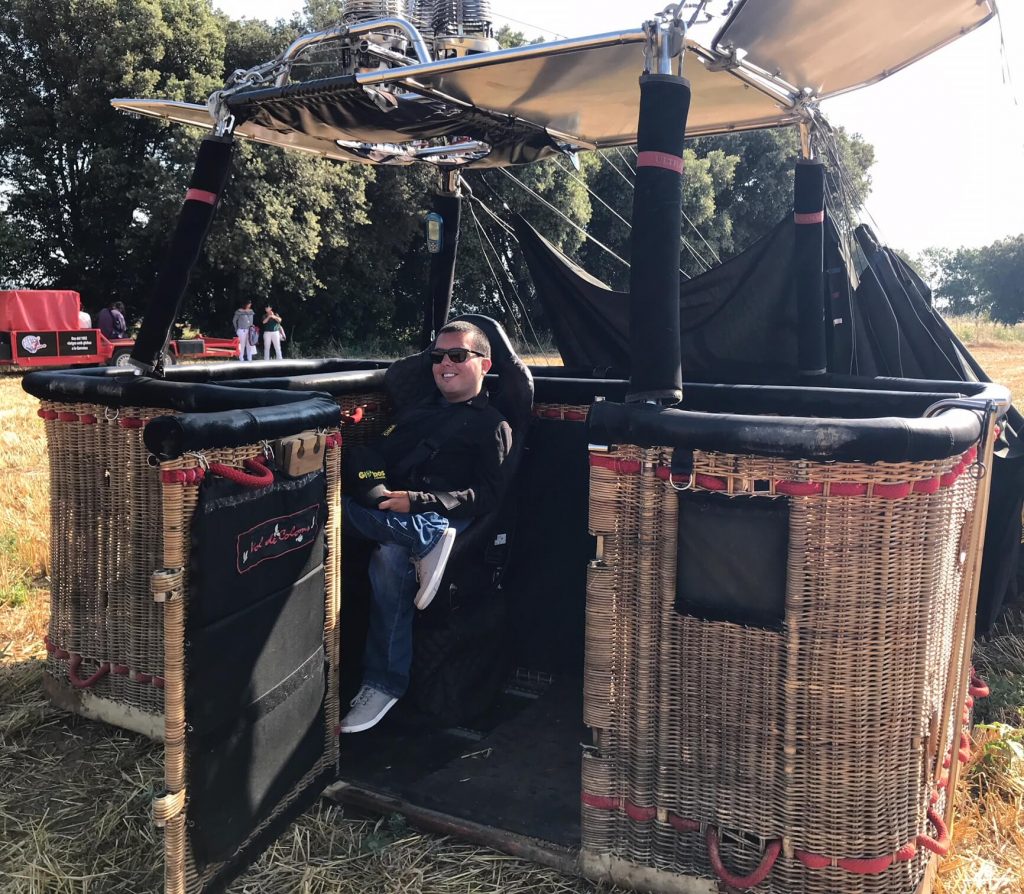 C: When I was there they had a hoist so that they could actually lift you out of your own wheelchair into the beach wheelchair and you could take the beach wheelchair straight into the water. This is what made me fall in love with Barcelona, as there is nothing like this level of accessibility. This fully inclusive experience, I believe, is unfound anywhere else in the world.
What indoor experiences would you recommend?
M: Well, the Sagrada Familia is definitely number one on the list. It is very touristic but also very beautiful and worth the visit. My advice is to not go inside immediately but appreciate the architecture from the outside, it is truly amazing! Inside, it is accessible as it is flat and there are also ramps. There is an accessible toilet. Also, wheelchair users can either get free access or discounted access which also includes a companion. Make sure to book in advance to secure your spot. I also recommend visiting the many museums in Barcelona.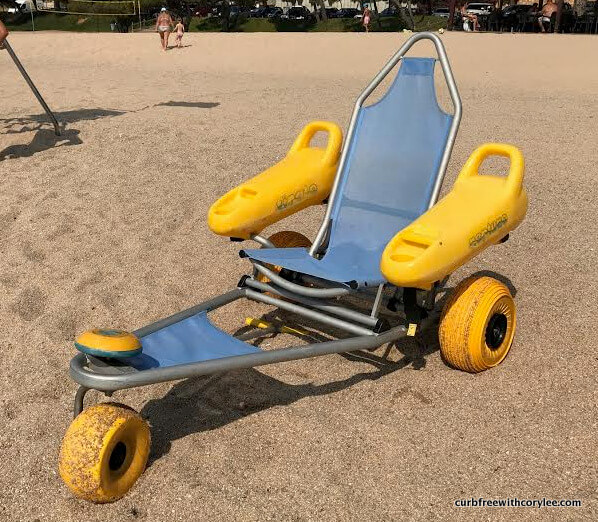 C: I wanted to mention, the Hospital de Sant Pau which is a stunning place to visit. You can wander the old hospital halls, it's the most beautiful hospital I've ever seen. It's also huge, you can spend a couple of hours there just exploring.
M: For those that are into food, there is a tapas tour you can do. The tour takes you from one accessible restaurant to the next. By doing this, you can also avoid the more touristic areas.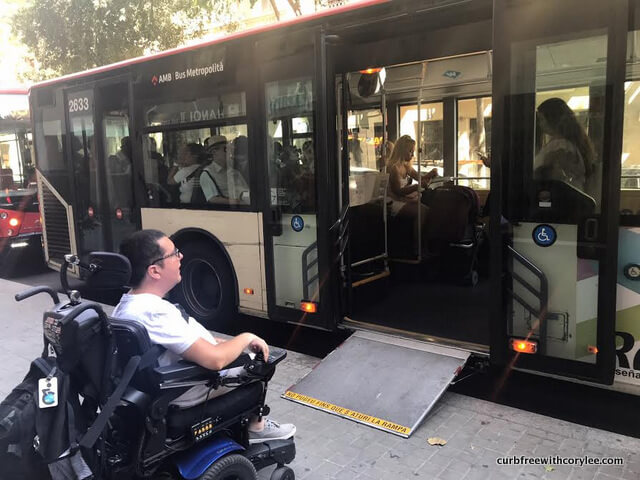 Accessible Transportation
C: Barcelona has some very accessible transportation. Can you speak a little bit more about that?
M: Firstly, buses and metros are both fully accessible. All buses are 100% wheelchair accessible. When the bus stops, all you have to do is press the blue button and the ramp folds out for you and there is a wheelchair designated area on the bus for you. You don't need to reserve a spot, you just take the bus that you want.
The metro is also very easy to access as the floor is level with the platform. However, only about 90% of metro stops are accessible, so you need to make sure that the stop you are going to or getting off at has an elevator.
Other than that, there are also accessible taxis in the city. You need to be aware that there are no adapted taxis waiting at the taxi stand. This means that you need to book one in advance.
Have a look at our great accessible accommodations in Barcelona here.
Read more of our accessible blog posts about Barcelona:
To keep reading become a member.
Already a member? Login
Over 400 pieces of exclusive content
Tips and advice on Accessible Travel