You can walk and can handle going up a few stairs.

Maximum of 15 steps (1 floor up) to reach the accommodation or manoeuvre into it.

You can only handle one step at a time.

The accommodation is quite accessible, can suit wheelchair users.

You need a fully accessible accommodation.

Maximum thresholds of 3 cm (1 inch), suits wheelchair users.
Coasts & Cliffs
Top 4 Accessible Activities in Brighton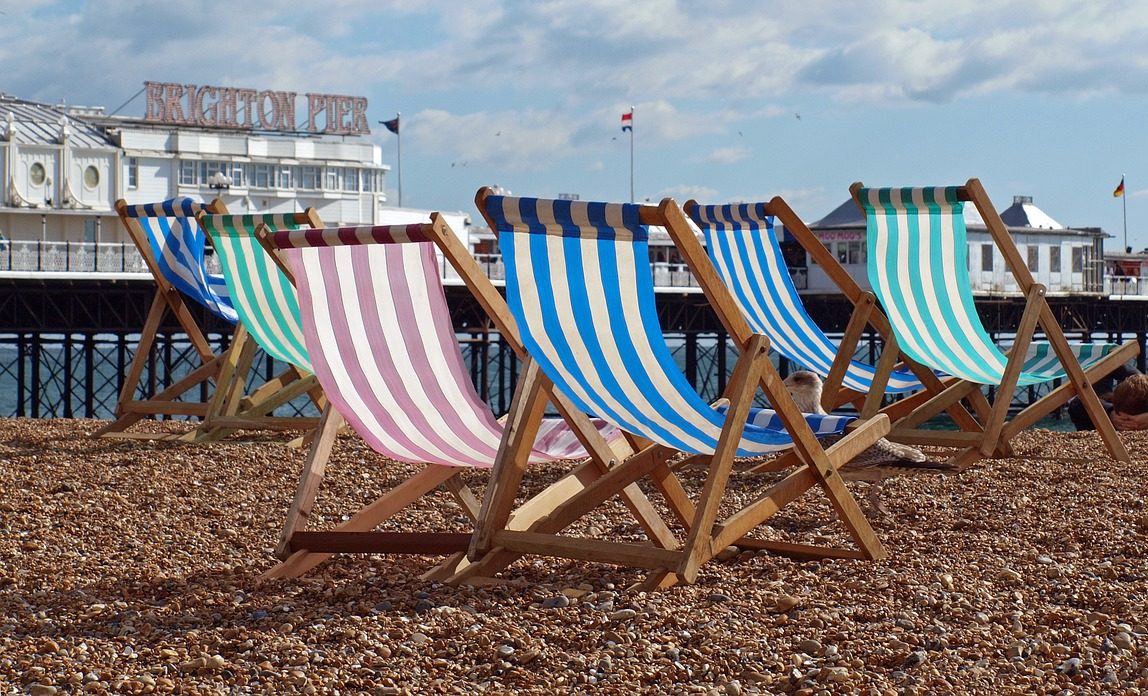 Wheelchair Accessible Brighton
On today´s post, I would like to share with you some accessible activities in Brighton and also how to move around. Brighton is on the south coast of the United Kingdom. And it´s only one hour from London by train.
The fantastic location of Brighton means that innumerable tourists go there every year (around 8 million). It is the most famous summer resort in England.
Brighton had its best time in the eighteenth century when its sea baths began to be considered beneficial for the health.
It was for this reason that King George IV started to visit the city to reduce the swelling of his glands with seawater.
George IV was captivated by Brighton, he ordered to build a palace, and little by little, this small fishing village became a spa town and the city we know today.
With a modern and bohemian atmosphere, Brighton is a city that falls in love. You will discover Vintage corners, terraces full of life and a promenade always wanting to party.
So, what are you waiting for? Just follow me to see wonderful accessible activities in Brighton.
ACCESSIBLE ACTIVITIES IN BRIGHTON
1 BRIGHTON PIER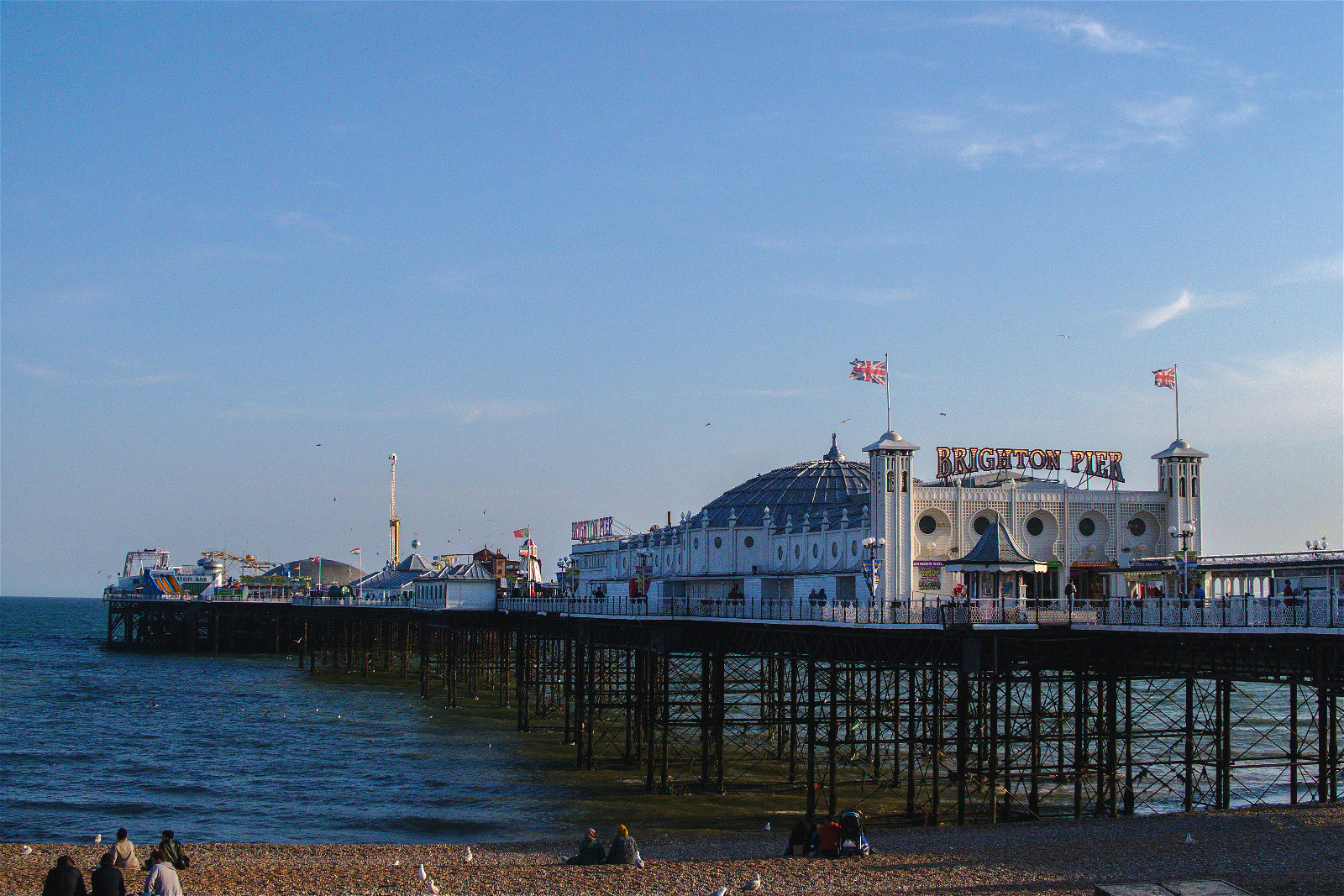 It is one of the oldest, longest and most visited piers in the world.
Here we find several food stalls to take away, attractions for young and children, and an area with arcade games for all ages, which is perfect for the raining days.
It is quite pleasant to walk around here at sunset, in addition to the festive atmosphere that you can breathe, you can enjoy a beautiful evening.
From here, you can see the West Pier, which was bombed in the Second World War and now its skeleton still into the sea.
This is one of the accessible activities in Brighton that everybody like.
At the pier, there are two adapted bathrooms.
2 BRIGHTON MUSEUM AND ART GALLERY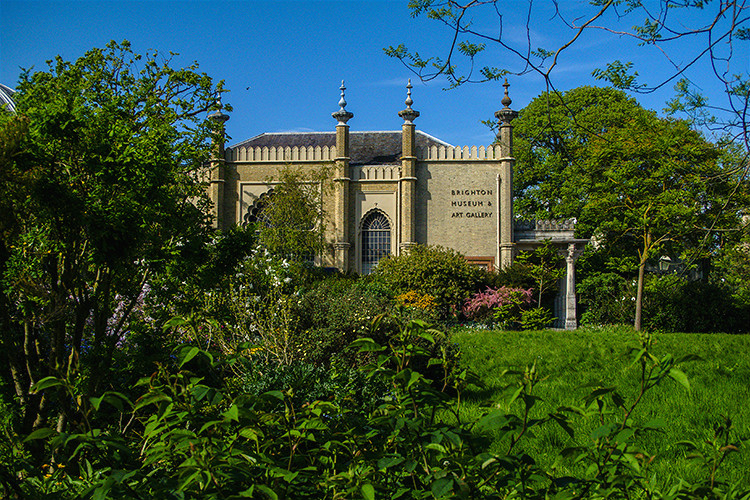 Brighton Museum is in the Royal Pavilion garden, at the heart of the city's cultural quarter, where a long time ago were the cavalries.
Its walls house an extensive collection of 20th-century art including fashion pieces, paintings and interactive screens.
The whole museum is accessible. There is an elevator to go up to the second floor and adapted bathrooms on both levels.
No scooter entry is allowed, once in the museum, it has to be transferred to one of the free manual chairs. If you are travelling with a scooter, please contact the museum before your visit to make sure there are available wheelchairs.
In case of unaccompanied visitors, notify it when you communicate about your visit to book assistance at the following email: visitor.services@brighton-hove.gob.uk.
A museum map is also available in Braille and guides dogs are allowed.
Try to find an explanation in BLS at the museum website.
3 i360 BY BRITISH AIRWAYS
The i360 is the highest mobile lookout in the world. It is a 161 meters high tower that allows a 360-degree view of Brighton, which I assure you is worthwhile.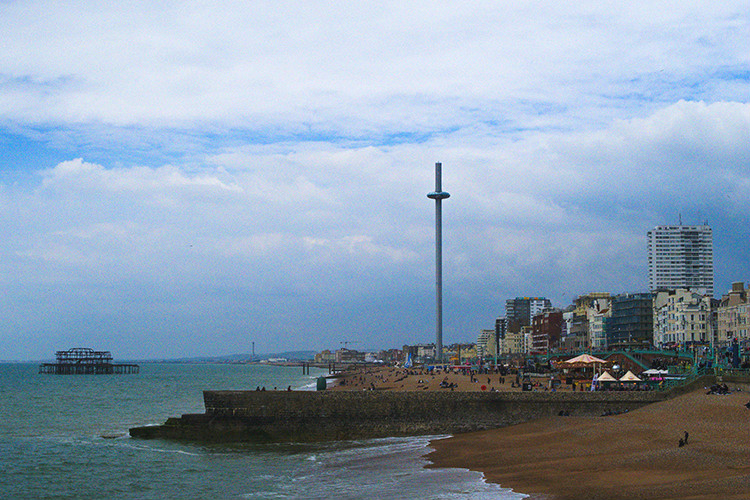 It was built in 2016 by the same creators of the London Eye located in London.
The cabin has a capacity for 200 people. However, there is a limit of wheelchairs per flight for security reasons. I recommend you check before availability, although there is a flight every half hour, so I do not think you will have any problem in finding a schedule that suits you.
There are wheelchairs available for customers. They cannot be pre-book, the one that arrives before get it. You must leave a deposit with a credit card that you will get back when you return the wheelchair.
Also, visitors with disabilities are allowed to take one carer with them for free.
It is allowed to enter with guide dogs, but it is necessary to inform about it first.
Find more information about accessibility.
4 THE PROMENADE
Brighton is a town that lives towards the sea. Enjoy the sea breeze while taking a nice walk is something you can not miss.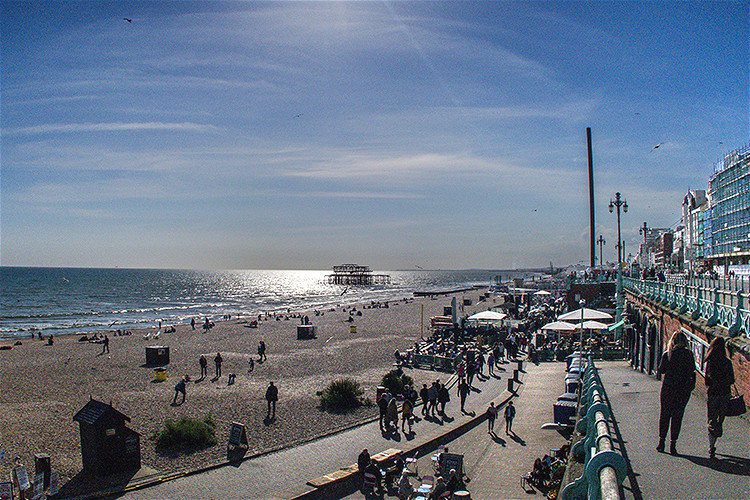 You will find plenty of terraces to enjoy a good meal or drink. Also some shops of local artists where you can see authentic works of art and exclusive clothing designs.
The walk has two parts, an upper section where you can access the Pier and walk along the road. And a lower section where walk next to the beach. You can access by ramps, the walkway is accessible, and it has adapted public toilets.
After review a few accessible activities in Brighton, I will show you now how to move around.
How to Get Around in Brighton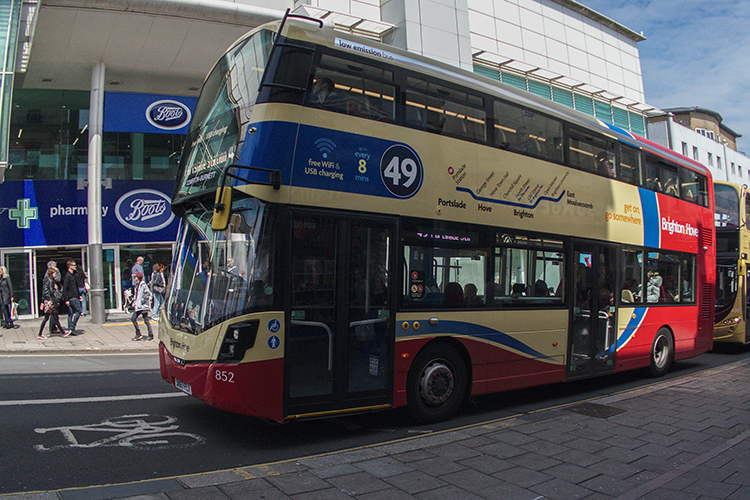 Definitely, for me, the best way to get around Brighton is rolling through its streets and discovering wonderful corners. Main streets in Brighton are accessible.
If you would like to use public transports here you have some information:
BUS
Buses in Brighton are accessible. The ramp is in the front door, and there is a reserved place for wheelchairs, although in some routes up to two scooters are accepted. But not all scooters can access buses; they must meet specific requirements.
To ensure that all wheelchair users have access to travel at all times, they have implemented the wheelchair taxi guarantee, which provides a free access taxi to users who for some reason cannot access the bus.
Something that I found especially curious and very useful is the use of a particular card for those people who have some "invisible" disability.
This card shows the limitation of the user discretely to the driver, and he already knows how to help the user.
The access of guide dogs is also allowed.
You can find more information in the following guide.
TAXIS
In the same city, you can find adapted taxis in the street. However, I'll leave you some companies if you want to book an accessible taxi in advance:
BRIGHTON AND HOVE RADIO CABS
STREAMLINE TAXIS
SOUTH COAST TAXIS
Accessible Accommodations in Brighton
It must be a great choice to have a lovely stay in Brighton. The vacation would be anything but ordinary!! Before you visit, you need to choose the luxury apartment, modern hotel or a cosy house for your holiday in Handiscover!
Currently, it has created a unique classification system that classified the properties into three categories. What you need to do is select the most suitable one based on your own mobility. For more information about the classification system, you can see how the website works.
Do not hesitate to contact via e-mail: booking@handiscover.com or on the phone: +44 1550 400022 (UK).
A Lovely Drive to Shoreham-by-Sea
After enjoying the city view, what about having a rural experience as well? We have a beautiful house on the coastline of rural West Sussex overlooking the sea.
It is set in a quiet and peaceful location with the beach just 50m away and the river Adur running behind. The House is fully accessible!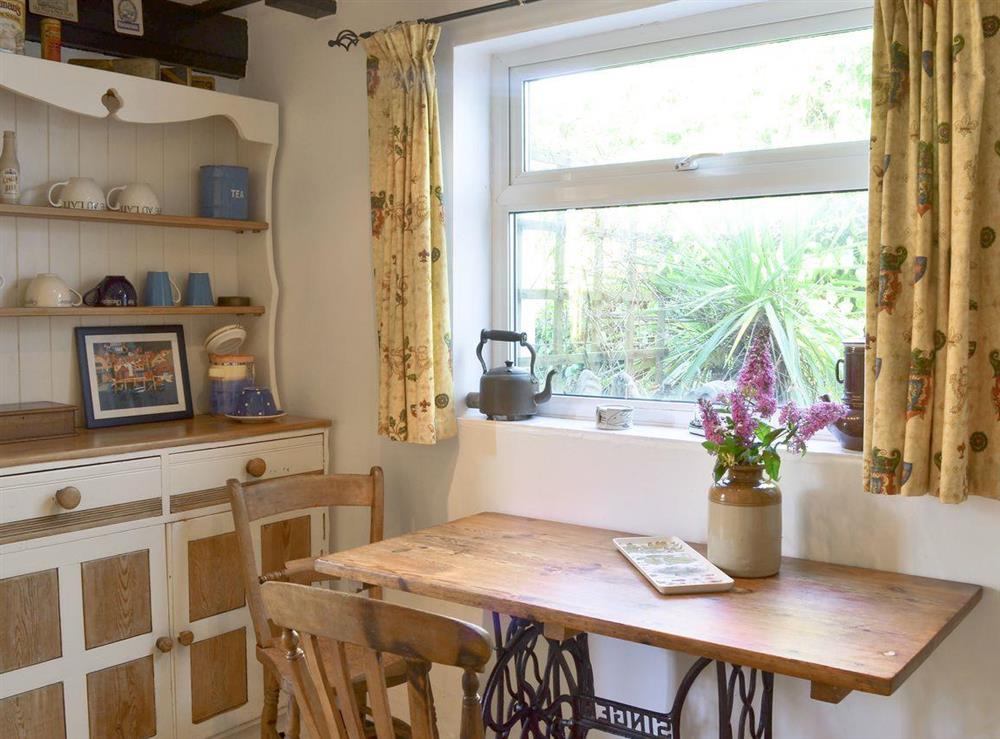 1 Bedroom 1 Bathroom 2 Guests From 75 GBP Per Night

Brighton is only one hour from London by train. If you also want to visit London, we have some great examples. Click on the pictures to see more detail information about accessibility inside and outside the property.
Do you prepare to travel to Brighton? I know I am!! I cannot wait to see the gorgeous view in Brighton!
Other Useful Travel Information
Other Great Destinations in Europe
Check the information about our unique classification system here
About the Author
Irina Martinez is a travel lover and passionate about life and how awesome it could be.
In her blog, www.accessitrip.com, she desires to make travel easier for people with limited mobility, and encourage everybody to discover this amazing and wonderful world."
To keep reading become a member.
Already a member? Login
Over 400 pieces of exclusive content
Tips and advice on Accessible Travel