You can walk and can handle going up a few stairs.

Maximum of 15 steps (1 floor up) to reach the accommodation or manoeuvre into it.

You can only handle one step at a time.

The accommodation is quite accessible, can suit wheelchair users.

You need a fully accessible accommodation.

Maximum thresholds of 3 cm (1 inch), suits wheelchair users.
Understanding Different Types of Beach Wheelchairs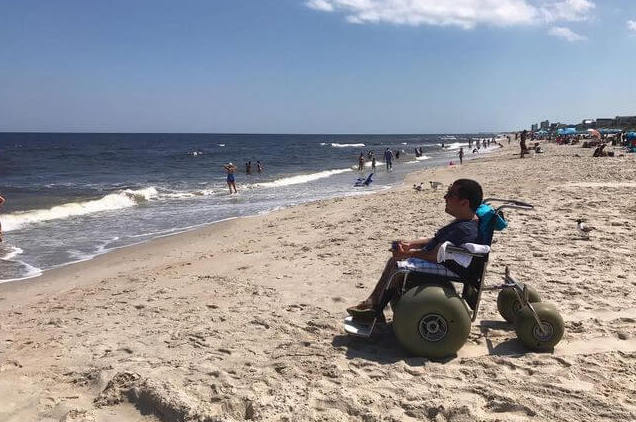 Beach wheelchairs are a common amenity at many public beaches, increasing the beach's accessibility from paved paths and general boardwalk space to making the entire beach accessible, including the sand and surf. The term, beach wheelchair, is fairly general and refers to any large-wheeled wheelchair that an individual sits in to maneuver across sand and sometimes into a body of water.
When it comes to beach wheelchairs, there are multiple types and the following article functions to explain the three most common beach wheelchairs and how they can be useful to wheelchair users on the sand and in the water. These most common types, manual, motorized, and amphibious, all function in slightly different ways, providing unique benefits to the user. This information is a necessity when it comes to planning a beach trip, either a day trip or a whole getaway, as wheelchair users will want to make sure they have access to a beach wheelchair that functions to suit their needs while at the beach.
Types of Beach Wheelchairs
Manual Beach Wheelchairs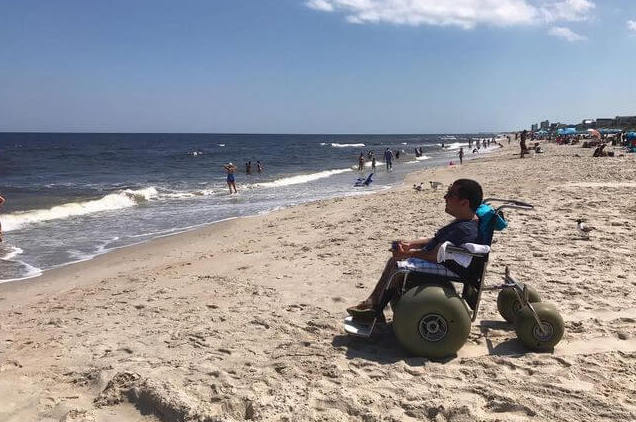 This first type of beach wheelchair is the most common at public beaches, and that is the manual beach wheelchair. This is a wheelchair that is designed to handle a rougher terrain than a standard manual wheelchair, typically with bigger wheels with larger tread. Manual beach wheelchairs can be used by the individual, as well as assisted with a companion. The wheelchair itself functions as a standard or "street" wheelchair, giving the wheelchair user the ability to traverse the terrain with limited effort.
The benefit of a manual beach wheelchair is that it gives the wheelchair user the ability to move through the sand independently as well as with assistance. It is typically a better device for handling uneven ground and sand specifically, compared to a standard manual wheelchair. The limitations are that not all manual beach wheelchairs are suited to handle the water as well, some are for terrain and sand only, while others have the option to get wet in the surf or even go out into the water and float.
This is the best option for those that want to experience the beach without renting a wheelchair and prefer to use whatever is available at the public beach. Many accessible beaches offer manual beach wheelchairs, often on a first come first serve basis. Depending on the style of beach wheelchair, the manual beach wheelchair available may not be functional without the assistance of a companion, such as with the amphibious beach wheelchair or many standard public beach wheelchairs.
Motorized Beach Wheelchairs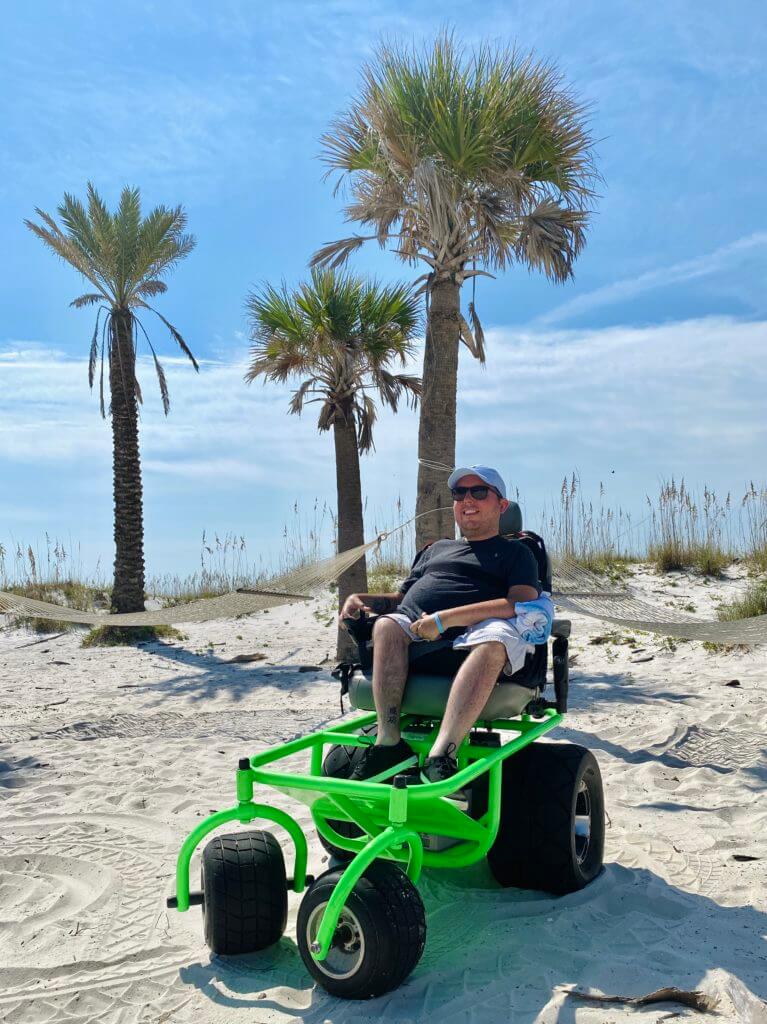 The second type of beach wheelchair is the motorized beach wheelchair, which is a battery powered wheelchair that an individual can steer with a small joystick. These types of beach wheelchairs have larger wheels with a more rugged tread designed to handle the sand and uneven terrain. A motorized beach wheelchair is similar to an all-terrain vehicle that can be driven fairly quickly over uneven ground. Motorized beach wheelchairs are the most common option for an upgraded rental, compared to those provided at the public beach.
The benefits of a motorized beach wheelchair are that it can be driven by the wheelchair user and requires a battery so it's easier to steer and doesn't require manual power to move through the sand. This is an independent user option and it's a great option for those that use a motorized wheelchair in their daily life.
Most motorized beach wheelchairs do well with sand, but are not used in the water at all, due to the battery power. It can also be difficult to push or assist with a motorized wheelchair, so if you need assistance keep this in mind, as someone will need to manipulate the joystick to move the wheelchair.
Amphibious Beach Wheelchairs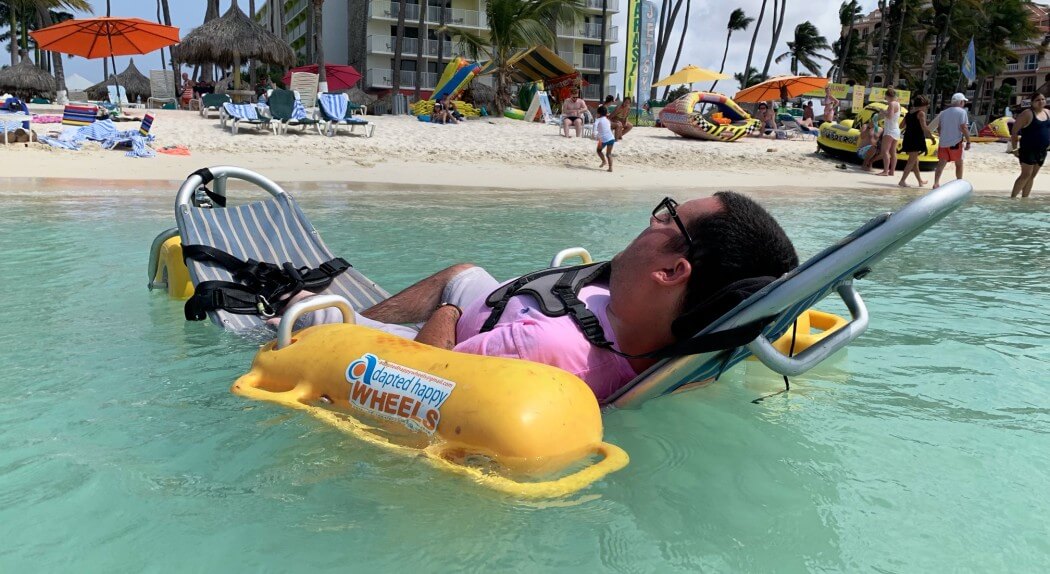 The third type of beach wheelchair is the amphibious beach wheelchair, which as the name suggests, is the type that can enter the water. These beach wheelchairs typically have larger wheels and have a simple metal frame with a seat and attached floats. The amphibious beach wheelchair usually requires assistance to get to the water, as the floating wheels are not designed for solo manual use. There may be higher end models that have smaller frames, sleeker designs, and may allow for manual use, but when it comes to the public beach, this is the popular or standard option to allow the public access to both the sand and the water.
This is the best option for those that want to enjoy the water while at the beach and want to go swimming or have the opportunity to float in the shallows. Many public beach wheelchair options are amphibious, so look for that information specifically when choosing a beach or when inquiring about beach wheelchair options at your preferred location.
Beach wheelchairs are a must when visiting the beach, from getting to lounge in the sand, to searching for shells and even getting into the water, it's a great idea to look into the specific beach wheelchairs provided at your destination before booking your trip. Another option is to rent a beach wheelchair so it's ready when you arrive, as this will give you the freedom to explore the beach fully. Many public beaches have beach wheelchairs, but getting to select the types of beach wheelchairs for your trip and have it for your own personal use adds more flexibility and enjoyment to your trip overall.
Check out more of our blog posts!
About the Author:
Cory Lee is a wheelchair user, travel addict, and accessible travel writer. On his blog, Curb Free with Cory Lee, he hopes to inspire others to roll out of their comfort zones and see all the beauty our world has to offer.
To keep reading become a member.
Already a member? Login
Over 400 pieces of exclusive content
Tips and advice on Accessible Travel