You can walk and can handle going up a few stairs.

Maximum of 15 steps (1 floor up) to reach the accommodation or manoeuvre into it.

You can only handle one step at a time.

The accommodation is quite accessible, can suit wheelchair users.

You need a fully accessible accommodation.

Maximum thresholds of 3 cm (1 inch), suits wheelchair users.
What to Do if Your Wheelchair Gets Damaged on a Flight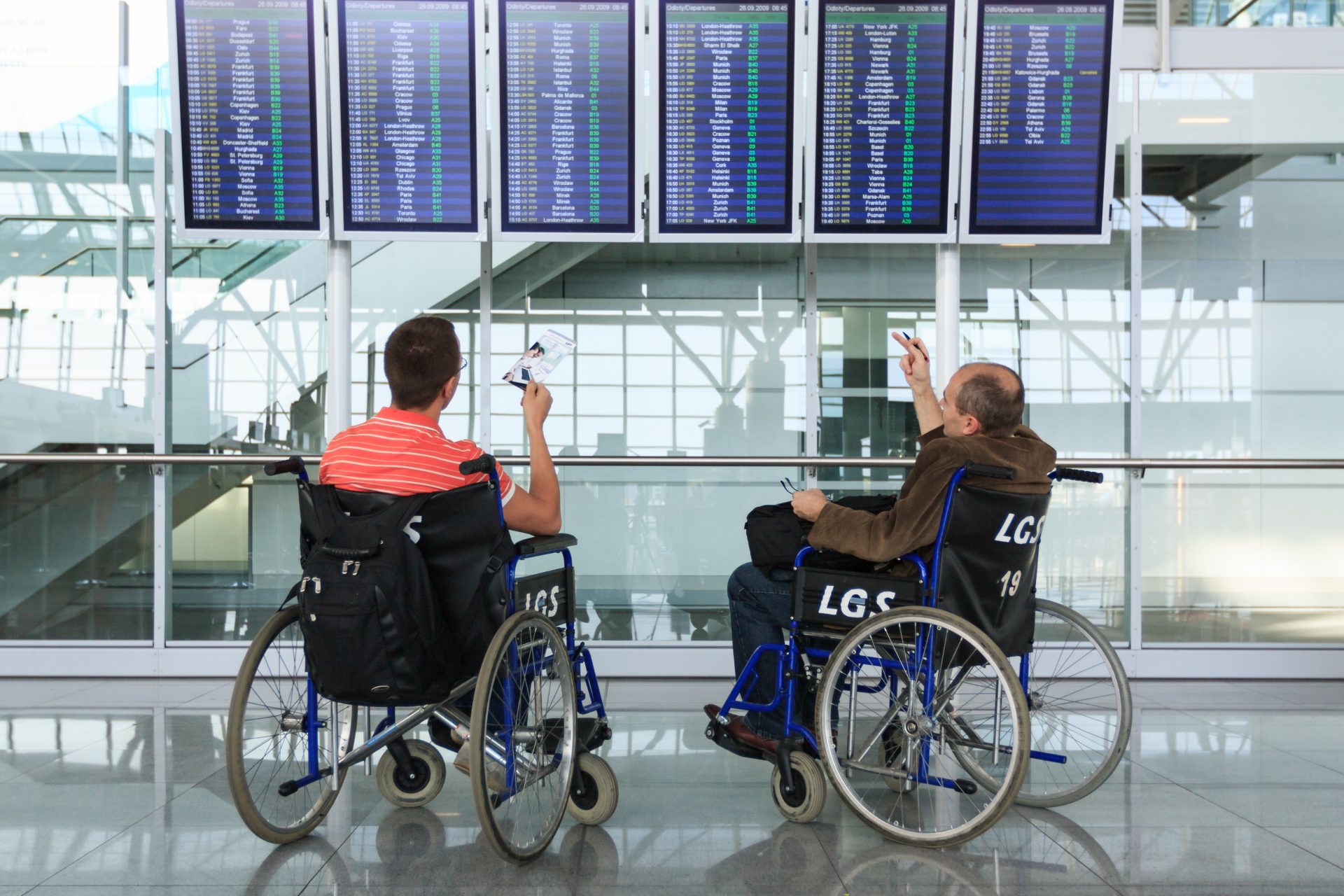 Wheelchair users that enjoy traveling know that dealing with wheelchair damage from mishandling during a flight is a potential risk when flying, but it can be dealt with so that it doesn't ruin your whole trip. Understanding that wheelchair damage on a flight can happen and knowing how to prepare for this before even boarding the plane will help you handle the situation if it arises.
The best approach to remedying the situation if your wheelchair gets damaged during a flight is to remember to prepare for the potential of damage before you leave home and try to stay calm while working with the airline to file a report.
Having this approach in mind will help you stay focused and work on resolving the issues, so you can get to enjoying your trip. The following steps will help you through this process, from documenting your wheelchair's state before you leave to how to file a claim and get a replacement wheelchair.
Before the flight
Document the condition of your wheelchair before you fly
Before you leave your home, it's a great idea to document the current condition of your wheelchair, mostly through photos. This will give you something to compare your wheelchair to after the damage is done, demonstrating what happened during the flight. Taking these photos at your home offers a solid starting point to document how your wheelchair was before you traveled and will give you proof of the damage that occurred after you trusted the airline with your property.
Take pictures of everything, including any hand controls, footrests, and anything that could be broken, dented, or ripped. Having a range of photos from the back, front, and sides gives you the most thorough documentation.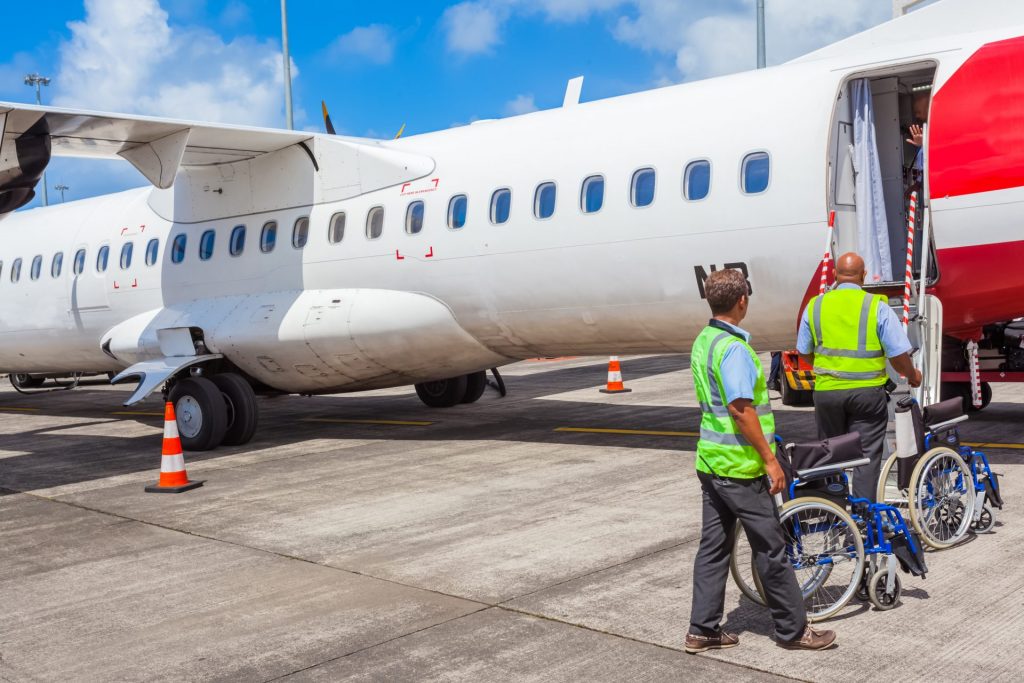 Consider packing replacement parts for quick repairs
Another way to prepare for potential damage is to think about bringing replacement parts for the most important pieces of your wheelchair. Something like hand controls may be removable or it may be easy to bring a back-up joystick in case something happens during handling. Think about which pieces can be removed and stored with you on the flight to reduce damage or loss, like a seat cushion. You may also want to try a storage bag or case, depending on your wheelchair, to help keep everything together and protected when it's gate-checked.
After the flight
Even with the best preparation, damage can happen to your wheelchair during a flight. Here are some basic steps to get you through the situation and into a replacement wheelchair, so you can enjoy your trip.
Take photos of your wheelchair as you received it
As soon as you are given your wheelchair at the gate, survey the damage. This is the best time to take new photos of its state, as you will want to document the damage as soon as it's back in your possession. Take multiple photos from several angles, ideally in a similar manner to the photos you took at home so they're easy to compare and highlight the damage. You may need these photos to help file a claim and explain that your wheelchair was not given to the airline with this damage.
File a claim with the airline
The next step is to use the resources at the airport to locate the Complaints Resolution Official (CRO) for the airline. First, talk to the representative at your gate to alert them of the damage, as well as the transport you'll need to talk to the CRO. You may go to a customer service desk, where a damage claim can be filed. When you file a claim, be sure to request a copy of any forms or documents you provide on the spot. If they cannot provide copies, take photos with your phone so you have evidence of your filing.
This claim must be filed as soon after the damage is discovered as possible. Once the airline is aware of the damage, you can then request that the damages be repaired or replaced, but if you leave the airport without filing a claim, the airline may resist or refuse to help.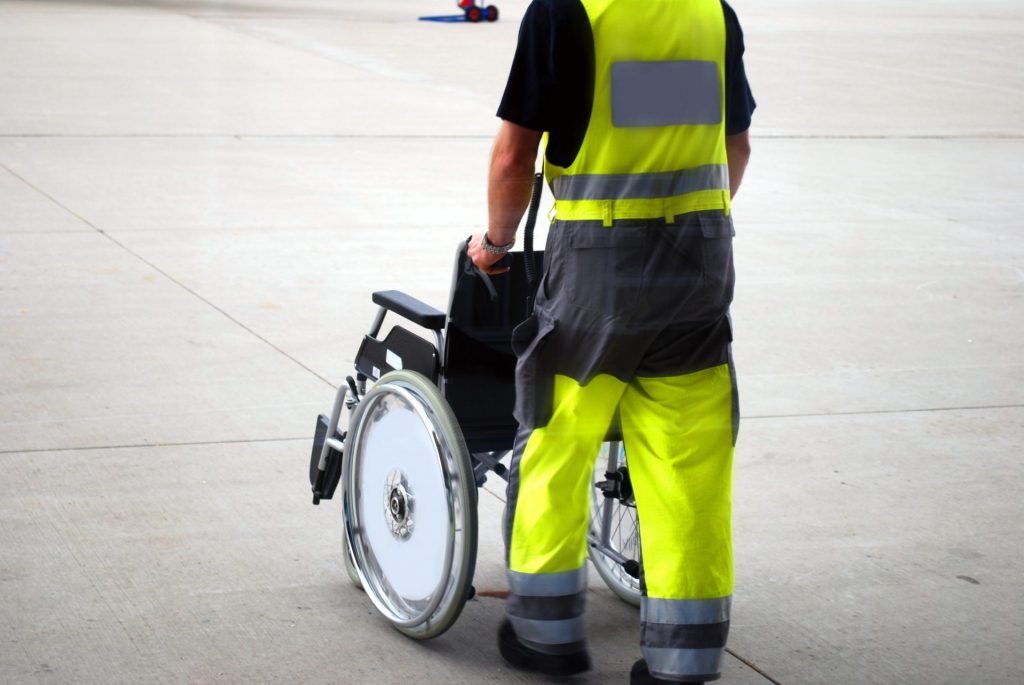 Request a replacement wheelchair for the duration of your stay
Due to regulations, the airline must repair the damage or replace your wheelchair, but no matter the process, you will need a wheelchair at your destination. The airline should provide a wheelchair equivalent to or above your damaged wheelchair, as well as a loaner wheelchair while you're at home waiting for your wheelchair to be returned.
While this is the best case scenario, the airline may insist that you rent your own replacement and submit the expenses to be reimbursed later. Be aware of this before you board the plane, as you'll want a plan in place if you need to rent your own wheelchair while at your destination and when you're at home.
Rent a replacement wheelchair for the duration of your stay
Depending on how damaged your wheelchair is, you may be able to still get around during your trip or you may be in a position where you have to rent a replacement wheelchair for the duration of your stay. Some airlines may require that you incur the cost of a rental and submit paperwork for reimbursement later, which is why it's a good idea to consider this scenario before you leave.
Make sure you know of at least one rental option at your destination, so you aren't stuck without the equipment you need. It's also a good idea to have resources on rental locations because they may be able to help you replace a part or get the damage repaired while on your trip.
File a formal complaint once you've arrived at home
The last step is actually one that can wait until you've arrived back at home, that is filing a formal complaint with the airline, along with the department of transportation, to document the damage. This is a good idea because it enforces the original claim you filed and helps ensure your case is taken seriously. Filing a formal complaint with both the airline and the DOT makes it more likely that your wheelchair will be repaired or replaced by the airline. Usually you need to follow up within 30 days, which is why it's best to do it once you've returned home.
Wheelchair users know that wheelchair damage is always a risk when using air travel, but it's a rare occurrence and can be corrected fairly easily. Don't let the chance of wheelchair damage deter you from traveling across the globe, but leave home prepared with the knowledge of how to handle the situation if damage does occur and you need a repair or a replacement.
Here are some other helpful travel tips for wheelchair users:
About the Author:
Cory Lee is a wheelchair user, travel addict, and accessible travel writer. On his blog, Curb Free with Cory Lee, he hopes to inspire others to roll out of their comfort zones and see all the beauty our world has to offer.
To keep reading become a member.
Already a member? Login
Over 400 pieces of exclusive content
Tips and advice on Accessible Travel