You can walk and can handle going up a few stairs.

Maximum of 15 steps (1 floor up) to reach the accommodation or manoeuvre into it.

You can only handle one step at a time.

The accommodation is quite accessible, can suit wheelchair users.

You need a fully accessible accommodation.

Maximum thresholds of 3 cm (1 inch), suits wheelchair users.
The Urban Experience
Rolling Around Wheelchair Accessible New York City with the Barr Family
New York City
Here at Handiscover, nothing makes us happier than when our clients have successful trips like the Barr family visiting wheelchair accessible New York City. From Mallorca to the U.S. and everywhere in between, we offer accessible properties around the world to make your journeys a bit easier. After all, wouldn't you rather spend your holiday seeing the sights instead of worrying about where to stay?
The Barr family recently returned from a holiday in New York City, which was arranged with the help of Handiscover, and they wanted to share some thoughts on the Big Apple. Alison and Ronald's son, James, uses a wheelchair, so they needed an ultra accessible experience. And since, visiting wheelchair accessible New York City has been a lifelong dream for James, that made this trip even more special.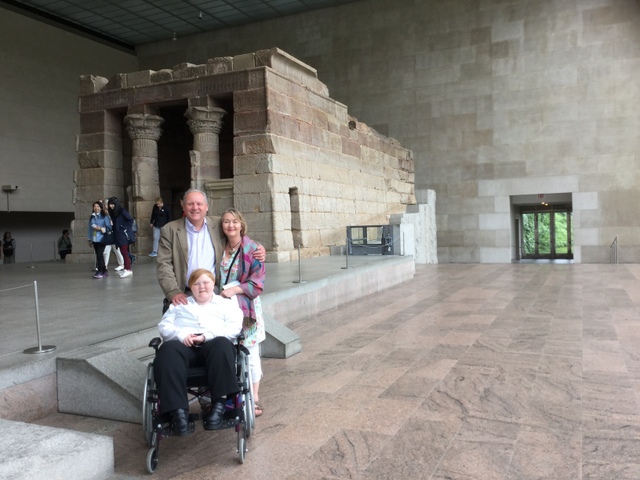 Accessible Hotel
They stayed at Fifty NYC in midtown, which was an excellent hotel and within walking/rolling distance to many of New York's iconic attractions. Having a hotel in a prime location is an important preference for anyone, but even more so for wheelchair users, as it makes it easier to get around when accessible transportation isn't available.
In New York City however, you don't have to worry about transportation not being wheelchair friendly. "New York buses are fantastic and wheelchair users board first. For a 7 day unlimited travel bus pass it's only $32. It's absolutely marvellous", says Alison.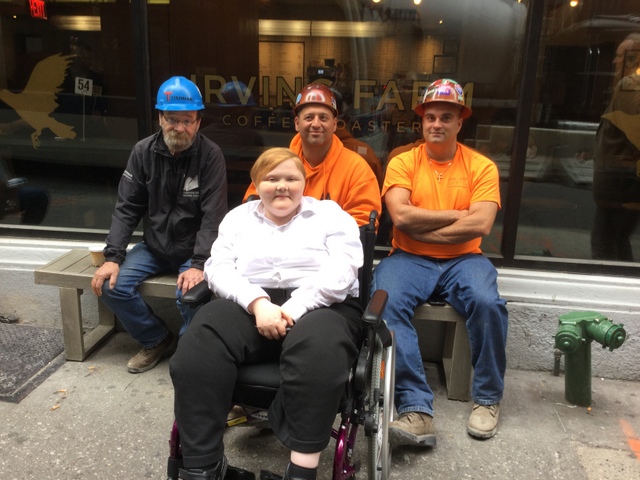 Touring the city
After touring around the city all day, the Barr's went back to their hotel. Aside from being in a perfect area, they say that the hotel also had a very good staff and the accessible room was large enough for all of their equipment, including a mobile hoist, a powered wheelchair, and a manual wheelchair. They rented the hoist from Homepro Medical Supplies and highly recommend the company.
While out and about on the town, the family met up with a Big Apple Greeter to show them around. The greeter was a NYC local and was a tour guide of sorts for the Barr's. This greeter service is completely free if you request a greeter 3-4 weeks in advance of your trip. It could be a great way to experience New York from a local's perspective. If you need to use the restroom while out, Alison says "We found that all public restrooms had a larger toilet for wheelchair users in both the male and female stalls. However, the restrooms are bigger and cleaner in Starbucks, McDonalds, and the hotel of course."
The Barr family had a wonderful trip to wheelchair accessible New York City and it was everything that James dreamed it would be. Over the past few years, accessibility has greatly improved in NYC, making it a possibility for anyone. Whether you're in a wheelchair or not, take a bite out of the Big Apple and give it a try.
About the Author:

Cory Lee is a wheelchair user, travel addict, and accessible travel writer. On his blog, Curb Free with Cory Lee, he hopes to inspire others to roll out of their comfort zones and see all the beauty our world has to offer.
To keep reading become a member.
Already a member? Login
Over 400 pieces of exclusive content
Tips and advice on Accessible Travel