Wheelchair Accessible Cordoba
If you've never been to Córdoba, Spain, you're missing out! It may not be as common to visit compared to Seville or Barcelona, but it's well worth a flight over! It's a fascinating city, rich with its own culture and history.
If you get a chance, visit during summer! The city has something they call the Feria de los Patios. During it, the locals compete for the honour of getting the prize for having the prettiest courtyard or patio in the city.
I'd go just for Feria de Los Patios, but the city has a lot more to offer! Córdoba is also wheelchair accessible in places as long as you know where to look. The following section helps break down some of the best activities to do in the city that are wheelchair accessible.
Córdoba's 5 Best Wheelchair Accessible Activities
Visit the Mosque-Cathedral of Córdoba
This famous site is also called the Mezquita and the Great Mosque of Córdoba. Interestingly, it is a Catholic cathedral that was once a mosque. It's located near the centre of the city and is considered to be the most important monument of the Western Islamic world.
Whether you're visiting it for religious reasons or strictly as a tourist, the mosque-cathedral is a beautiful structure with a unique history.
The building is wheelchair accessible and has ramps throughout it. Go here for more information.
Explore the Old City
While you're visiting the mosque-cathedral, definitely take time to roll through the old city surrounding the building. It's a large area with a mix of unique ancient neighbourhoods and tiny streets.
You could easily spend the day wandering up one street and down another– purchasing little souvenirs, snacking on food from street vendors, and enjoying the hustle and bustle of nearby locals and tourists.
Some of the older streets are a bit bumpier than you're likely used to, but if you don't mind that and want to explore an area rich with history, take your time enjoying the streets. It's an interesting place to visit.
Ride Along on a Hop-On, Hop-Off Bus Tour
The Hop-On, Hop-Off Bus Tour is well worth a day or two of your time while exploring Córdoba. You have the choice of riding at a normal level or up above in the open top section of the bus, getting an awesome view of the streets you're riding through.
The two bus routes cover a total of 27 stops. You can ride along and view all of them from the comfort of the bus while listening to the audio commentary in a variety of language choices, and you can also hop out and tour any of those stops along the way!
The tour bus has low floors with ramps and space reserved for wheelchairs. Go here for more information.
Stroll Through the Tiered Gardens of the Alcazaba
This area is a collection of beautiful, ancient, well-kept gardens in the middle of Córdoba. It's a lovely relaxing place to visit! It's an especially nice stop if you've spent your day in the city and want a bit of time in nature.
There are all sorts of pretty colours and sweet smells as well as the soothing sounds of fountains and occasional Spanish music.
There are stairs so you wouldn't be able to tour the whole area without being able to walk a bit. However, there is an upper part of the gardens that you could explore without going up or down any stairs.
Eat Some Traditional Spanish Food
You can't go to Spain without eating something delicious! If you want an idea of where to go, one great restaurant you could visit is called Taberna La Espumita.
They have a delicious mix of food with some of the most popular dishes from the area including a variety of croquetas. It's not a fancy place, but it's clean, has friendly service, and the food is well-prepared.
The restaurant has tables both inside and outside and is wheelchair accessible. Go here for more information.
Best Ways to Get Around Córdoba, Spain in a Wheelchair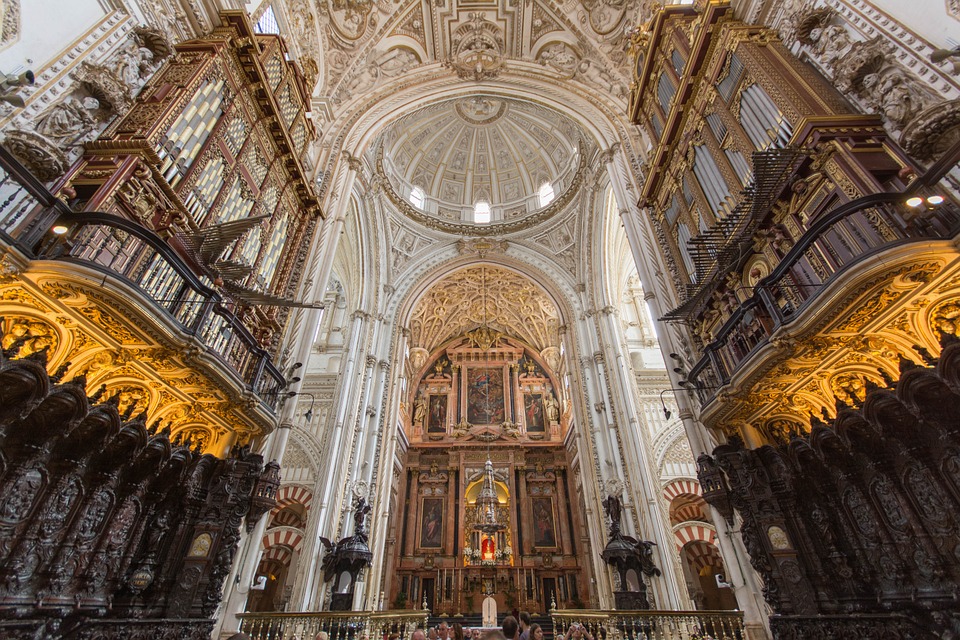 One awesome way to get around Córdoba is to use a company called Radio Taxi Córdoba. They have 22 wheelchair accessible vehicles you can book. Go here for more information.
Wouldn't it be helpful if you could see a birds-eye-view of the area to tell which streets are accessible? Well, you're in luck! This site here provides you with a list of the streets in Córdoba and says whether they are accessible or not. They even have pictures so you can see what it's like before venturing out.
While in Córdoba, a fun way to get even more out of your visit is to go with a tour. There is a half-day historical tour you can go on in Córdoba that stops at the Arabic market, the Jewish Quarter, and the mosque-cathedral mentioned at the beginning of this article. The tour is wheelchair accessible. Go here for more information.
Best Accommodations In and Around Cordoba
Are you ready to head out to Córdoba? It's a fascinating, beautiful place to visit! But before you go, you need to plan a fully accessible accommodation for yourself.
Handiscover, the #1 booking website for people with special needs and disability, has offered a variety of reliable and comfortable rentals. By classifying the properties into three categories, Handiscover can always help you find the most suitable accommodation! What you need to do is just select one property based on your own mobility.
Here are some great examples from the website. For more information, do not hesitate to contact via e-mail: booking@handiscover.com or on the phone: +44 1550 400022 (UK).
Whether you'd like to go see the lovely courtyards throughout the city, the mosque turned cathedral, or the old streets winding their way through Córdoba, it's all there waiting for you. Just be sure to take along a camera!
Other Useful Travel Information
Our Popular Post
About the Author:

Cory Lee is a wheelchair user, travel addict, and accessible travel writer. On his blog, Curb Free with Cory Lee, he hopes to inspire others to roll out of their comfort zones and see all the beauty our world has to offer.