You can walk and can handle going up a few stairs.

Maximum of 15 steps (1 floor up) to reach the accommodation or manoeuvre into it.

You can only handle one step at a time.

The accommodation is quite accessible, can suit wheelchair users.

You need a fully accessible accommodation.

Maximum thresholds of 3 cm (1 inch), suits wheelchair users.
Coasts & Cliffs
An Accessible Guide to Eastbourne, England: What to See and How to Get Around

Wheelchair Accessible Eastbourne
Eastbourne is a charming seaside resort town on the southern coast of England and a popular tourist destination. Getting around wheelchair accessible Eastbourne is relatively easy for wheelchair users since it is mostly level and has many wheelchair ramps and slopes, though some barriers do remain.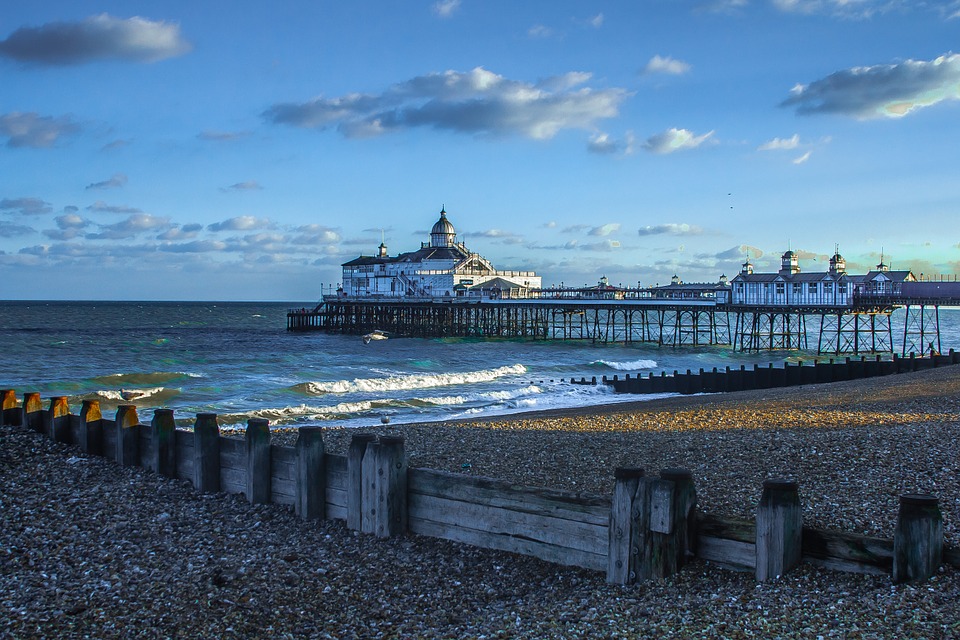 A lot of progress has been made in making Eastbourne more accessible, and the wonderful Eastbourne Access Group is hard at work promoting accessibility and disability awareness throughout town. They also publish an accessible guide to Eastbourne which is a very valuable resource.
There are plenty of things that wheelchair users can do and see in Eastbourne and here are seven of the best ones.
7 Best Wheelchair Accessible Things to Do in Eastbourne
1) Stroll the Promenade
A great place to begin your exploration of Eastbourne is the Promenade, which extends from Holywell all the way to Langney Point. There are tons of cafes and shops along the Promenade, and plenty of ramps that give you access to the Lower Promenade, where The Bandstand and Pier are located. The Bandstand is completely accessible and offers a wide variety of concerts all summer. During the summer months, you can ride on the accessible Dotto Train, which runs along the entire Promenade. There are also accessible restrooms at various points along the Promenade, which you can locate by looking on the Eastbourne access guide.
2) Enjoy the Waterfront at Sovereign Harbour
Sovereign Harbour is a large marina complex with a mall known as the Waterfront Retail Park. There are brick walkways and the area is pretty flat, so you can access most of the complex and enjoy amazing views of the harbour and waterfront. The Retail Park contains many different shops, restaurants, and a movie theatre, which are all accessible. There is a publicly accessible restroom and some of the restaurants have accessible restrooms as well. The Waterfront at Sovereign Harbor is a great place to browse the shops and get a bite to eat while enjoying beautiful water views.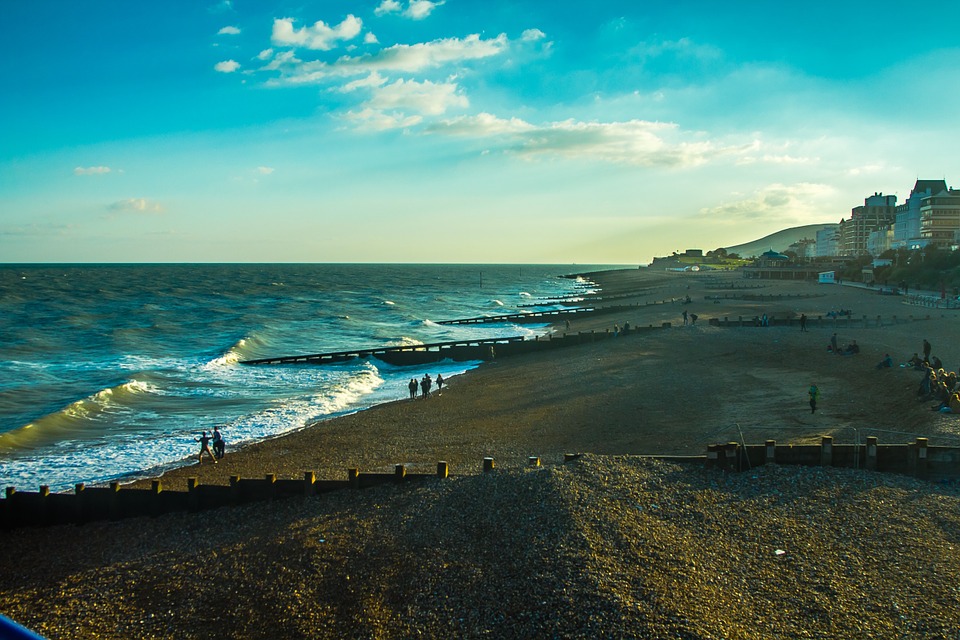 3) Go for a Swim
If you are in the mood to go swimming, you are in luck! Your two best options are the Sovereign Leisure Centre and the Motcombe swimming pool, both of which have facilities for wheelchair users. The Sovereign Leisure Centre offers reduced rates for people in wheelchairs and has accessible restrooms, showers and changing rooms. There is a ramp leading into the shallow end of one pool, as well as a hoist for entry into the water, though they recommend calling ahead of time to make sure the hoist is available.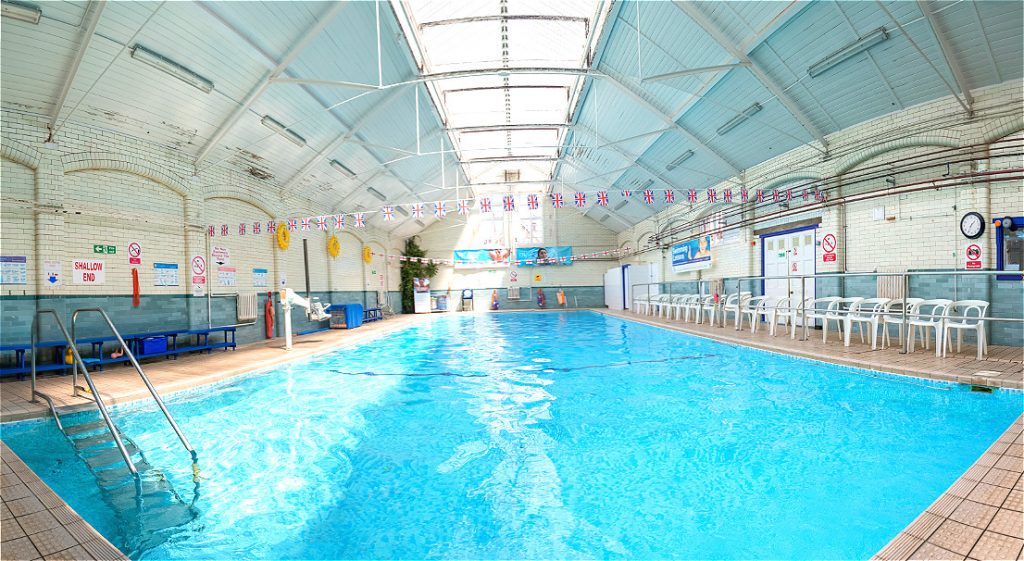 Photo: Motcombe Swimming Pool
The Motcombe Swimming Pool is a community pool that is open daily year round. It also offers accessible restrooms, shower and changing facilities for wheelchair users, and there is a hoist into the pool. Either of these places is a great option if you want to take a dip in the pool.
4) Go to the Theater
Don't miss the chance to visit the lovely Devonshire Park Theatre, a small Victorian theatre with a fancy interior. The theatre hosts a large variety of shows, from major productions to small one-night events. There are plays, musicals, comedy shows and many other types of performances. There is parking on Compton Street, including three wheelchair spaces as well as Blue badge parking in front of the theatre. You enter the theatre from a small service road, and there is both wheelchair seating and an accessible restroom.
5) Visit the Gardens
There are some beautiful gardens in Eastbourne, and two that you should definitely visit are Helen Gardens and Italian Gardens. Helen Gardens is on the top of a cliff overlooking the sea and has stunning ocean views. It has plenty of seating areas, and the pathways and grassy areas are mostly level, so you shouldn't have a problem manoeuvring. The Italian Gardens are below Helen Gardens and overlook the Holywell beach. These unique, hidden gardens feature a wooden amphitheatre carved into the cliff face designed with arbours and pergolas. The pathways down to the garden are steep, so it is best for wheelchair users to enter from the Promenade.
6) Explore the Redoubt Fortress
The Redoubt Fortress is over two hundred years old and is a historic landmark located on the Eastbourne seafront. It was built during the Napoleonic wars and was also used during World War I and World War II. The complex includes a parade ground, twenty-four rooms known as Casemates, and is topped by the Gun Platform. The Fortress has fantastic ocean views and hosts many different events. In terms of accessibility, there are steps from the promenade entrance but they have a stair climber for wheelchairs that you can book. By using the stair climber you will be able to access the museum and parade ground. There is also slope access to the Gun Platform from the Royal Parade road entrance.
7) Lifeboat Museum
The RNLI Museum is located at the western end of Eastbourne Seafront, in the William Terris Memorial Boathouse, which was built in 1898. The museum, which was renovated in 2011, relates the history of the Eastbourne lifeboats with the help of collections and lifeboat models. There is also a museum store with various books and souvenirs. And best of all, the lifeboat museum is entirely accessible.
Great Accessible Accommodations in Eastbourne
Eastbourne is a charming seaside town that has a great deal to offer tourists. Do not hesitate to plan a journey to relax. Here are some fully accessible hotels provided by Handiscover. They are on the seafront, from where you can gaze off the beautiful sea view! What a fantastic experience if you sit on the balcony, enjoy the gentle breeze and take a sip! Click on the pictures to see more detail information about these properties in Eastbourne. Currently, Handiscover offers the £25 discount coupon for your first booking!!
Want personal designed service? just e-mail them via booking@handiscover.com or on the phone:+44 1550 400022 (UK).
Getting Around Eastbourne as a Wheelchair User
It is relatively easy to get around in a wheelchair, thanks to the efforts of the Eastbourne Access Group. The town is mostly level, the Promenade is accessible, and the Dotto Train also travels the entire length of the Promenade. Wheelchair route maps are also available from Eastbourne Access Group, which makes getting around much easier.
In terms of public transportation, all Southern Rail trains have cars with accessible restrooms and spaces for wheelchairs and scooters. These cars have a wheelchair symbol on the outside. The local stations are accessible, but note that there are level crossings at Polegate and Hampden Park. There are also some Stagecoach buses with accessible routes, such as The 'Loop' 1/1a and The Wave 99.
Eastbourne has a handful of taxi companies, but if you require an adapted vehicle your best bet is to contact the company Mark Lester, which has an accessible taxi bus.
While there are currently no companies specializing in accessible tours to Eastbourne, the town itself is overall quite wheelchair friendly. You shouldn't have too much difficulty getting around on your own. However, if you do need the additional assistance of any kind, be sure to get in touch with the Eastbourne Access Group. They will do everything they can to help out.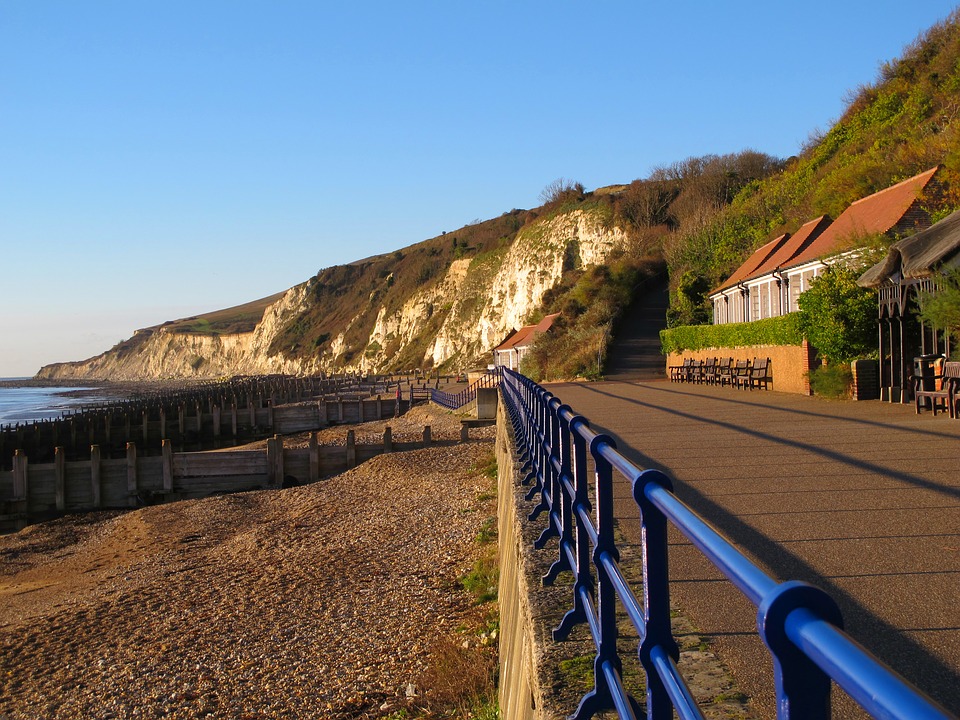 Eastbourne is the town that has made great strides in terms of accessibility and continues to improve in this area. Wheelchair users can participate in many sightseeing and recreational activities in Eastbourne, which makes it a wonderful place to spend a summer holiday.
About the Author:

Cory Lee is a wheelchair user, travel addict, and accessible travel writer. On his blog, Curb Free with Cory Lee, he hopes to inspire others to roll out of their comfort zones and see all the beauty our world has to offer.
To keep reading become a member.
Already a member? Login
Over 400 pieces of exclusive content
Tips and advice on Accessible Travel