You can walk and can handle going up a few stairs.

Maximum of 15 steps (1 floor up) to reach the accommodation or manoeuvre into it.

You can only handle one step at a time.

The accommodation is quite accessible, can suit wheelchair users.

You need a fully accessible accommodation.

Maximum thresholds of 3 cm (1 inch), suits wheelchair users.
Travel Destinations
Getting Around London in a Wheelchair: Accessible Taxis, Buses and Trains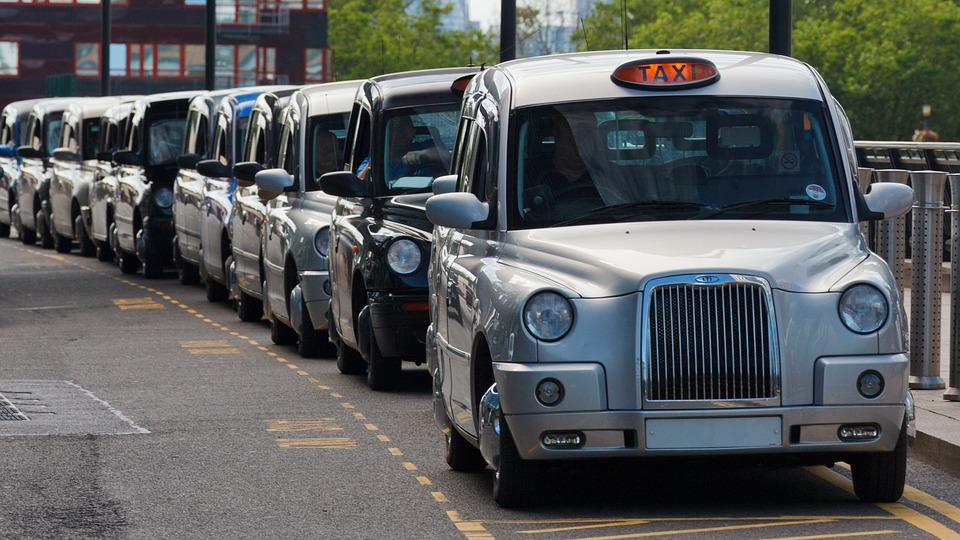 Wheelchair Accessible Transportation in London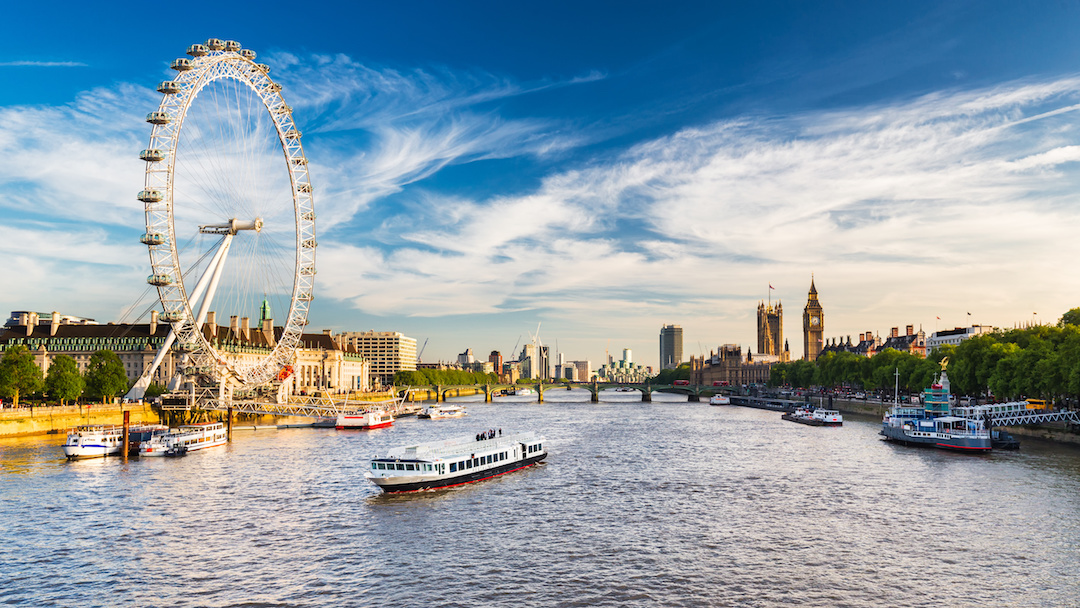 London is an unequivocally timeless city. When you think of London, you might think of Buckingham Palace, the famously busy shopping districts, and sipping tea at high noon.
I must confess I was nervous about my ability to get around this old-world city, but am happy to report this British locale offers many accessible options.
Here are some of the top tips regarding wheelchair accessible transportation in London and getting around London for any wheelchair user or traveller with special mobility needs.
By using these pointers, you can create a rich and rewarding vacation filled with wonderful memories for years to come.
Whilst looking for the best travel options suited for you, why not make your stay even easier by booking your accessible accommodation within the centre of the city. Browse Handiscover's Central London accessible listings now!
Rolling About
On a pleasant day, London is mostly traversable by wheelchair. To avoid prolonged rainy days, the best times to visit are during the summer and fall months.
Since London underwent significant rebuilding efforts after the war, I was happy to find mostly flat and wide sidewalks.
In fact, there are very few cobblestone pavers remaining in the city, which made touring by wheelchair a really convenient option for me. Not only are the sidewalks in good shape, most of the street intersections have curb cuts for wheelchair users.
Unlike many other European destinations, the majority of tourist attractions in London are accessible. I had a chance to visit many museums throughout my stay and all of them had a wheelchair accessible entrance.
In the River Thames area, you can even try your hand at fishing with special platforms built for wheelchair users. Even the Westminster Abbey, along with several other churches and historical buildings, had wheelchair ramps and some had lifted as well.
There were a few inaccessible areas within the Abbey so the entrance fee is free of charge for wheelchair users. That's not too bad – particularly if you're travelling on a budget!
With all of my travels throughout the city, I found myself ravenous and ready to grab some grub. I decided to angle for some ever-famous Fish 'n Chips. Not to worry, with the assistance of Assist-Mi, I was able to locate top-rated restaurants with accessible seating and restrooms.
Additionally, this APP allows a user to contact a business ahead of time, request help, and gain confirmation of assistance requests.
Accessible Taxis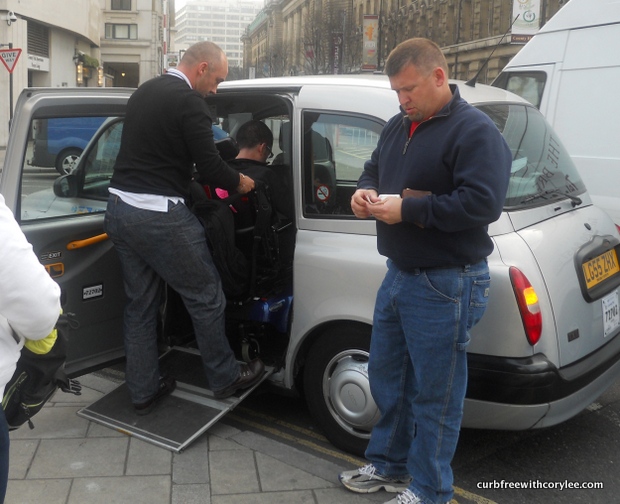 All taxis in London are accessible, but London Black Taxis are best for wheelchair users or those with mobility needs.
First, the drivers of this fleet undergo extensive security checks and learn the city layout to pass scrupulous driving tests.
Second, these taxis have comfort and ease in mind for both manual and power wheelchair users like me.
I was able to remain in my chair and use the electronic ramp to board this taxi. Furthermore, the door openings are extra high, so I was able to board in my wheelchair without having to contort my upper body just to take a ride.
Another differentiating feature was the roomy interior, which allowed my wheelchair to be buckled in securely but was also comfortable to boot. I enjoyed being able to take in all the sights as we travelled from Point A to Point B.
I also found the London Black Taxis quite easy to hail from the sidewalks or street corners. However, there were times I wanted to book my taxi in advance, especially on the days I visited Westminster Abbey and the River Thames. This was easily accomplished by calling +0871 871 8710
Want to be amidst some amazing experiences like The London Eye? Browse Handiscover's London accessible listings now!
Buses
I highly recommend doing your homework ahead of time by studying the bus routes online prior to your travel to London.
Transport for London provides bus route maps, information on the wheelchair-friendly bus stations, and many tips which helped me immensely prior to my arrival in the city of Big Ben.
I also learned that a bus system is a budget-friendly form of travel. There is no charge for wheelchair users.
Unfortunately, there are some wheelchairs that will not travel well on the London bus system. Through pre-planning, I was able to find this out prior to trying to catch a bus. The Travel Mentoring Service is a free service that is quite easy to use.
All I had to do was a make a telephone call, answer a few questions, and they were able to verify that my wheelchair model was okay for bus travel.
The buses have the ability to "kneel", which lowers the bus to the curb. As I learned, the buses have 2 doors. The front door is for non-wheelchair travellers and the centre door is specifically for wheelchair users and folks with other mobility needs.
This helpful tip allowed me to position myself on the street so I was much closer to the centre door. When a bus stops, the driver will first open the front door and allow all non-wheelchair passengers to board.
As they are getting in seats, the driver then opens the centre door which features an extendable ramp. Once inside, I was pleasantly surprised to find a designated area to park my wheelchair.
When I was ready to get off the bus, I pushed the wheelchair button by the centre door, which sent an alert to the driver that I was ready to exit.
Once the bus stopped, the driver used the same method for exiting as boarding – i.e. All passengers exit via the front door first, then the centre door opens, the ramp extends, and off I went.
All in all, I found the bus system provided me with the ability to travel independently throughout London with a fair amount of ease.
Below are some top Accessible Accommodations in London. Do not hesitate to plan your summer holiday with Handiscover.
Trains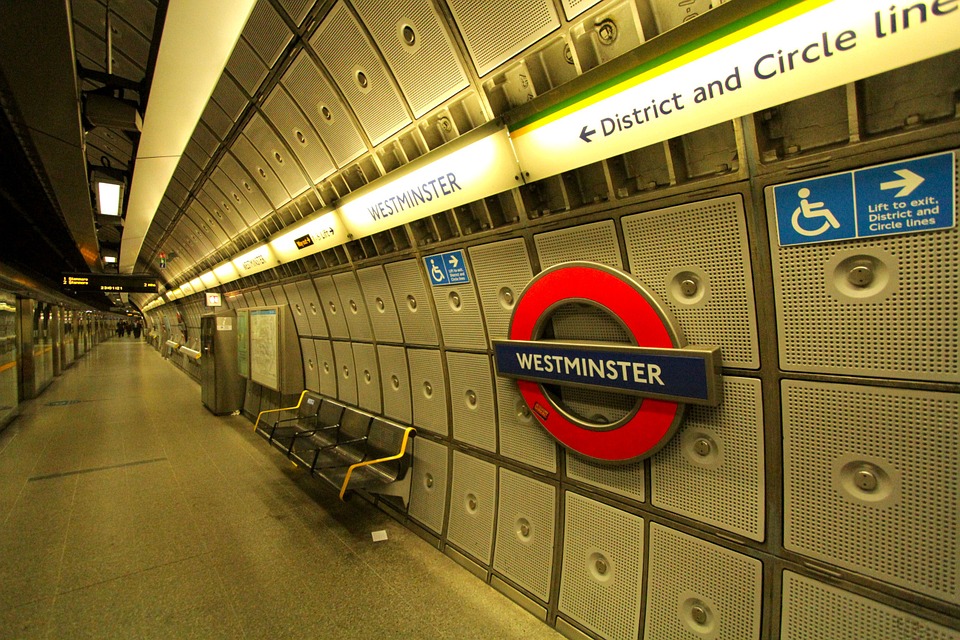 The London Underground Train, known as the Tube, offers more than 60 step-free platforms for wheelchair users.
It has expanded its accessible features to not only support wheelchair users but also those with audio and visual special needs. However, many of the stations have stairs or escalators to reach them. As I compared the step-free stations to my daily travel itinerary, I decided to forego the Tube on this visit to London.
For the sites and attractions that I wanted to see, I found the Overground Trains and the Docklands Light Railway (DLR) to be the most convenient options.
The Overground rail services still require a fair amount of forwarding planning to locate the stations with step-free access.
One resource which allowed me to create plan-ahead cheat sheets is the National Rail Enquiries website. Currently, there are 43 stations with step-free access from the street to the platform. 5 stations top my list, both for convenience and ease. They are the Dalston Junction, Haggerston, Hoxton, Shoreditch High Street, and Canada Water stations.
The Docklands Light Railway reminds me of the old throwback movie, Back to the Future. These driverless trains not only make your imagination run wild but are also fully accessible.
The railway runs through the heart of the city and into East London. All stations offer a lift or ramp access to the platforms and a fairly level surface for entering the train.
One important item to note is there is a 3-inch gap between the platform edge and train. There is also a 2-inch step up or down getting on and off the train.
I found this easy to manoeuvre with a power wheelchair but it may require companion assistance for those using walkers or manual wheelchairs.
A convenient way to pay for train and DLR fares is the Oyster card. You can buy these "pay as you go" cards at all Overground stations. They're also at several Visitor's Centers, and at retailers throughout London.
You can also manage your card and funds online or through an easy-to-use APP. The best thing for me is these cards cover fares on both the Docklands Light Railway and TFL's Overground train system.
I never had to worry about how I was going to pay. There were days I used the railway systems extensively and these cards helped cap the cost of travel. Another cost-conscious win from my point of view!
In conclusion, I found London to be surprisingly accessible. I particularly enjoyed rolling about and discovering the quirky side of London that only can be found by exploring up close and personal.
However, there were several attractions on my must-see wish list that required additional transportation methods. By using the many available, online resources to plan ahead, I found travelling about via taxi, bus, and the railway system to be an equally exciting and exhilarating experience!
Wonderful Accessible Accommodations in London
Travelling to London is a nice idea for your holiday! When you prepare your weekend there, check out some beautiful properties offered by Handiscover! Click on the following pictures to see more detail information about accessibility inside and outside the property! For personal support, do not hesitate to contact them via e-mail: booking@handiscover.com or on the phone: +44 1550 400022 (UK).
Browse Our Top London Guides
Other Useful Travel Information
Other Popular Travel Destinations in the UK and Around the World!
About the Author:

Cory Lee is a wheelchair user, travel addict, and accessible travel writer. On his blog, Curb Free with Cory Lee, he hopes to inspire others to roll out of their comfort zones and see all the beauty our world has to offer.
To keep reading become a member.
Already a member? Login
Over 400 pieces of exclusive content
Tips and advice on Accessible Travel