You can walk and can handle going up a few stairs.

Maximum of 15 steps (1 floor up) to reach the accommodation or manoeuvre into it.

You can only handle one step at a time.

The accommodation is quite accessible, can suit wheelchair users.

You need a fully accessible accommodation.

Maximum thresholds of 3 cm (1 inch), suits wheelchair users.
Podcast
Wheelchair Air Travel with Josh Wintersgill | Access All Areas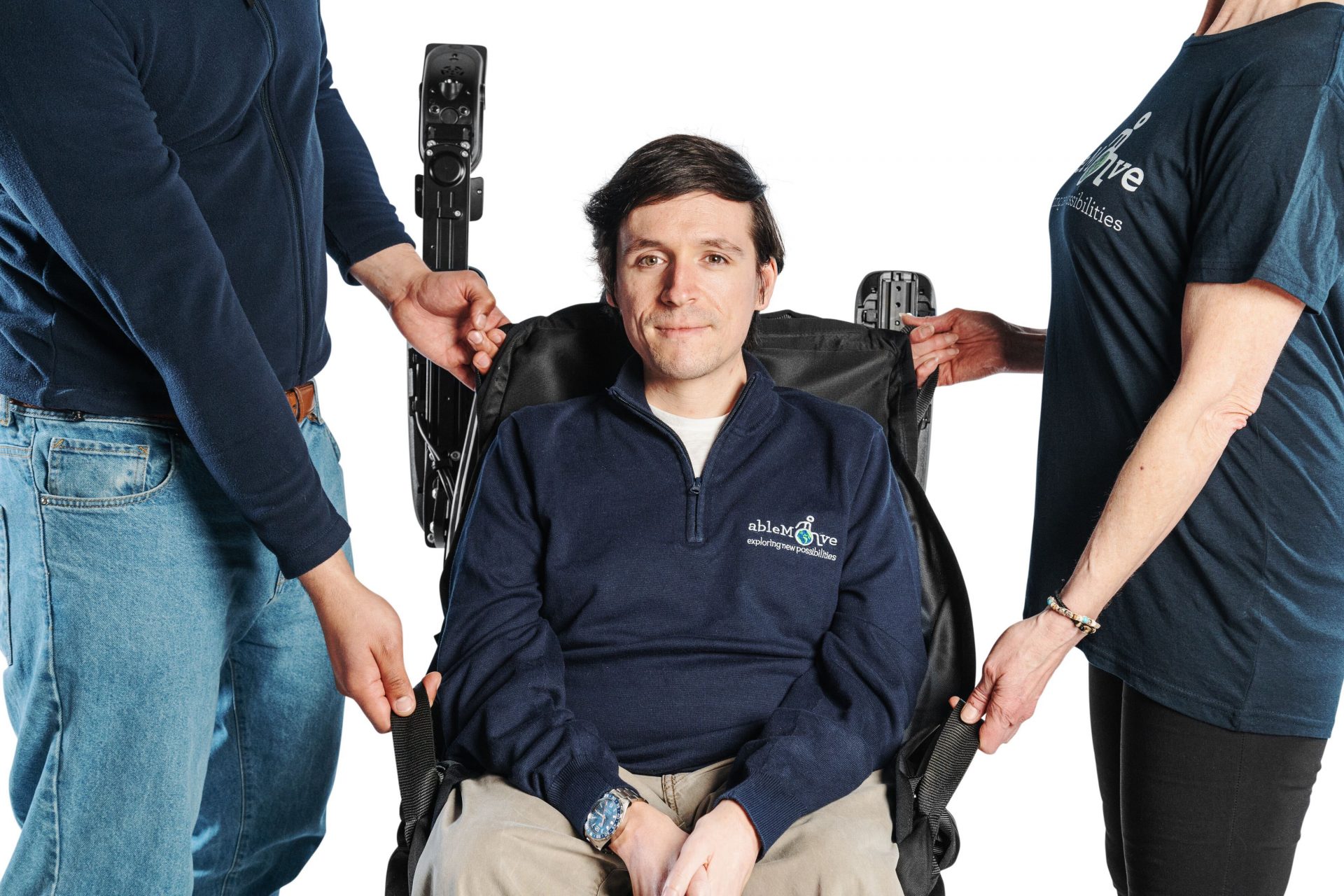 In this episode of Access All Areas, Cory spoke to Josh Wintersgill, Founder and Director of Able Move. Able Move provides transfer slings and a variety of other products for wheelchair users. Josh and Cory discussed the process of wheelchair air travel and how to improve air travel.
You can watch the full video below and previous discussions on our Facebook page and YouTube channel. Follow us on Facebook and Subscribe to our Youtube Channel for new episodes live-streamed every two weeks.
Below is the transcript of Cory's discussion with Josh Wintersgill about wheelchair air travel.
Cory: I'm excited to talk all about travelling, the travel industry and what all that entails for wheelchair air travel. Can you please tell us about yourself and your company, Able Move?
Josh: I'm 28 years old. I've got spinal muscular atrophy, Type 3. I've been in a powered wheelchair now since the age of 10. I've been to university and done all of that sort of stuff. As I've got older, travelling has become more common. I've been very fortunate, where my nan brought me up and took me travelling a lot as a child. This condition that I have makes air travel particularly challenging.
Through my experiences of getting older and going through the deterioration, I decided to set up my own company, Able Move. We've been going now for three years, we specialise in products to help wheelchair users. Originally our products were for transferring on and off aircraft and making wheelchair air travel easy. But over the last 15 months with COVID, we've started branching out slightly to create a wider range of products that could be useful other than just aviation. It's kind of come from lived experience and also getting feedback from the community in terms of their problems travelling. It's very much just the early days for us and exciting times.
Cory: What inspired you to start the company? And when did you start it?
Josh: My route to entrepreneurship was slightly bizarre. I was actually in Tenerife at the time. For those who haven't been to Tenerife, it's probably one of my favourite accessible destinations I've ever been to. I was sitting by the pool, drinking a bottle of beer, as you do on holiday, reading a book called Start With The Why by Simon Sinek. I highly encourage people to read it, it gets you thinking about your motivations and why we do things in life. It helped give me a bit more clarity in terms of what motivates me to get up in the morning. Sometimes, when you've got a disability, it can be quite challenging and so having something to focus on that you're passionate about, just makes the day to day stuff a little bit easier.
So I was reading the book, and it got me thinking about the job that I was doing at the time, which was cybersecurity. And I just thought actually, wouldn't it be kind of really nice, based on the experiences that I've had travelling to create a solution that would have a real-world impact. I often think you get stuck in a job that may not be externally facing and you don't have any output that you can see. When you're designing something that improves people's lives and opens new possibilities, it changes your mindset completely. So yeah, it was drinking a pint or drinking some beer by a pool in the sun reading a book.
Cory: What products do Able Move offer?
Josh: It's important to understand that the idea behind the products is to get people travelling and living more independent lifestyles. We provide two transfer slings for wheelchair air travel. One is a more expensive version, which comes with hoists, straps and compartments for wheelchair cushions. When you're travelling, particularly by air getting on to aisle chairs is particularly uncomfortable. Sitting on an aircraft seat can be very uncomfortable, and a lot of people tend to use their wheelchair cushions. That time from when you're being lifted from your chair, onto an aisle chair, there's no comfort or support on those seats.
It got me thinking, how can we make sure that somebody could travel with their own wheelchair cushion inside the product. So when they're being lifted from their chair into the aisle chair, you're getting that pressure relief and support, which is something that nobody gets at this moment in time. So it was to improve the comfort of being on an aisle chair and then obviously give you the pressure relief with your cushion inside the sling whilst you're on the aircraft. So it's just to make that transition from your wheelchair to the aircraft seat much easier and more dignified and comfortable.
Cory: I got the sling a couple of years ago and have used it ever since. I mean, it's been a game-changer for me. I've been able to get in the aeroplane seat easier and be lifted with the sling. It's made that process 100 times better. It's opened up the world for me and other wheelchair users as well. It is a phenomenal product that you guys have made. I love that you saw a need for a product to make air travel better. We know as wheelchair users that air travel is tremendously difficult at times, and even just transferring onto the aircraft is quite a challenge. So with that said, What keeps you inspired to keep travelling the world?
Josh: Oh, gosh, there's so much that keeps me inspired to travel the world. I quite like to learn about different cultures. Get absorbed in your own little bubble and learn about other cultures. Having that independence to travel, to have that freedom of choice, really gets me going. I've never been to New Zealand, and my mum's family live there. I've never had the opportunity to fly to New Zealand, because of the duration of the flight. Even with our product that can still make the flight challenging because of the toileting and stuff like that.
But, there are so many places that I'd like to explore. I want to go to South Africa, at some point, definitely want to visit Japan, especially, I'm keen to see how Tokyo plans out and what they've done for the Paralympic Games. Japan is so advanced when it comes to technology which is a huge benefit for folk like us. I've also seen many people who have had some very good experiences in Dubai, so very keen to get over there as well. I think it's understanding different cultures. Wheelchair air travel is what motivates me the most. It's encouraging other people to travel. I think there's this sense of satisfaction that you get when you see other people exploring rather than yourself.
Listen to the podcast to hear the rest of Cory's interview with Josh Wintersgill about wheelchair air travel…
Check out more episodes of Access All Areas!
To keep reading become a member.
Already a member? Login
Over 400 pieces of exclusive content
Tips and advice on Accessible Travel