Podcast Episode 06: Samanta Bullock, Wheelchair Model and Inclusive Fashion Advocate
Samanta Bullock had dreams of walking down the catwalk at London Fashion Week from a very young age. However, tragically, after accidentally shooting herself with her father's shotgun at age 14, Samanta was told she would never walk again. Her dreams were shattered. Samanta then turned her focus to tennis and becoming the best Brazilian played in a wheelchair, competing at the Paralympics.
In recent years Samanta has realised her dreams of modelling and is now focused on creating her own line of clothing. Having been a wheelchair model from an early age, Samanta has always felt frustrated by the lack of luxurious clothing available for disabled people. Working as an advocate for inclusion within the fashion industry, Samanta has decided to join forces with some of the most innovative emerging designers to develop her brand, 'SB' – a unique line of clothing based on the principle that "it's not about being disabled, but about feeling beautiful and comfortable whilst in the sitting position".
Born in Brazil, Samanta moved to London 10 years ago and has since dedicated her life to improving the lives of people living with disabilities. She hopes that her collection will open people's minds and hearts.
"We must be seen to exist".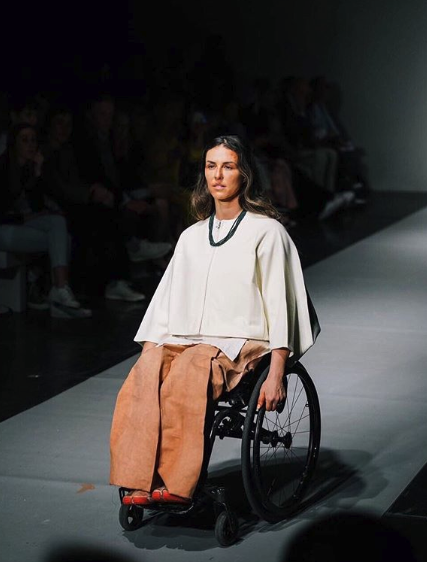 Wheelchair Modelling
After her tennis career, Samanta was regularly approached by companies asking her to take photos to sell tennis chairs. She realised she had found her niche and the opportunity to become a model as a wheelchair user. Samanta saw this as a huge opportunity, to not only be successful but also to inspire. At that time there were no wheelchair models or anyone that was disabled on the catwalk. Samanta was initially inspired by tennis and designing the right clothes for wheelchair tennis players to wear. Her idea has since evolved to inclusive fashion where her clothes are designed to be worn by wheelchair users to feel beautiful and comfortable whilst in the sitting position.
In years previous the fashion industry was dictating to the consumer the correct clothing to wear. However, in a lot of cases, this was not suitable for wheelchair users in the sitting position and wheelchair users were widely underrepresented in the media and fashion world. More recently, this has shifted to where the consumer is the one telling the fashion industry what they want and what is suitable for them. Samanta is a huge advocate for this and sees it as an opportunity for wheelchair users to fight for their right to have clothing that is specifically tailored to them.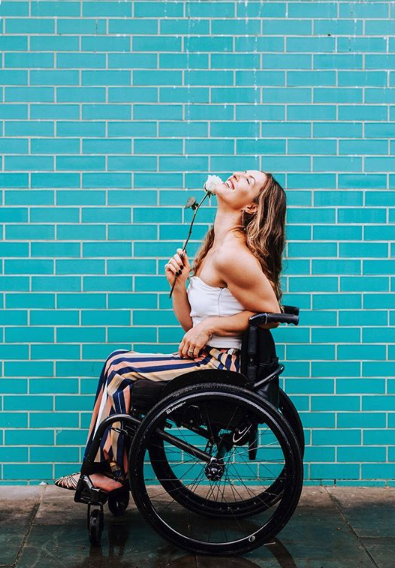 Life in London in a Wheelchair
Having lived in London for the past 10 years, according to Samanta, there are so many things for wheelchair users to do in the city. Free activities include going to museums, parks and shows. Samanta, as a wheelchair user, is able to access public transport and she says that overall the accessibility infrastructure in London is great.
However, the accessibility of the city is not perfect. Samanta says that wheelchair users need to be aware that a lot of train platforms are not accessible and that you must book 24 hours in advance. In order for a wheelchair user to travel on the tube in London is by going to the website and specifying 'step-free access' and it will show which tube platforms have this accessibility. This, in turn, eliminates spontaneous travel and is a system that should definitely be improved. Also, the buses in London are accessible, however, each bus only accommodates for one wheelchair user.
The black cabs in London are all accessible and are a great way of getting around in a wheelchair. Samanta says the cab drivers are extremely helpful and are always willing to get out and help wheelchair users into the cab.
Favourite Travel Destinations
As a former professional tennis player and now as a model, Samanta has travelled to many places across the globe. One of Samanta's favourite destinations is Dubai. The city is very accessible for wheelchair users, the food is great and the people are very friendly. More of Samanta's favourites are Mexico and Toronto all of which are home to great food and friendly people. Another of Samanta's favourites is Thailand, it is not very accessible, however, the friendliness and the willingness of the locals to help makes up for the lack of infrastructure.
Samanta has noticed that the attitude of the locals of more remote locations such as Thailand is much more positive than those of bigger cities. She says, in this instance, she would much prefer to travel to a place with less accessibility if the locals have a more positive view of wheelchair users and are more willing to help.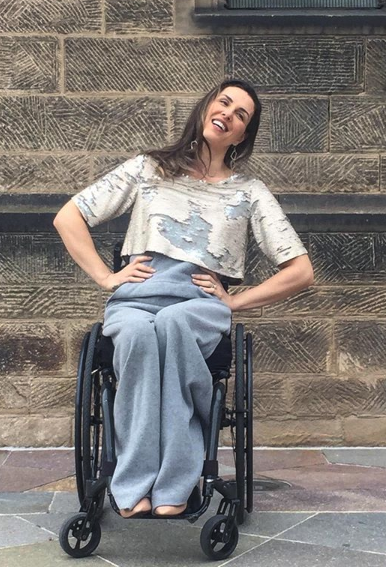 Importance of Travel
"Once our mind expands it will never return to its original state."
This is a philosophy Samanta believes rings true in terms of experiencing different cultures, food and people. We have only one life and if we are going to live the same routine, day in day out. There is no way to learn and mature as people. We need to expose ourselves to different environments and situations to be able to gain more perspectives on life and to improve our own thinking. Even if it is only a short trip, overcoming obstacles and getting out of your comfort zone is extremely worth the experiences gained whilst travelling.
Impact on Inclusive Fashion
After being told she would never walk again to modelling on the catwalk at London Fashion Week is something Samanta is very proud of. Nowadays, the effort and amount of work she has given towards her fashion brand and inclusive fashion, in general, is something she is extremely proud of. To provide the disabled community with comfortable and fashionable universal design clothing with a focus on inclusion and benefiting the sitting position.
For more information visit her website!
Search where you want to go below and use our code Travel30 to get 30 GBP off your first booking with Handiscover!