You can walk and can handle going up a few stairs.

Maximum of 15 steps (1 floor up) to reach the accommodation or manoeuvre into it.

You can only handle one step at a time.

The accommodation is quite accessible, can suit wheelchair users.

You need a fully accessible accommodation.

Maximum thresholds of 3 cm (1 inch), suits wheelchair users.
Podcast
Podcast: Wheelchair Travel Tips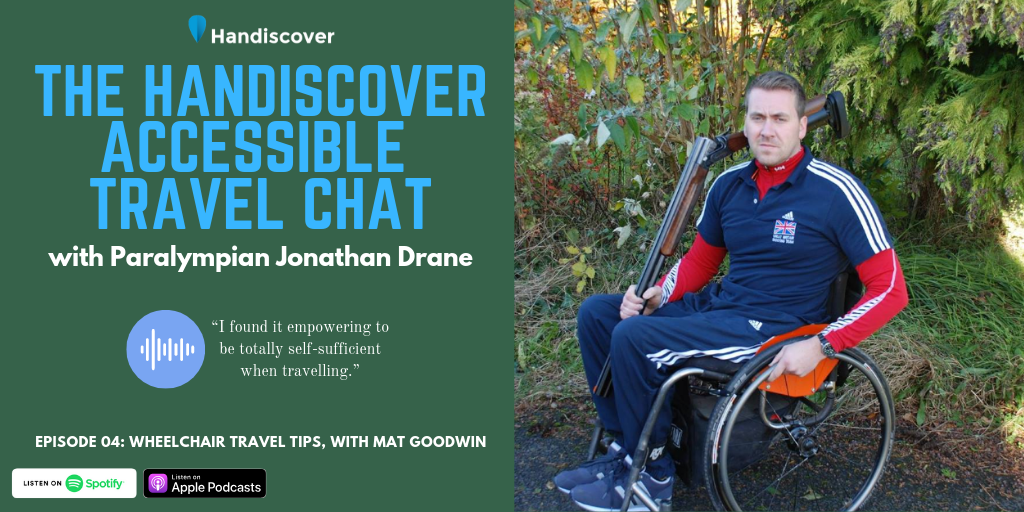 Podcast Episode 04: Wheelchair Travel Tips, with Mat Goodwin
Wheelchair user, Mathew Goodwin is a British trapshooter and coach competing internationally in Para/Olympic Trap. Mat is also a World Cup Gold and Silver medalist, 3 times World Record Holder and World champion in the 3 man team event. In 1996, when he was 18 years old Mat became paralysed after he was involved in a car accident. After coming to terms with his disability and overcoming this huge emotional and physical hardship Mat is now a professional clay shooter, travelling all over the world competing.
The Perks Of Disabled Travel
One of the most exotic places Mat has been is Venice, Italy where he travelled to on his honeymoon, somewhere he had always wanted to go. As a wheelchair user, Mat wished he had better planned the trip due to the number of bridges and steps in Venice. However, It was everything that he had expected it to be, he says the architecture, waterways and canals were amazing. One of the reasons Mat believes travel is important is because it has the potential to broaden horizons, people are able to break out from the status quo of home life, work and routine.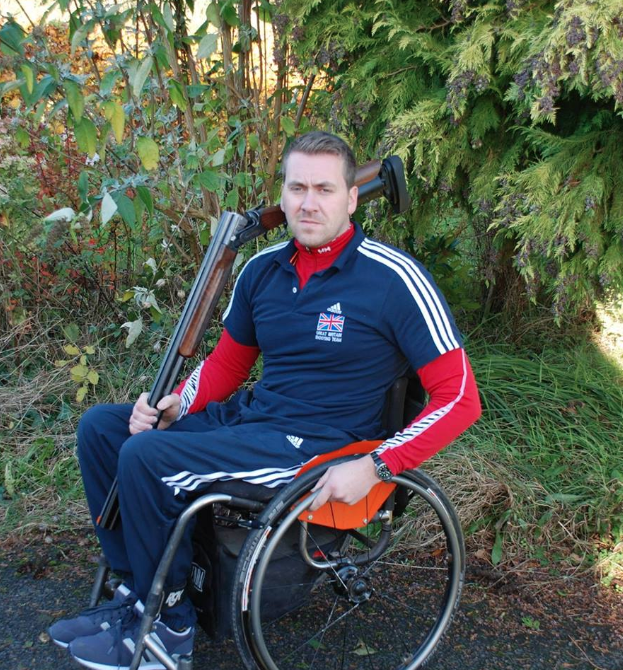 Since being injured in 1996, wheelchair accessibility has changed dramatically. Despite being the kind of guy that liked to get out there, after his accident and subsequently requiring a wheelchair, everything including travel seemed impossible. He later realised that this wasn't the case and to travel and see new places you just have to find a way.
For Mat to overcome these obstacles was empowering for him. Mat actually prefers to be independent when travelling as this gives him a sense of accomplishment and empowerment. The ability to take control and to be self-sufficient is what gives Mat great confidence.
"You have to take control. I found it empowering to be totally self-sufficient when travelling."
Tips For Travelling Wheelchair Users
In 2000 Mat went on his first trip abroad after the accident. Admittedly, his first trip with a wheelchair didn't go very well. The baggage handlers had placed his chair on the carousel instead of bringing it to him at the end of the flight. Instead, he had to get on an old wheelchair and get pushed through the airport by one of the airport staff members, which he felt was quite degrading.
To avoid this kind of problem, Mat's advice is to be assertive and to make sure that people listen and realise what it is that you require. He says to keep an eye on the time so at about 30 minutes before the flight you have to make sure to tell the stewardess to remind the pilot to tell the baggage handlers not to put your wheelchair on the baggage carousel.
Mat has found that he should be polite in this situation as it is not something that some people are used to. If you can get the message across and give gentle reminders then you don't tend to run into these problems. However, for travellers that are not as experienced, it's having the confidence to speak up and explain your situation to the relevant people.
Mat tries to research as much as he can before travelling, he doesn't like to leave it to other people. The key is to be organised and to make sure everything is covered so things run as smoothly as possible.
An Unforgettable But Scary Experience
One of Mat's unforgettable experiences was when he travelled to Prague in the 90's. He had bought a GPS device, which were rare at the time, and after arriving at the airport he was pulled to one side and the airport security searched his bag. They found the GPS and were confused as to what it was.
At this point, Mat thought it was okay to leave but all of a sudden a security guard came up to him and held an AK47 to his chest. Mat was then ordered to sit down with his hands up while another security guard approaches him with an ultrasound device and proceeds to perform tests on Mat's wheelchair.
When someone finally explains to Mat in English what was happening he is told that they suspected Mat's wheelchair to be filled with explosives and they thought the GPS device they had discovered was the detonator. At the time Mat thought he wouldn't get out of the airport alive. However, now it's just one of his favourite travel stories he likes to share.
Despite his success as a professional trap shooter as a result of the huge challenges he has faced and overcome, Mat is most proud of his kids and being a father. Mat embodies what it takes to rise above life's hardships and to become the great athlete, person and dad he is today.
Search where you want to go below and use our code Travel30 to get 30 GBP off your first booking with Handiscover!
To keep reading become a member.
Already a member? Login
Over 400 pieces of exclusive content
Tips and advice on Accessible Travel