You can walk and can handle going up a few stairs.

Maximum of 15 steps (1 floor up) to reach the accommodation or manoeuvre into it.

You can only handle one step at a time.

The accommodation is quite accessible, can suit wheelchair users.

You need a fully accessible accommodation.

Maximum thresholds of 3 cm (1 inch), suits wheelchair users.
Accessible travel – Wheeling Through Life shares a happy holiday!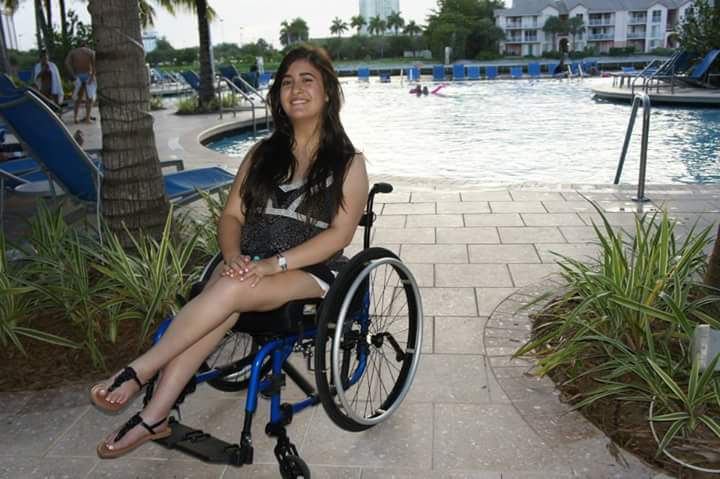 Blogger Natalie shares accessible travel experience
Natalie's Accessible Travel Memory
We asked Natalie to tell us about an accessible travel experience and she was more than happy to share about the Crowne Plaza (Hollywood Beach) telling us:
"In 2014 we visited the Crowne Plaza (Hollywood Beach), Hollywood, FL. It was nice because this was my summer hangout spot with my family for a couple of years and I loved that their pool had a beach entrance and they had a wheelchair made of pvc pipes that took me all the way to the end of the entrance (into the pool)".
Learning about places that create special accessible travel memories makes us extremely happy at Handiscover HQ!
Wheeling Through Life
If you haven't discovered the blog Wheeling Through Life then you should definitely check it out. Natalie, who resides in Miami is the creator of the blog. At 20 years old, she intends to teach readers both with and without any limitations that we are all equal and we all deserve to be treated as such! Natalie has Spina Bifida and Hydrocephalus.
The blog is primarily disability based and everyone who contributes has a disability. Entries are posted weekly and you can expect to find reviews of various local places in relation to accessibility. Contributors also share personal experiences caused by their physical and /or mental conditions. You can also find Natalie on Twitter @wtldisability and Instagram @wheeling_through_life
Spina Bifida
What is Spina Bifida?
Spina Bifida happens when a baby is in the womb and the spinal column does not close all of the way. Every day, about 8 babies born in the United States have Spina Bifida or a similar birth defect of the brain and spine. For more information visit http://spinabifidaassociation.org
.
To keep reading become a member.
Already a member? Login
Over 400 pieces of exclusive content
Tips and advice on Accessible Travel