3 Accessible holiday destinations for winter sun
How to make summer last all year? Book an accessible winter holiday!
Whether you like to soak up the sun by your private pool, feel the sand between your toes or explore the culture of a vibrant city, Handiscover has picked out the best disability-friendly destinations and accommodations for you. Here are 3 of our top picks!
Relax by the pool in Gran Canaria
If you love to relax by your private pool and sip your umbrella drink in the mild sun, Gran Canaria is the vacation for you. The close proximity to the Sahara Desert keeps the weather warm in December, rarely rising above a comfortable 25°C.
Wheelchair accessible Gran Canaria has a lot to offer regarding local culinary experiences, activities and culture. Explore the island by boat on Gran Canaria's wheelchair accessible boat cruise.
If you prefer to stay on land, enjoy great shopping along the sunny Costa Canaria promenade. End your day with some delicious Paella on one of the many restaurants on the boardwalk in the ocean sunset.
Don't forget to check out our guide on Accessible Gran Canaria for the best tips on how to get around during your stay.
Where to live: Accessible accommodation in Gran Canaria
At Handiscover we have prepared a wide range of choices for disability-friendly accommodations that let you get the best of your stay in Gran Canaria. Here's an example of our accessible holiday accommodations for you.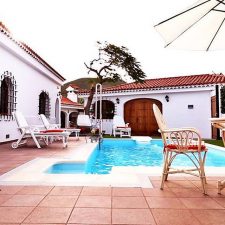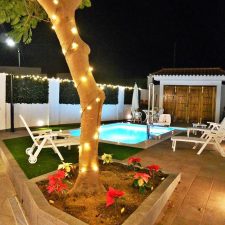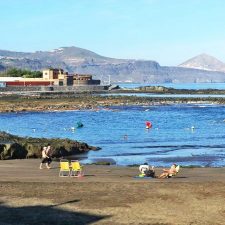 This Accessible Villa is a restored farm hotel. It offers a beautiful and fully accessible vacation house located on an old banana tree plantation and surrounded by nature.
The hosts are happy to tell you about the traditions, gastronomy and culture of the island. In this vacation home, you'll find dining areas, barbecue area, and a relaxing pool and solarium. The owners have made sure that the accommodation and its features are accessible to all.
The stay at this Accessible Villa is sure to be a food experience out of the ordinary. There are a variety of fruit trees like orange, guava, papaya, avocado, lemon and cactus on the property.
"Take the chance to taste all that the plantation has to offer! Your hosts will prepare a number of delicious banana dishes."
You also have access to a garden with aromatic and medicinal plants like sage, mint, rosemary, mint, thyme, lavender, curry, and seasonal vegetables cherry tomatoes, peppers, zucchini; everything you could think of! The hotel collaborates with a professional chef for you to enjoy the best Canarian cuisine.
Your hosts of Finca La Esperanza are happy to show you Gran Canaria through personal tours and make sure you have the best time during your stay.
For more accessible accommodations in Gran Canaria, click here.
Explore the white beaches of Hua Hin
Our second pick is a true paradise! How would you like to wake up by the beach and watch the sunrise? Then amazing Hua Hin in Thailand is the disability-friendly holiday choice for you.
The people of Thailand make efforts to ensure that everyone feels welcome and can enjoy their country no matter their mobility. However, it's always safe to plan your trip in advance.
Have a look at our Accessible Guide to Thailand: What to See and How to Get Around for more useful information before your trip.
Hua Hin is one of Thailands's oldest tourist destinations and is located along a 5-kilometre-long beach. It offers plenty of charm and is known for its laid-back lifestyle, peaceful atmosphere and crystal-clear waters.
The beaches of Hua Hin are popular with both locals and tourists. If you wish to explore with more privacy, you can travel 20 minutes by boat to adjacent islands with beautiful white beaches. Spend the day relaxing in the shade of the palm trees or try some fishing.
"If you would like to take a break from the beach heat and still enjoy nature, visit the extraordinary butterfly garden."
Hua Hin offers some great authentic markets and shopping so remember to bring an extra bag for the souvenirs!
Where to live: Accessible accommodation in Hua Hin
At Handiscover we have prepared a wide range of choices for disability-friendly accommodations that let you get the best of your stay in Hua Hin. Here is an example of our accessible holiday accommodations for you.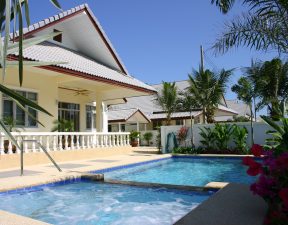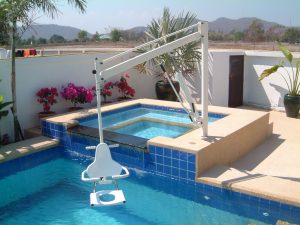 This Fully Accessible Villa is a wheelchair accessible pool villa in Hua Hin, located just minutes from the beach. The villa has a bright living room, open plan kitchen, three bedrooms and two accessible bathrooms. You can enjoy your private terrace in a tropical garden with a swimming pool with a pool hoist. Or how about relaxing evenings in the jacuzzi with the mountains surrounding Hua Hin as your backdrop!
You'll find a great outdoor space with sunbeds and parasols where you can relax and enjoy the beautiful weather. The villa is fully air-conditioned, and the floor is completely tiled which makes driving in a wheelchair very easy.
For more accessible accommodations in Hua Hin, click here.
Get the best of both worlds in sunny Melbourne
Like its inhabitants, Melbourne is full of energy in December. This cosmopolitan city is named the cultural capital of Australia and offers something for everyone, whether you're into long beach days or vibrant city life.
Melbourne makes continuous improvements to make sure transportations and attractions are accessibility-friendly for visitors. For more information on how to get around during your stay, check out our Accessible Melbourne guide.
Explore the inner city of Melbourne and enjoy food from all over the world, inspirational street art and festivals. For the occasional rainy day, Melbourne offers a rich variety of theatre, state of the art exhibitions and museums. Don't forget to visit the Healesville sanctuary and see koalas and kangaroos up close!
Spend a day at one of the city's wide, sandy beaches and popular swimming spots. When you're hungry, there's plenty of cosy shoreside diners for you to choose from.
"St Kilda is a popular beach for swimming or taking a stroll down the pier with a view of the city skyline and amazing sunsets."
Melbourne is the ideal holiday destination for the wine lover. Escape to the scenic green wine regions around the city, only a short drive away.
Where to live: Accessible accommodation in Melbourne
Experience accessible Melbourne as a local! At Handiscover we have prepared comfortable and disability-friendly accommodations for you. Here is an example of our accessible holiday accommodations in Melbourne.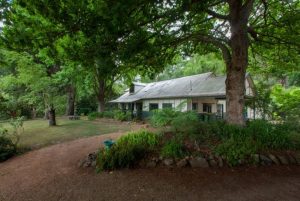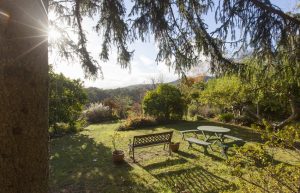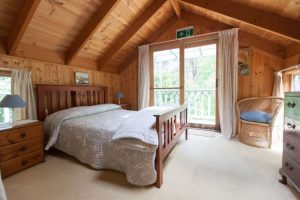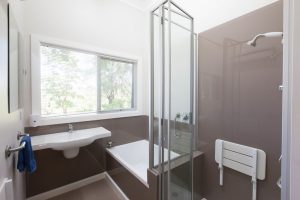 Yarra Valley is a beautiful wine region with classic, rustic wineries and lots of history. Nestled in 30 acres of lush nature and gardens is this accessible 7-bedroom rental house with great views of the valley. This home has plenty of space and is specifically designed by the owners for people with disabilities, providing a variety of mobility aids on the property and in all rooms.
The surrounding nature is great for relaxing walks and picnic by the dam. On the property, you'll find kid-friendly animals such as donkeys, goats and cows that want nothing more than for you to provide a snack and a pat!
The house has a big indoor dining area as well as a play area with a tennis table and board games. Although Yarra valley is just a stone's throw from Melbourne, the local town offers some great restaurants for you to enjoy close by.
For more accessible accommodations in Australia, click here.
Have we missed your favourite destination?
Check out our guide with 8 of the Top Wheelchair Accessible European Beaches for more disability-friendly holiday inspiration!
About the Author:
Emma is a freelance writer and road trip enthusiast. Through her work, she hopes to inspire more people to enjoy the world on their own terms.