You can walk and can handle going up a few stairs.

Maximum of 15 steps (1 floor up) to reach the accommodation or manoeuvre into it.

You can only handle one step at a time.

The accommodation is quite accessible, can suit wheelchair users.

You need a fully accessible accommodation.

Maximum thresholds of 3 cm (1 inch), suits wheelchair users.
Coasts & Cliffs
Discover Wheelchair Access Galicia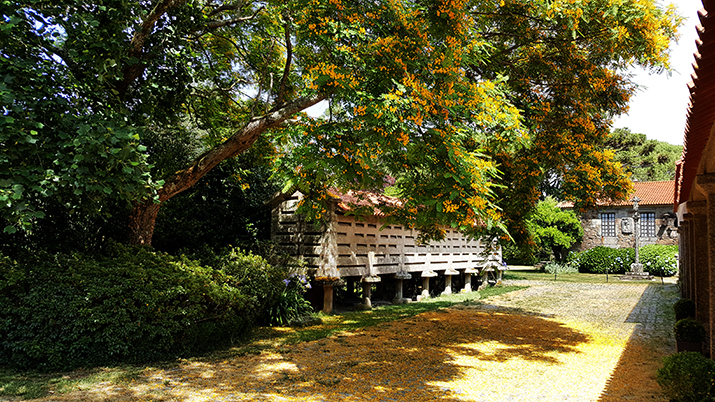 Wheelchair Access Galicia
In today´s post, I would like to give you some tips to enjoy wheelchair access Galicia. Galicia is a spectacular area in the north-west of Spain. It has fantastic views of its culture, the sea, the natural regions and its fantastic gastronomy. Costa da Morte has an impressive maritime ecosystem, including cliffs, dunes and fishing villages with traditional lighthouses and beaches. The capital, Santiago de Compostela, is a World Heritage city.
4 Best Activities for Wheelchair Access Galicia
Here are four best wheelchair accessible activities in Galicia which you cannot miss. Read the following content carefully to decide which one is the most interesting place for you!
1 Santiago´s Cathedral
Santiago de Compostela was a pilgrimage city since the ninth century when the tomb of the Apostle Santiago was discovered to these days.
In Santiago, we will discover an authentic monumental city, full of history and very well preserved.
We find the most significant work of Romanesque art in Spain; The Cathedral of Santiago. It began as a small mausoleum with the remains of the apostle visited by the local population.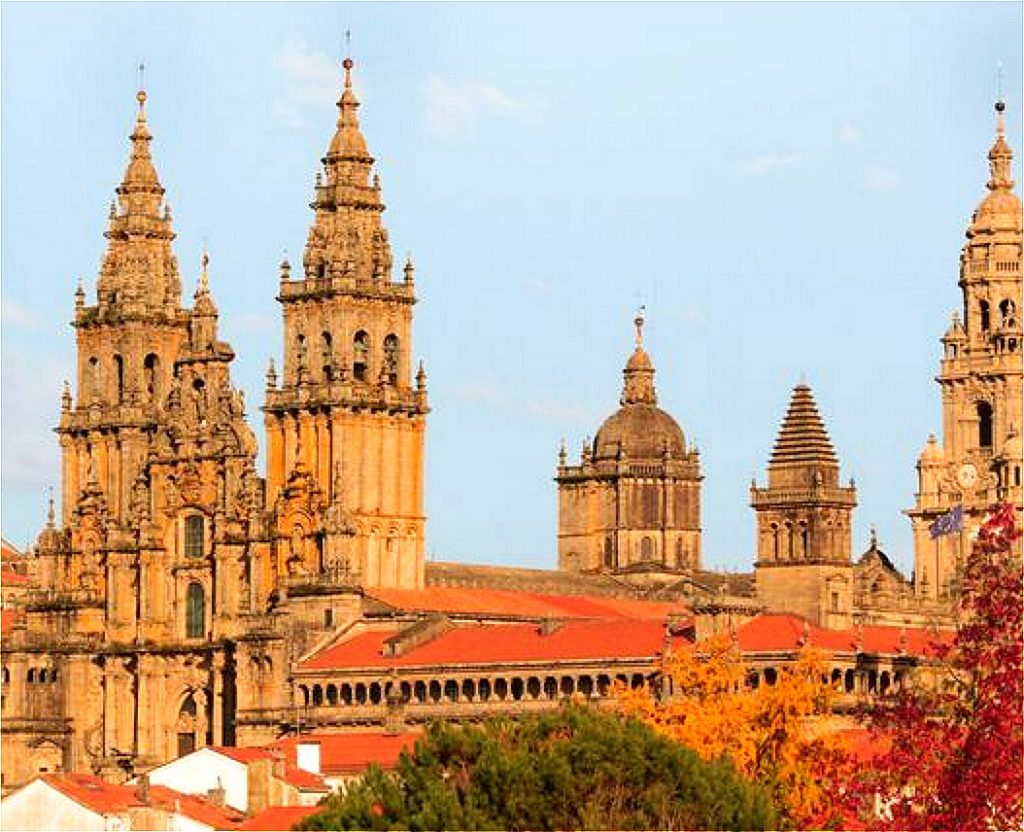 The Cathedral became the final destination of all the roads of Santiago and was consecrated as one of the main pilgrimage destinations of the Middle Ages. Currently, it still is.
Inside the Cathedral, we find the "Botafumeiro", which in Galician means the one that emits smoke. It is one of the most famous symbols of the Cathedral. It is a brass censer, of large dimensions that move from one place to another pulled by 8 men. People said that in the past the fume used to hide the human smell that concentrated in the cathedral after the pilgrimage. Nowadays, it seems that this theory is incorrect and it looks that it used as it is now, for the liturgy.
Wheelchair Accessibility of the Cathedral
In front of the Cathedral, there is parking with several places reserved for people with reduced mobility.
The entrance to the Cathedral is accessible by Plaza Quintana.
There is an accessible bathroom, with transfer bar on the left side, free space under the sink and mixer taps. The access door is sliding and has a free area of 72 cm.
The Archive is not accessible, there is a step to access.
In the store, there are audioguides in several languages: Spanish, English, Italian and French.
No member speaks Sign Language.
Access to guide dogs is allowed.
2 Finisterra Cape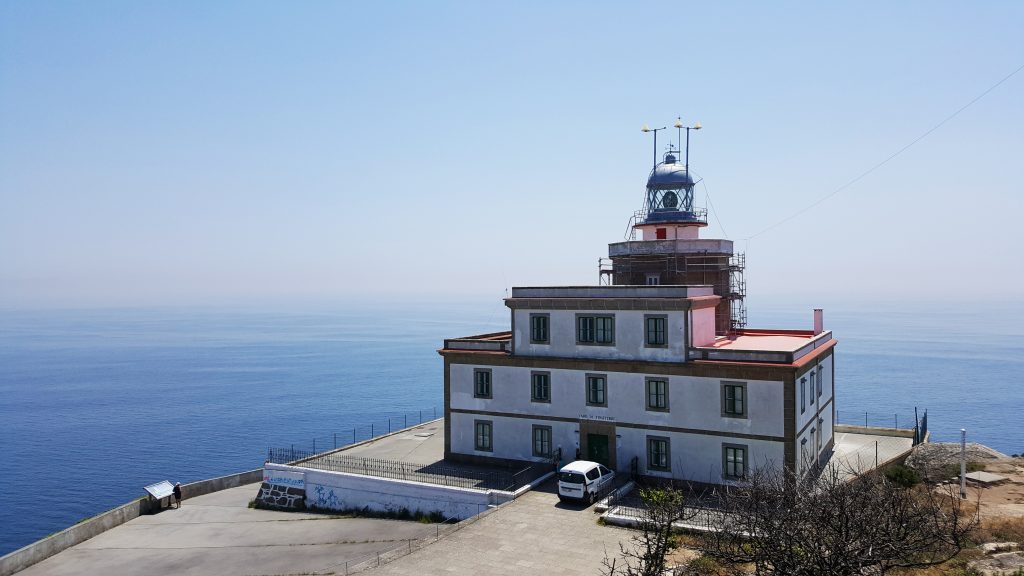 This is the most emblematic point of the Costa Da Morte. Cape Finisterra was the end of the world for many centuries. The Romans gave it the name, in Latin Finis Terrae, it means the end of the world.
Here we can find the Finisterra lighthouse, possibly one of the most visited in Europe and the closest to America. It is known to all navigators in the world, for its importance as a means of warning of the proximity of a perilous coast. Many ships have been shipwrecked on these coasts due to a rough sea and treacherous.
However, the views of this place are spectacular so that some pilgrims on Santiago´s way end their route here, enjoying a wonderful sunset.
Today, we can´t get into the lighthouse. Despite this, I recommend you visit the area.
Wheelchair Accessibility of Finisterra Lighthouse
There is a parking place reserved for people with reduced mobility.
The area is accessible.
The front of the lighthouse it is not accessible.
3 Corrubero National Park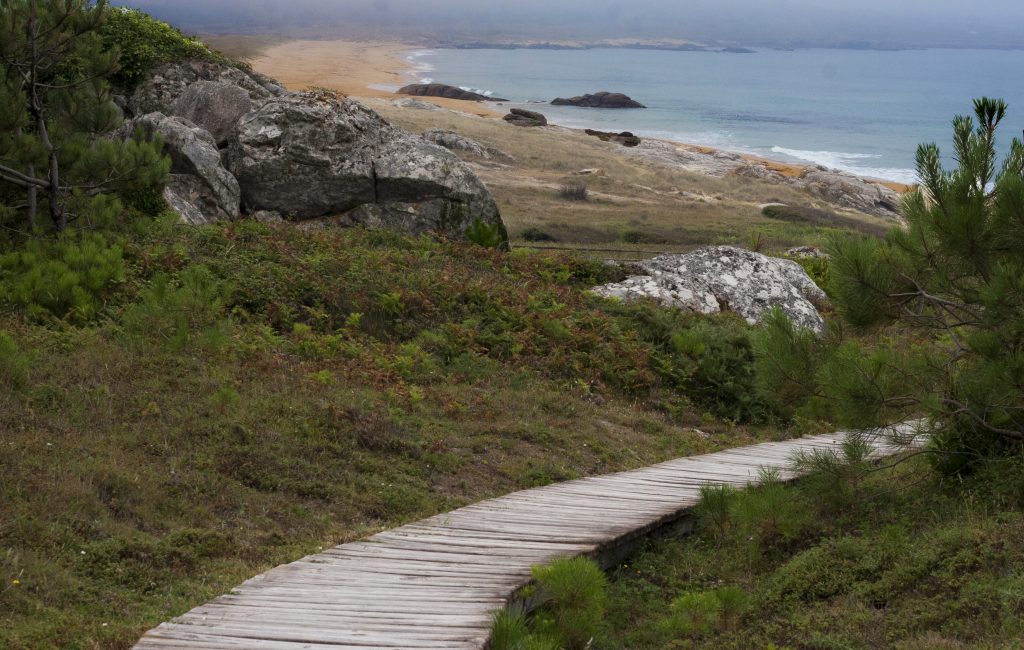 Corrubedo National Park is between the rias of Arousa, Muros and Noia. It has 1000 hectares where we find dunes, beach and the lagoons of Vixán and Carregal.
Corrubedo is also the home of the largest mobile dune in Galicia which is a dune of 1 kilometre long and between 200 and 250 meters wide. In winter it can reach 20 meters in height. The dune is the most impressive element of the park. But there are also two lagoons, one of salt water and another sweet, with extensive associated marshes and wetlands of international importance. In fact, the park is a RAMSA area (wetland of international importance).
It is the most visited park in Galicia and one of the most visited in Spain. As its natural environment is vital, to keep it save you can visit the park through wooden walkways, which is so good because that means that you can visit it also in your wheelchair.
Wheelchair Accessibility of the Park
The visit to the park is through wooden walkways.
In the Visitors´ Centre: There is an accessible toilet (big enough), with grabs bars and free space to approach with your wheelchair to the sink.
In the park, they do sensitive routes for blind people, they have copies of a lot of elements to touch as a feather, bones, flowers, etc.
There are two parking spaces reserved for people with reduced mobility.
No one knows sign language.
4 Pazo Quinteiro da Cruz
The Pazo is a type of traditional Galician manor house, with a noble character. It is in the countryside, once the residence of famous people in the community.
In Pazo Quinteiro you will find a spectacular garden designed at the end of the 19th century with an impressive flora. But the star of the place is the Camellia, here you will find a magnificent collection of camellias from all over the world. More than 1500 varieties make about 5,000 flowers bloom. With Camelia Higo, they have won the Camelia de Oro (international competition) award several times.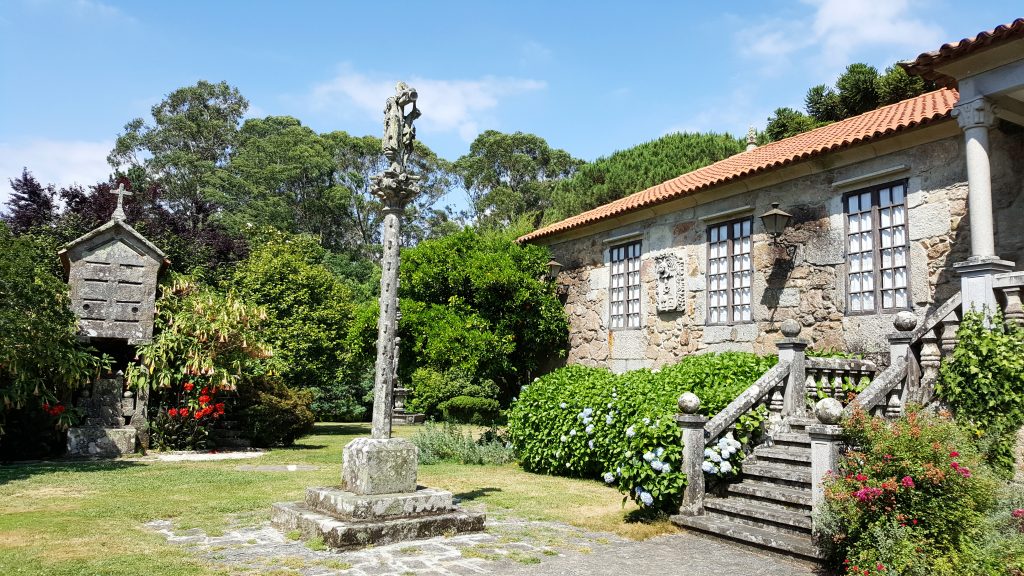 It is of particular mention a small plantation of Camellia Sinensis with which they make their own tea. Pazo Quinteiro is the largest producer of Galician tea.
There are vineyards around the garden to make their own wine, which surrounded by flowers and fruit trees, has a fruity taste.
You can visit the Pazo on request.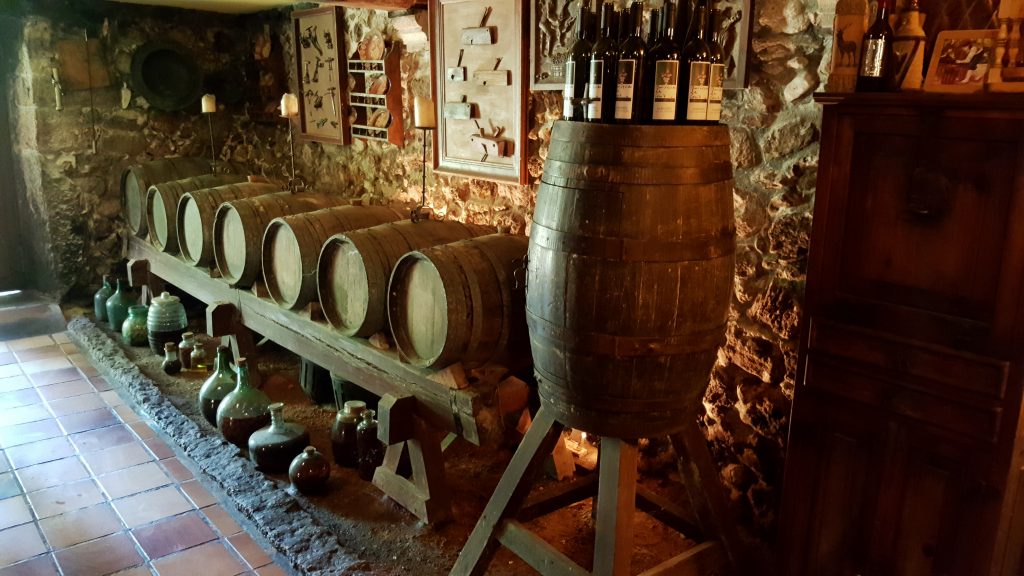 Wheelchair Accessibility of the Pazo
Almost all the garden is accessible in a wheelchair, there is an area which is not due to the complexity of the terrain and the slope.
There is an accessible toilet with 1 grab bar on one side of the toilet. There is free space under the sink and it is big enough.
Galicia Traditional food that You Can Not Miss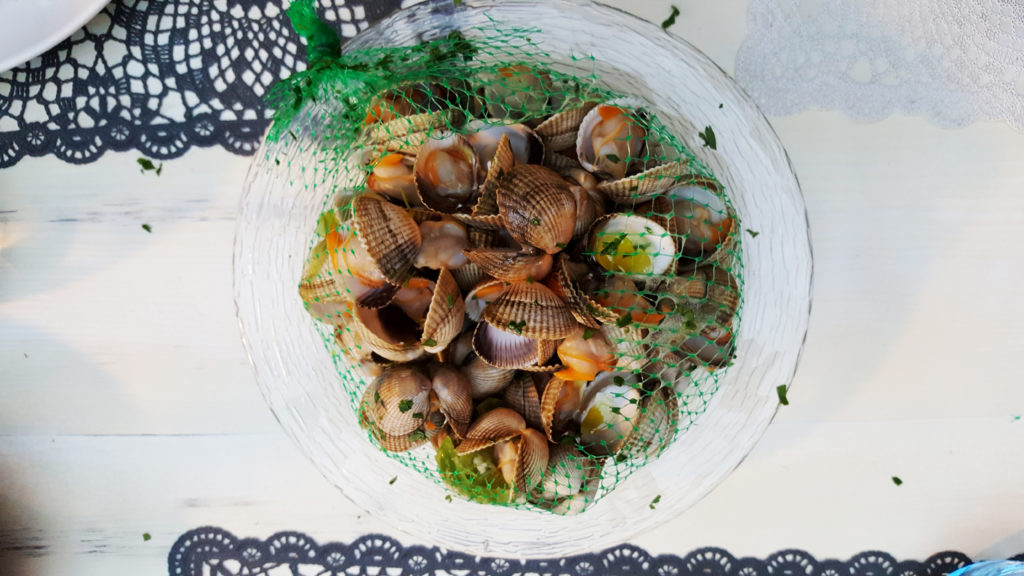 Galicia has an amazing gastronomy, they mix the tradition with the most innovate cuisine and the result is spectacular.
Galicia is famous for its seafood. The most typical dish could be Pulpo a la Feira, which is an octopus with potatoes, olive oil and sweet paprika. Do not miss the opportunity to try it, and if you like the seafood I also recommend you to try spider crabs, mussels and knives.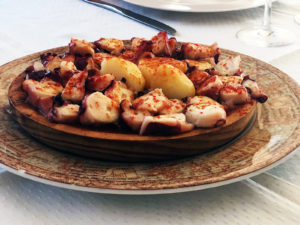 In Galicia, apart from seafood, meat has a special place in the kitchen to cook dishes as Churrasco (beef), Lacón, Cocido or Callos with chickpea.
Do not forget to try the Empanada which is a salted cake is filled with different ingredients. The most famous is cooked with tuna, onion, tomato sauce, salt and olive oil. From this traditional recipe arise many variants.
And to finish our menu of today, we can't miss the desert, Santiago's cake, cooked with almonds, sugar, cinnamon, brandy and eggs. For me, it is the perfect end. What else could we ask?
How to Get Around Galicia in a wheelchair
If you want to get around Galicia in your wheelchair maybe you will find some problems using the public buses depending on the town you are visiting.
In my opinion, the best option is rent a car, mainly because there are a lot of awesome places that you can reach only by car. Check our accessible car hire information in Spain
If you would like to move between some towns, you can do it by train and use the Atendo Service which is a free service, but you have to check in advance if there is availability for your route. For more detail information, you can check here.
Taxis are another option to get around Galicia in a wheelchair, here I let you some information:
Accessible taxis in Santiago de Compostela: +34 690 200 682 (English speaker) +34 609 844 055 (Spanish speaker).
Taxis in A Coruña: +34 691 101 101
Accessible taxis in Bóveda: +34 651 514 457
Radiotaxi: Lugo +34 982213377, Pontevedra

986 868 585

Eurotaxi Vigo: 692150417
Best Accommodations in Wheelchair access Galicia
We are sure that Galicia is one of the coolest destinations in the world!! Why not plan a peaceful travel here?? Before you are headed to this beautiful place, just choose a cosy accommodation for yourself! Sometimes you may feel difficult to book a wheelchair friendly accommodation. But you do not need to worry now as Handiscover has already prepared for you! By classifying the properties into three categories, Handiscover provides you with a variety of options. You can select the accommodation based on your own need. For example, you could choose rooms with adjustable beds, roll in shower with chair and toilet with grab rails. Here are six impressive examples from the website. Click on the pictures to see detail information about accessibility inside and outside of each property!! If you want personal support, do not hesitate to contact us via e-mail: boooking@handiscover.com or on the phone: +44 1550 400022 (UK). Also, use our great £25 discount coupon for your first booking!!
It's time for you to spend your holiday in Galicia now!!
About the Author:
Irina Martinez is a travel lover and passionate about life and how awesome it could be.
In her blog,
www.accessitrip.com
, she desires to make travel easier for people with limited mobility, and encourage everybody to discover this amazing and wonderful world."
To keep reading become a member.
Already a member? Login
Over 400 pieces of exclusive content
Tips and advice on Accessible Travel