You can walk and can handle going up a few stairs.

Maximum of 15 steps (1 floor up) to reach the accommodation or manoeuvre into it.

You can only handle one step at a time.

The accommodation is quite accessible, can suit wheelchair users.

You need a fully accessible accommodation.

Maximum thresholds of 3 cm (1 inch), suits wheelchair users.
Podcast
Podcast: The Wheelchair Tourist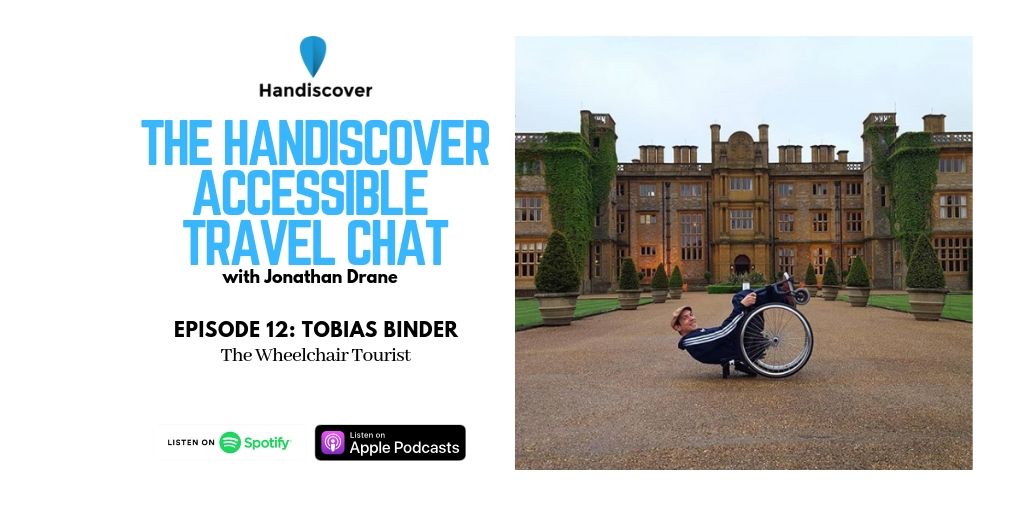 Podcast Episode 12: Tobias Binder, The Wheelchair Tourist
This week's guest is Tobias Binder AKA The Wheelchair Tourist. Tobias was born prematurely which caused his tetraplegia. He has always been eager to travel to new places, meet new people and to simply live a 'normal' life. In his teenage years, he fell in love with American and British culture. He has travelled to the USA and the UK several times. One main reason to visit these countries are the theme parks. Tobias has found that a lot of US and UK theme parks (and of course the rides) are quite accessible.
The spark of the idea of a journey, the whole planning process and the way an idea develops into an experience is what inspires him. Travelling is essential to Tobias. He loves getting away, seeing new things, experiencing new places – and after all coming back home with lots of new impressions give him energy for everyday life. Tobias shares his experiences through his social media handle and blog called The Wheelchair Tourist. He hopes to inspire other wheelchair users to go out and explore the world themselves.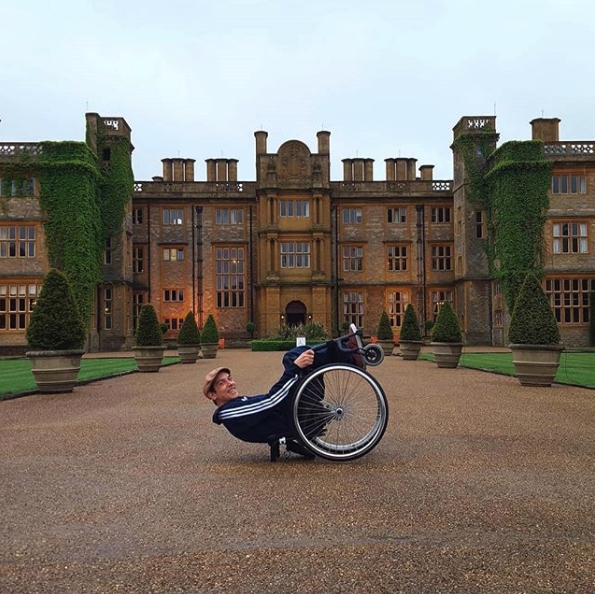 Growing Up With Fully-Abled People
Tobias was born prematurely which caused his tetraplegia. Therefore, he has been in a wheelchair his entire life. Tobias feels that it is normal to him as opposed to someone who develops a disability later on in life. He has learnt to live in a wheelchair from the very beginning of his life and, as a result, is totally fine with it.
Tobias was born in the '80s when inclusion and accessibility was rarely talked about. Despite this Tobias still went to a normal school and was around fully-abled kids growing up. If it wasn't for the support of his parents and teachers, Tobias believes he would have gone to a special school. Due to growing up in this environment, Tobias never saw himself as someone who was disabled and someone who was not able to do certain things due to his tetraplegia. Apart from some sports, Toby was involved in all of the activities all of his friends were.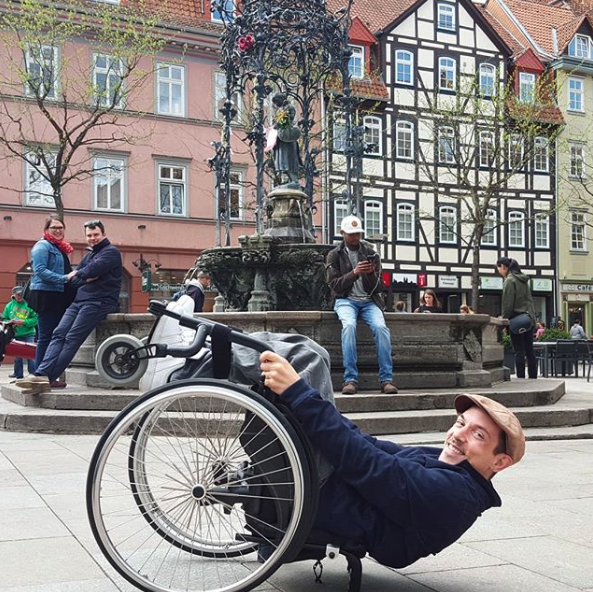 Travel Writing
Toby's little sister was the one that encouraged him to start writing about his travels. Toby would describe to people his travels and their response would be one of amazement. Toby always thought what he was doing was normal, however, he realised he had a chance to tell his story and inspire others. His initial goal was to share his experiences with other travels with and without disabilities. He wanted to break the stigma and show that travelling with a disability is a normal thing. He found that people without disabilities found it so inspiring that it forced them to want to do more with their lives and travel.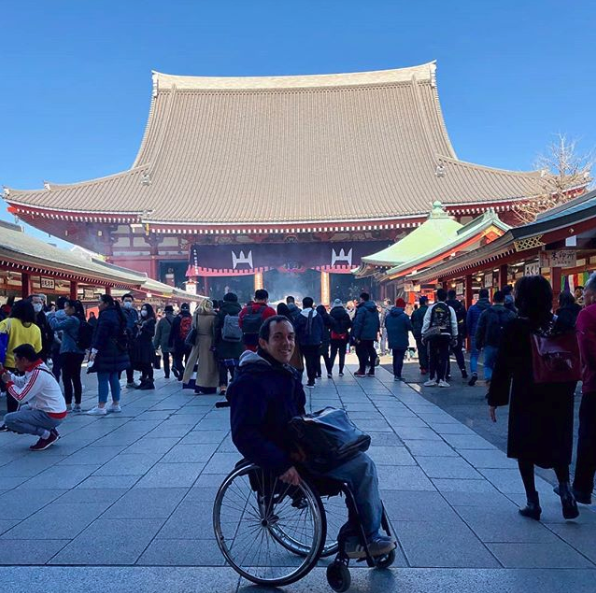 Travel Experiences
A few years ago, Tobias and his boyfriend travelled to Paris. They went up the Arc de Triomphe, with his boyfriend lifting him up the stairs. As the stairs were so narrow they left marks on the historic monument, but it was worth it. Another amazing travel experience for Toby was hiking through Glencoe in Scotland. He was able to do this by using a Swiss-Trac, an electric add-on which can be attached to your wheelchair. It allows wheelchair users to overcome ledges and other obstacles without tipping over.
Toby's advice for wheelchair users that are considering travelling is to just do it. He believes there is always a way to get to the places and there are always ways to overcome problems that may arise. Whilst on his travels, Toby has come across so many friendly people that have offered to help. He also advises travellers to not over-plan their trip. It is good to have some sort of plan and itinerary, however, this may result in a tight schedule which causes stress and hassle.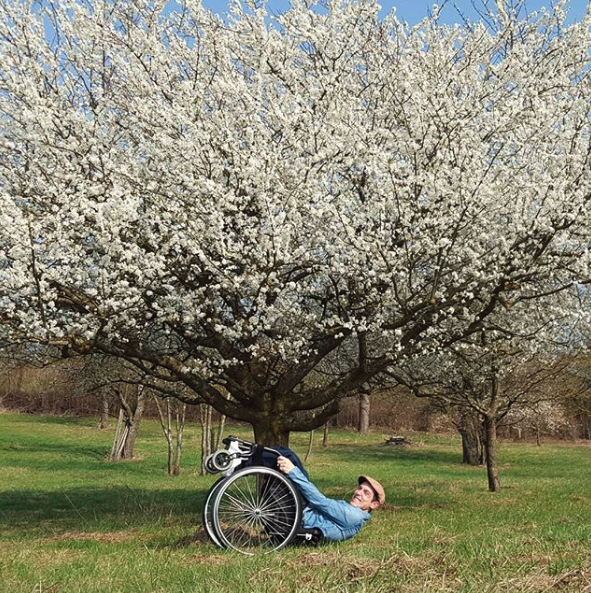 Plus 90 Degrees
On a trip to Perth, Australia in 2010, Toby was on the beach in the sun when his friends decided to flip him over onto his back. Toby thought this was cool and something that could be imitated by other wheelchair users. This soon became a regular image on Toby's Instagram and so wheelchair planking was born.
Toby is most proud of his own growth he has gone through the past few years. The first part of his life he didn't see himself as someone with a disability. He accepted the fact that was in a wheelchair, but apart from that, he was like everyone else. However, in the past few years, he has really started to pay attention to who he is as a person and the fact that he has a disability. He is now proud to say that he is disabled and that he is totally okay with it.
Search where you want to go below and use our code Travel30 to get 30 GBP off your first booking with Handiscover!
To keep reading become a member.
Already a member? Login
Over 400 pieces of exclusive content
Tips and advice on Accessible Travel