You can walk and can handle going up a few stairs.

Maximum of 15 steps (1 floor up) to reach the accommodation or manoeuvre into it.

You can only handle one step at a time.

The accommodation is quite accessible, can suit wheelchair users.

You need a fully accessible accommodation.

Maximum thresholds of 3 cm (1 inch), suits wheelchair users.
Podcast
Podcast: Wheelchair User & Chronic Illness Blogger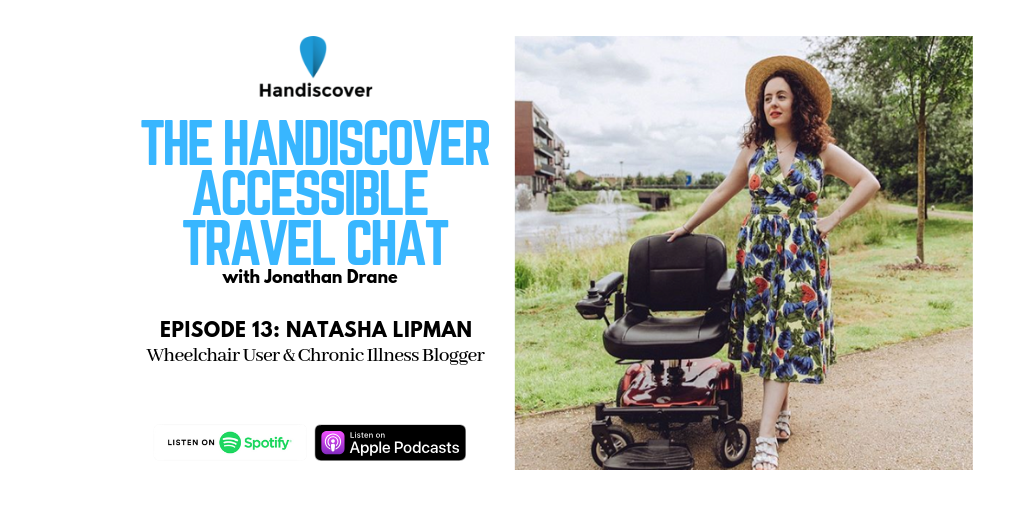 Podcast Episode 13: Natasha Lipman, Wheelchair User & Chronic Illness Blogger
Natasha Lipman is a chronic illness blogger and Instagrammer from London. She writes about her experiences of navigating chronic illness as she makes her way into her thirties. Natasha started blogging in 2013 as a way to manage her feelings about her chronic illnesses. At the time, she was, unfortunately, hitting 'rock bottom' health-wise and was struggling to cope. At the age of 24, Natasha genuinely thought that her life was over. She thought that she would never be able to function well enough to have any form of social life, let alone work.
Natasha is now a journalist for a major broadcaster, working part-time from home. She set up a youth journalism project from home, including co-founding the first online platform for young Libyans to talk about their experiences of the Revolution. This won her a trip to India to meet Richard Branson with the Virgin Media Pioneers. Through her writing, Natasha's goal is to share her experiences of how she copes with chronic illnesses. She aims to document the ups, downs, and everything in between.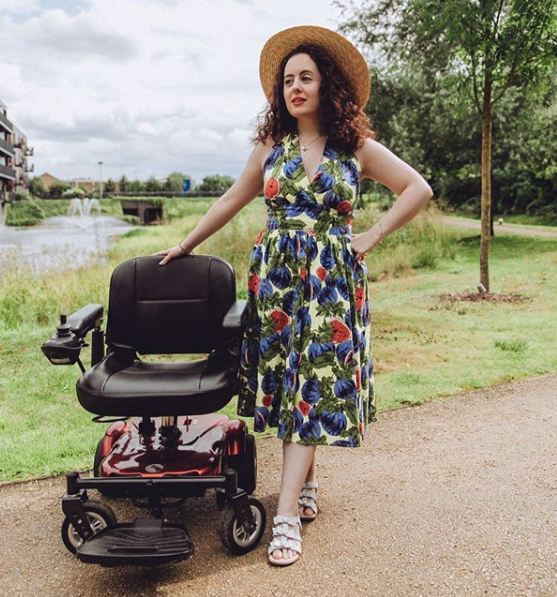 Late Diagnosis
Natasha has had Ehlers-Danlos Syndrome her whole life, which is a connective tissue disorder. However, she wasn't diagnosed until the age of 21 when she happened to see a new physiotherapist. She recognised symptoms and recommended Natasha see a consultant. Natasha took her advice, saw a consultant, and was eventually diagnosed. As time went on, her symptoms worsened, and in 2013, she was diagnosed with Postural Orthostatic Tachycardia Syndrome (autonomic dysfunction) and Histamine Intolerance. In November 2015, Natasha was also diagnosed with ME, thanks to post-viral fatigue.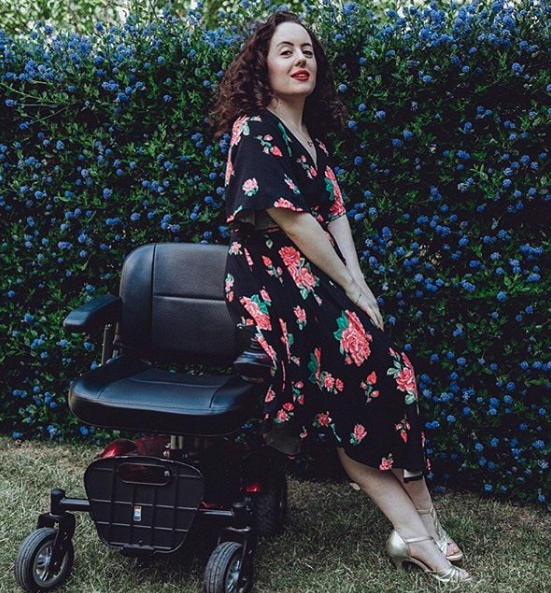 Life Transformation
Natasha found herself in a routine of pushing herself too hard and then ultimately crashing out for months after. Once she landed her dream journalism job she realised even taking a cab and walking around the office was too much for her. It was at this point that she finally came to terms with the fact that a wheelchair would be useful.
Up until this time Natasha had the belief that if she worked hard enough she could prevent her body from declining. She made the realisation that having a wheelchair could completely improve her quality of life. She would be able to prevent pain and fatigue. Natasha sees it as a life-changing experience as it has allowed her to have a life again.
Blogging about her illnesses, for Natasha, started as a catharsis. It was a way to keep busy while she was dealing with her fatigue. She says it was a natural progression as a result of her disability.
Natasha has worked for some amazing companies and charities. She also created an international youth writing and journalism training platform, which won her a trip to India to meet Richard Branson with the Virgin Media Pioneers. From this came the first online project for young people involved in the Libyan revolution to tell their stories.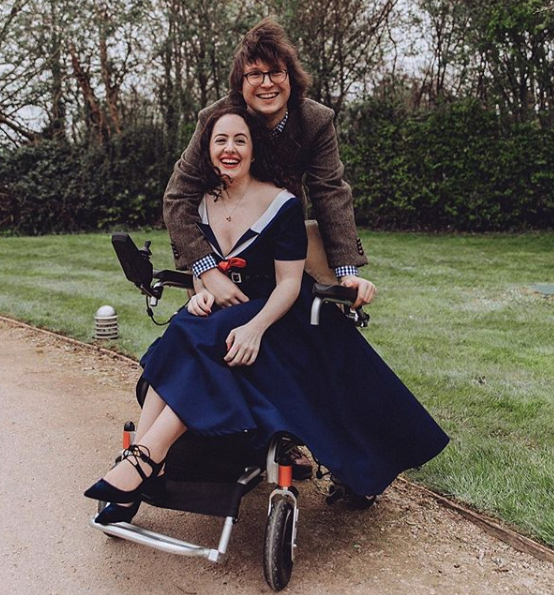 Visible and Invisible Disabilities
Travelling with a disability results in many challenges. Natasha has only been a wheelchair user since she was 21. As a result, she has seen both the sides of travel with that of a visible and invisible disability.
She noticed that when arriving at airports without a wheelchair, the airport staff were less accommodative. To a certain degree, they did not take Natasha's disabilities seriously and were unwilling to provide the appropriate assistance. Although, when she began travelling with a wheelchair, her experiences at airports became a lot better and she felt she was met with more enthusiastic support.
Natasha's advice for people with disabilities when travelling is to do as much research beforehand. For example, read reviews online, speak to other people with disabilities and book access needs in advance. Natasha says it's really important to be strong and stand up for yourself in situations where you think you might not be receiving the assistance that you require.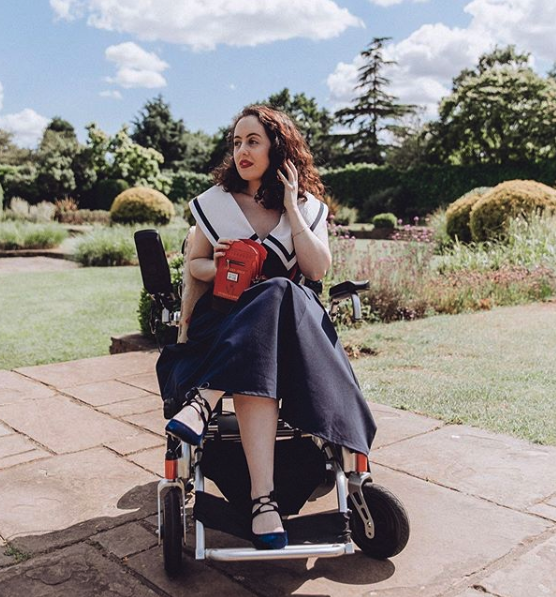 Travel Highlights
One travel highlight, accessibility wise, for Natasha, was Disneyland in Paris. This was her first time travelling with her wheelchair. The train, which is fully accessible, went straight there, everything was flat, they got carer tickets and there were no queues for disabled people. It was the first place where Natasha felt her disability wasn't an issue.
For Natasha, after spending a huge amount of time in bed as a result of her disabilities, it's extremely important to travel. To get outside of her own environment, experience other cultures and meet new people. Even though it is extremely challenging for her, it is something that has always been important to Natasha. She believes that travelling, especially due to her limited-mobility, whether it be within England or abroad, can completely open up her world.
Natasha is really proud of her ability to take negative situations and turn them into something useful and positive. Out of these negative situations, she has managed to find ways to enjoy things that make her really happy alongside elements that are extremely challenging.
Search where you want to go below and use our code Travel30 to get 30 GBP off your first booking with Handiscover!
To keep reading become a member.
Already a member? Login
Over 400 pieces of exclusive content
Tips and advice on Accessible Travel