You can walk and can handle going up a few stairs.

Maximum of 15 steps (1 floor up) to reach the accommodation or manoeuvre into it.

You can only handle one step at a time.

The accommodation is quite accessible, can suit wheelchair users.

You need a fully accessible accommodation.

Maximum thresholds of 3 cm (1 inch), suits wheelchair users.
Coasts & Cliffs
8 of the Top Wheelchair Accessible European Beaches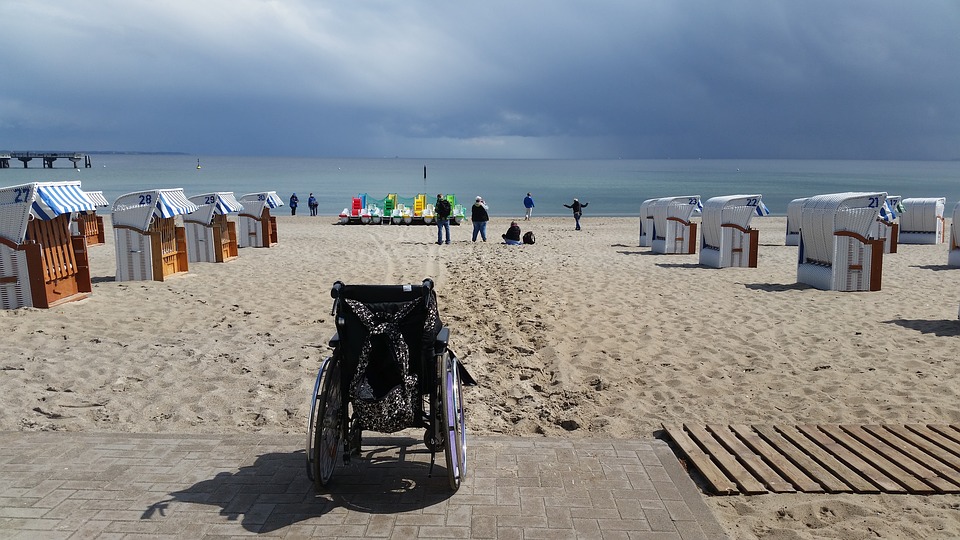 Fancy a European Getaway?
From the sunny Mediterranean to the shores of the Atlantic, Europe has some of the best coastline in the world. Islands, cliffs, and beautiful wheelchair accessible European beaches can all be found here, and Europeans perhaps more than anyone, know how to relax and have fun in the sun.
Type where you want to go and we'll show you some great accessible accommodations!
Video made using InVideo.io
The one drawback is that it can be quite a challenge to find a truly great, wheelchair accessible beach — but don't worry; We've got you covered.
Here's a list of some of the best wheelchair accessible European beaches and what makes them wonderful. So pack your bags and head to one of these amazing beaches!!
Top 8 Wheelchair Accessible European Beaches
#1: Sirens Resort, Greece
The beaches of Greece are a calendar-worthy paradise, and Sirens Resort makes that accessible to travellers of all abilities.
The resort's apartments were designed with wheelchair users in mind, and while close to the bustling tourist town of Loutraki and just an hour and a half from the Athens International Airport, the beaches here are calm, uncrowded and pristine.
Take advantage of the resort's wheelchair accessible taxis and excursions, or just lounge at the beach since it's one of the most accessible beaches in the world — I promise you won't get tired of it!
The entire resort grounds are connected via ramps — ramps that allow you to wheel through lovely gardens and get you not only to the beach but also into the ocean.
It's an amazing and safe way to experience the crystalline waters of the Corinthian Gulf, and all guests are provided with a special sea-wheelchair for free!
#2: Valentino Beach Club, Calabria, Italy
Brand new, this glitzy beach club off the coast of Calabria has taken advantage of technology to make for what is certainly one of the most accessible beaches in Europe and the world. Raised platforms and pathways crisscross the sand, making it easy to wheel around.
But Valentino's true innovation comes from the way they get wheelchair users into the sea: a solar-powered Seatrac system, which is basically like a super chill, relaxed amusement park ride that makes it easy for you to bathe in the salty waters.
Once you get all settled into Seatrac's seat, you'll be taken along a seated track system that brings you right into the water, where you can splash around carefree, without even having to worry about your chair and staying in it.
What is the feeling when you sit on the grass, drink a bottle of wine and enjoy a romantic view? Handiscover prepares you wonderful accessible accommodations in Calabria.
Here are some of the great examples from the website. They are definitely amazing places for nature lovers. You can enjoy the swimming pool and beautiful garden. Click on the pictures to see more detail information about accessibility inside and outside of the property!
If you want to find more information about the disabled friendly accommodations in Calabria, do not hesitate to contact our support team via e-mail: booking@handiscover.com or on the phone: +44 1550 400022 (UK), or simply search below!
#3: Barcelona, Spain
For a major, historic European city, Barcelona has incredibly modern and accessible beaches. If you're interested in seeing the city as well, you'll be happy to know that while surrounded by mountains, it's quite flat and doesn't have many cobblestones like its sister cities in Europe.
While the city is a destination in itself, you might feel so at home on the sunny, sandy coast that you won't want to venture anywhere else!
In Barcelona, accessible beaches have become the norm. Wheel along accessible promenades which parallel the sand, then once you find the perfect spot, take one of the ramps down into the thick of things. After taking a ramp from the sidewalk to the sand, other wooden ramps will take you right up to the sea.
Beach wheelchairs are also available at a number of beach sections on the Barcelona coast, as are wheelchair accessible bathrooms. Barcelona has four long kilometres of coastline, so when you're heading to the beach, just ask to be dropped off anywhere along the accessible promenade and you'll have your pick of spots.
Accessible Accommodations in Barcelona
Check out our accessible accommodations in Barcelona. We provide a variety of holiday rentals and you can always feel comfortable knowing that Handiscover will help you to find the right accessible accommodation for you. Click on our gorgeous accommodations below. Plan your summer holiday with Handiscover rentals in Barcelona!!
Barcelona is definitely a popular destination in Europe. Wanna more useful information about this amazing city?
#4: San Vito lo Capo, Sicily, Italy
Isn't it wonderful when you head off the beaten path? If you find yourself straying from mainland Italy to this tantalizing Mediterranean isle, San Vito lo Capo is an accessible must-see.
Less than two hours from the major seaside city of Palermo, tourists in wheelchairs have headed here for years and have found the beach pleasant and entirely accessible.
The wheel on paths through the sand, or use one of the fun, colourful beach wheelchairs provided by Disability no Limits. If you speak Italian, head to their website to learn more about them — or even if you don't, you can still check out pictures of the beach's accessible features.
Beach wheelchairs at San Vito lo Capo are free, and friendly staff with the No Limits project will even stay by your side as you swim in the turquoise blue Sicilian waters.
To experience a wonderful vacation in Sicily, you deserve a cosy stay. Look at these fantastic houses provided with Handiscover. Just choose what you want based on your mobility and enjoy the very beautiful beaches.
#5: Algarve, Portugal
Okay, so the Algarve is kind of a big region — it technically encompasses around 200 kilometres of coastline across Southern Portugal.
But the reason I'm listing it as one item on this list is that across the region, there are an incredible 55 accessible beaches which have received the Praia Acessivel stamp of approval — that would be approval from an internationally-lauded partnership between Portugal's tourist board and National Institute for Rehabilitation.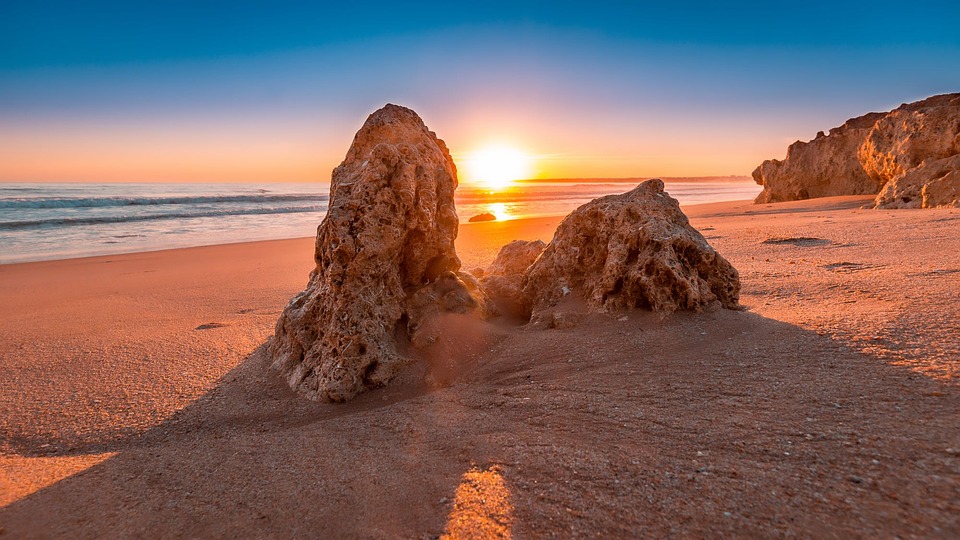 photo: Algarve, Portugal
Pick any Algarve beach with this seal of approval and it will have ramps and paths for wheelchair users, support facilities including first-aid posts, handrails, special parking, accessible toilets and lowered bars and counters at beach facilities.
Not all of the 55 wheelchair accessible European beaches offer "amphibious" wheelchairs – designed so that you can enjoy both the sand and the sea – but a fair number do. Here's a list of both sea and river beaches in various towns across the Algarve which offer ocean- or river-worthy chairs.
#6: Cornwall, England
Historic and picturesque, beaches might not be the first thing that comes to mind when you think about Cornwall… but accessible beaches should be!
More than many other places in Europe, Cornwall has gone out of its way to make sure that everyone can enjoy its beaches. While some of Cornwall's beaches are too steep and rocky, beach wheelchairs can be used when exploring many of them.
In fact, Cornwall Mobility has put together an incredible online resource which lists all of the fantastic places along the coast where beach wheelchairs could be used, as well as where to obtain them if you're headed for that specific beach! In many locations, beach-worthy wheelchairs are provided.
It's a wonderful decision to spend your holiday in Cornwall. Check the accessible houses in Handiscover. You will be proud of your choice!!
Apart from the beautiful beaches, Cornwall is also a breathtaking city with lots of accessible activities. See more about where to go and how to get around Cornwall!!
#7: East Frisia, Germany
Though it's not known for its beaches, Germany has some true seaside jewels which would be a shame for any tourist to miss.
The region of East Frisia (located in northwest Lower Saxony) in particular has a number of wonderful, wheelchair accessible beaches and places to rent a variety of beach wheelchairs, whether motorized or water-ready.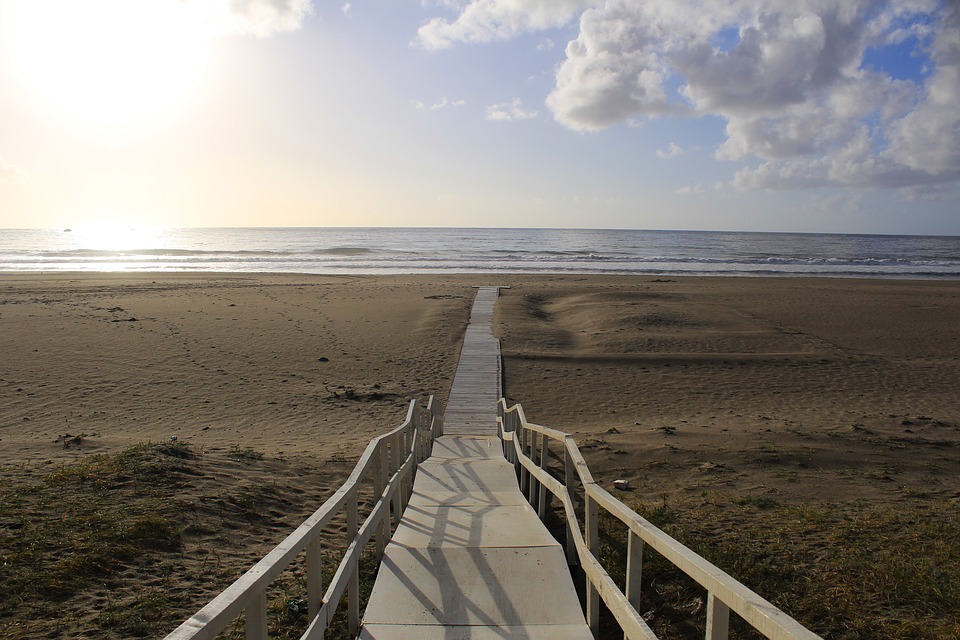 #8: North Berwick, Scotland
If you're looking for an accessible beach in Scotland, this is your best and perhaps only bet. Just 40 minutes from Edinburgh, it makes an excellent day trip from this popular Scottish city — but it's also a coastal gem worthy of a visit in its own right.
Beach Wheelchairs is a charity run out of the North Berwick Community Center, and its noble mission is to make sure that anyone in the area who needs one has access to a beach-worthy wheelchair.
Wheelchairs are available for adults and children, and a walker that works on sand is also available. Plus, they've got a number of different models to choose from.
To reserve your wheelchair (you'll want to do this ahead of time), simply contact the folks at info@beachwheelchairs.org (or, once you're in the UK, you can reach them at 0300 111 2112). They'll teach you how to use it and then set you loose for some fun in the sun!
Anything is Possible!
Whether you're looking for an accessible resort that makes beach-going simple, or whether you'd like to check out the public beach scene, Europe has a wealth of accessible sun, sand, and sea.
Bask under the Sicilian sun, beach-hop along the Portuguese Algarve or take a ramp right into the water in Barcelona, Greece or Calabria.
Whether you're looking for a day-trip or a destination in itself, any of the wheelchair accessible European beaches on this list are sure to leave you salty, sandy and satisfied.
About the Author:

Cory Lee is a wheelchair user, travel addict, and accessible travel writer. On his blog, Curb Free with Cory Lee, he hopes to inspire others to roll out of their comfort zones and see all the beauty our world has to offer.
To keep reading become a member.
Already a member? Login
Over 400 pieces of exclusive content
Tips and advice on Accessible Travel