You can walk and can handle going up a few stairs.

Maximum of 15 steps (1 floor up) to reach the accommodation or manoeuvre into it.

You can only handle one step at a time.

The accommodation is quite accessible, can suit wheelchair users.

You need a fully accessible accommodation.

Maximum thresholds of 3 cm (1 inch), suits wheelchair users.
The Urban Experience
How to Get Around Paris in a Wheelchair: Your Guide to Accessible Transportation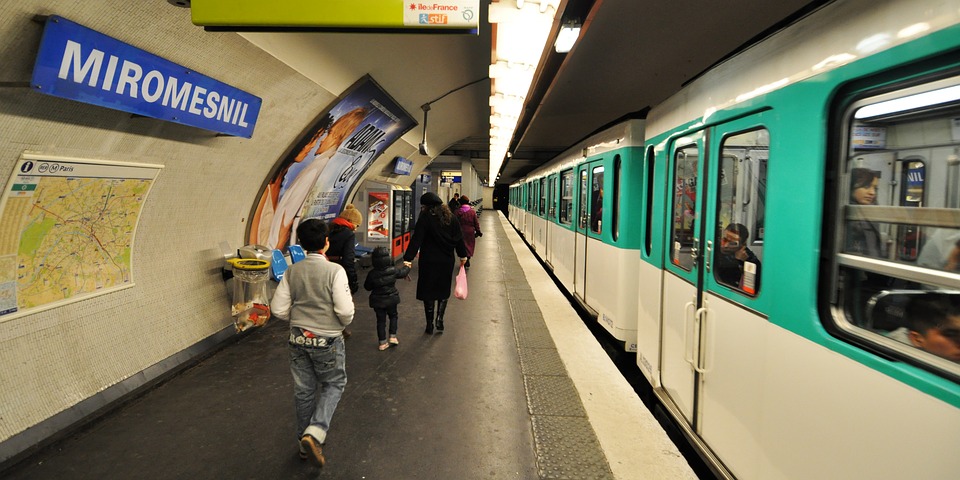 Wheelchair Accessible Paris Transportation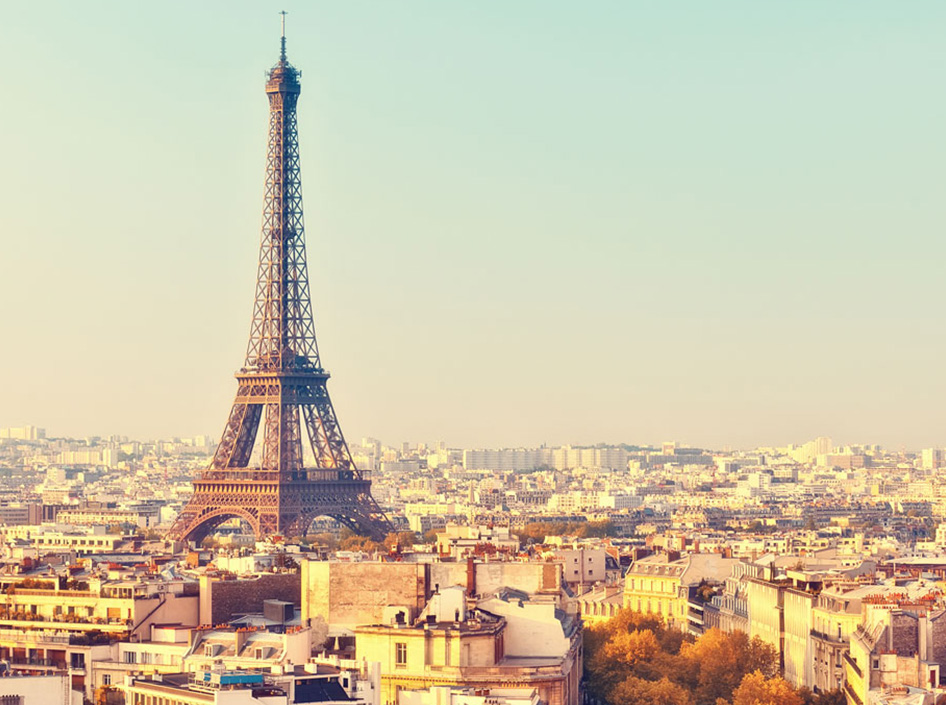 Type where you would like to go and we'll show you the best accessible accommodations in that area!
Travelling to Paris as a wheelchair user can be really challenging, and it's essential that you do plenty of research and planning in advance.
There are lots of old buildings in the city centre that are not accessible, and many of the tourist destinations are far apart from one another.
Therefore, you will need to spend a considerable amount of time travelling by wheelchair accessible Paris transportation.
The best way to get around Paris as a wheelchair user is by using accessible taxis or buses. While there are some accessible Metro lines, only one will bring you to tourist destinations, so you won't be able to rely on the subway. Another train, the RER, can be used to access places like Versailles and Disneyland Paris.
Still, if you are interested in travelling short distances or going for a stroll, there are plenty of areas where you can manoeuvre by wheelchair.
While Paris does present a lot of obstacles for wheelchair users, many of these can be overcome. Read on to learn about the different modes of wheelchair accessible Paris transportation and how they measure up in terms of accessibility.
Walking
Paris sidewalk accessibility is generally good in the tourist areas, with curb cuts at intersections and wide sidewalks. They are usually in good condition and are smoothly paved, without cobblestones.
In some areas, the sidewalks can be uneven and have rather steep curb cuts but you can still manoeuvre well enough in a wheelchair.
The biggest challenge to getting around by wheelchair is the occasional cobblestone street, like around Versailles and some of the churches. Other areas with a lot of cobblestones are the Left Bank and the Latin Quarter.
Most of the tourist attractions are in relatively flat areas, though there are some steep parts. For example, the Pigalle neighbourhood and the areas around the Sacre Cœur Basilica might present some challenges.
Paris is a very expansive city, with twenty different neighbourhoods covering an area of forty square miles. When planning your trip, you will definitely want to consult a map of the city to help you figure out the logistics.
Since the city is so big, the downside to visiting Paris is that many tourist attractions are far apart from each other.
Some of them are a few miles apart, as in the case of the Sacre Cœur Basilica and the Eiffel Tower. You will need to spend quite a bit of time on buses or accessible taxis if you want to see all the major sites.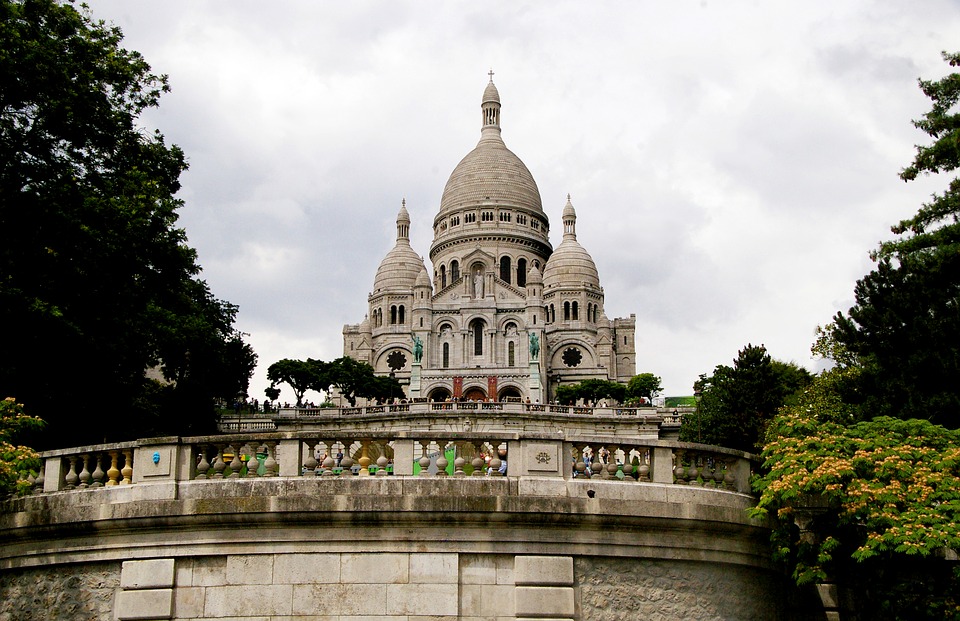 Sacre Cœur Basilica
Accessible Taxis
There are two taxi companies in Paris that have wheelchair accessible vehicles, G7 and Taxi Parisien PMR. These adapted taxis have foldable rear-entry ramps that allow a wheelchair to roll easily in and out. This means you will be able to stay in your wheelchair the entire time.
Each taxi has a secure space and safety straps and can accommodate one manual or electric wheelchair. As an added bonus, they don't need to be ordered in advance.
G7 has a fleet of 120 wheelchair accessible cabs, known as Horizon Taxis. You can call and order one of these Horizon Taxis throughout the day and in the evening, and the fares are the same as for a non-adapted cab.
Of course, if you need to catch a flight or a train, you should make a reservation between 12 and 24 hours in advance. Also, if you need an English-speaking driver, you can request one.
Fun fact about G7 – all their accessible cabs are black or grey Mercedes or Volkswagen vehicles.
Contact info for Taxi Parisien PRM: (website is in French)
Buses
In terms of public wheelchair accessible Paris transportation, your best option is to stick with the buses as much as possible.
There are 63 bus lines in Paris and all of the bus lines feature wheelchair ramps so you can board and exit easily. The majority of the bus stops are adapted as well, with the raised pavement.
Before getting on the buses, you will need to buy your ticket at a Tabac shop, train or Metro station. The buses have handicapped buttons in case you need to get the driver's attention, but try to get the driver's attention when they are pulling up.
Be aware that the doors need to be closed before the ramp is lowered, so the drivers will often let the passengers off, shut the doors, and then extend the ramp.
The ramp will either be at the middle door or the back door. The Paris buses have a special spot for wheelchairs, but there are no tie-downs.
Electric signs on the ceiling will notify you of the next stop and the final stop.
Figuring out the bus routes can be a challenge, and I recommend that you study the routes you will need online ahead of time to help prevent confusion.
Here are links to two maps of the bus routes, which you will probably want to print out:
Infomobi map of accessible public transportation
You can then locate the bus stops here

FYI: You will need to select the UK flag for English, then click the Accessibility and Accessible Lines boxes.
When you are in Paris, you will see most bus stops have a sign indicating which buses stop there and how frequent. Some bus stops are covered, and these will have a map of the bus lines in the area.
Trains/Metro
Paris has several different train options, the Metro, the RER and the SNCF. Here are the differences between them:
The Metro is the subway system within Paris, the RER is the train that goes to the various suburbs of Paris, and the SNCF is the railway system that takes you all across France.
Unfortunately, the Metro is mostly useless for travellers in wheelchairs. There is only one Metro line, the M14, that is both accessible and takes you to popular tourist destinations.
The M14 line is fully accessible and each of the stations has a lift and wide passageways so you can navigate without assistance.
The platforms and the trains are at the same level, and there is no gap. Once you board the train, there are wheelchair spaces opposite the doors.
The M14 starts at the Gare St. Lazare, has stopped for the Louvre (Pyramides Station), and the Notre Dame (Châtelet Station), and also lets you transfer to the RER A and B lines.
There are three accessible RER train lines, the A, B and C lines. You can take a westbound A train to the La Defense business district or an eastbound train to Paris Disneyland.
With the B train, you can travel from Charles de Gaulle Airport to Châtelet Station, which is near the Notre Dame and some accessible hotels.
If you take the C train, you can go to Versailles, but you will probably need to ask an agent for assistance. All accessible stations have elevators and wide passageways to accommodate wheelchairs.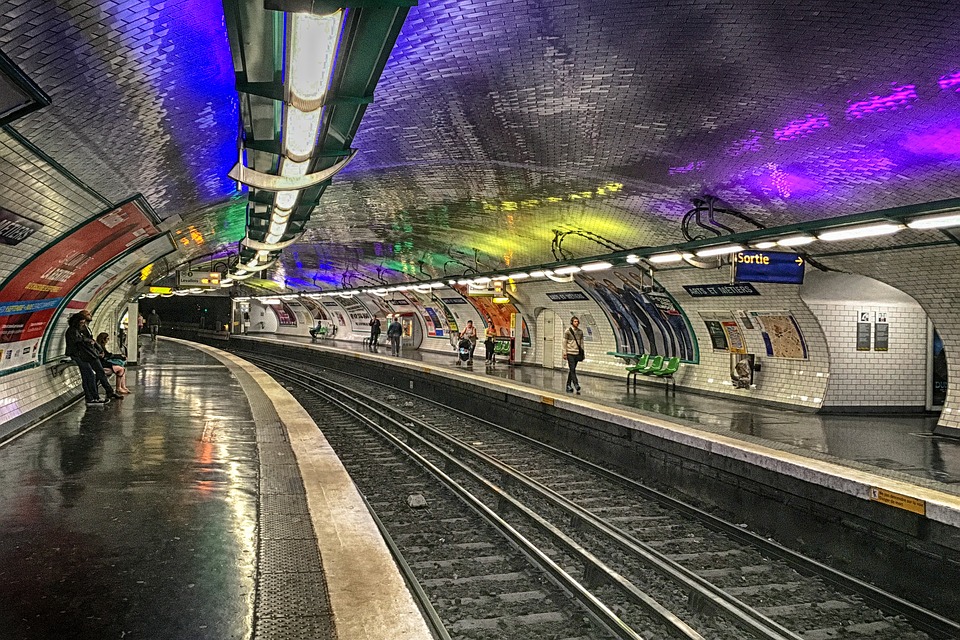 Paris can be a challenging place for a wheelchair user to visit due to its expansiveness and lack of accessibility in many places like the Metro.
The good news is that Paris has been making some advances in recent years, with a fully accessible city bus system, the M14 Metro line, and two taxi companies with specially adapted vehicles.
Despite these advances in wheelchair accessible Paris transportation, if you plan to explore Paris by wheelchair you need to do your homework.
Make sure to consult maps of the city and the bus routes, plan your itinerary and decide on how you will travel between attractions and to your hotels.
With some extra planning, you can certainly enjoy all that the beautiful city of Paris has to offer.
3 Best Accessible Accommodations Paris
Apart from the accessible transportation in Paris, you also need to prepare a comfortable accommodation for yourself ahead. Let Handiscover help you!!
You can always find the most suitable accommodation for you. Here are 3 great examples. If you want more information, just go to the website.
Currently, Handiscover has prepared more than 150,000 hotels in over 50 countries for you. For more information about accessibility inside and outside the property in Paris, do not hesitate to chat with the kind support team via e-mail: booking@handiscover.com or on the phone: +44 1550 400022 (UK)
1 Elysées8 Hotel
Located in the centre of one of the most beautiful neighbourhoods in Paris, Elysées8 Hotel hosts a variety of quiet and timelessly classic rooms that are decorated in a chic and contemporary style.
The Hotel is wheelchair friendly. You can find the nice bathroom with roll-in shower with chair and toilet with grab rails.
Furthermore, there is a short and pleasant stroll from the hotel to the Opera Garnier, the Eglise de la Madeleine and Saint Lazare train station. It is conveniently close to the Metro as well.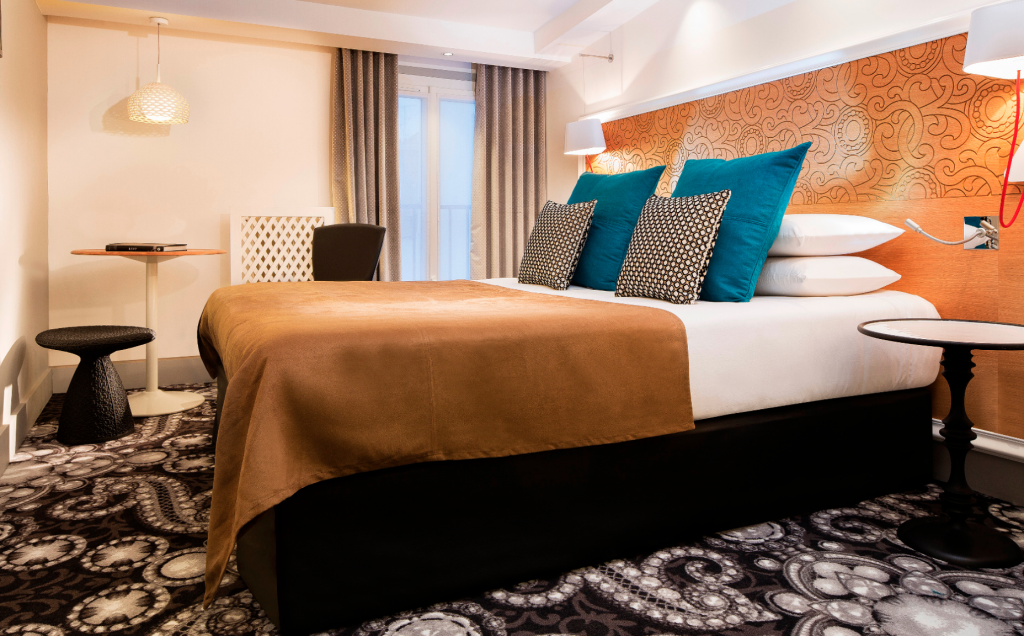 1 Bedroom 1 Bathroom 2 Guests From 104 GBP Per Night
2 Hotel Hor
It is a lovely hotel with the perfect location with restaurants, bars and the North and East train station. Setting out from the hotel, you can take a little step to Gare du Nord.
The clean and well-maintained room is equipped with a great modern bathroom that has the roll-in shower with the chair. Most importantly, the staff here are extremely helpful and friendly. They always provide the best service for you.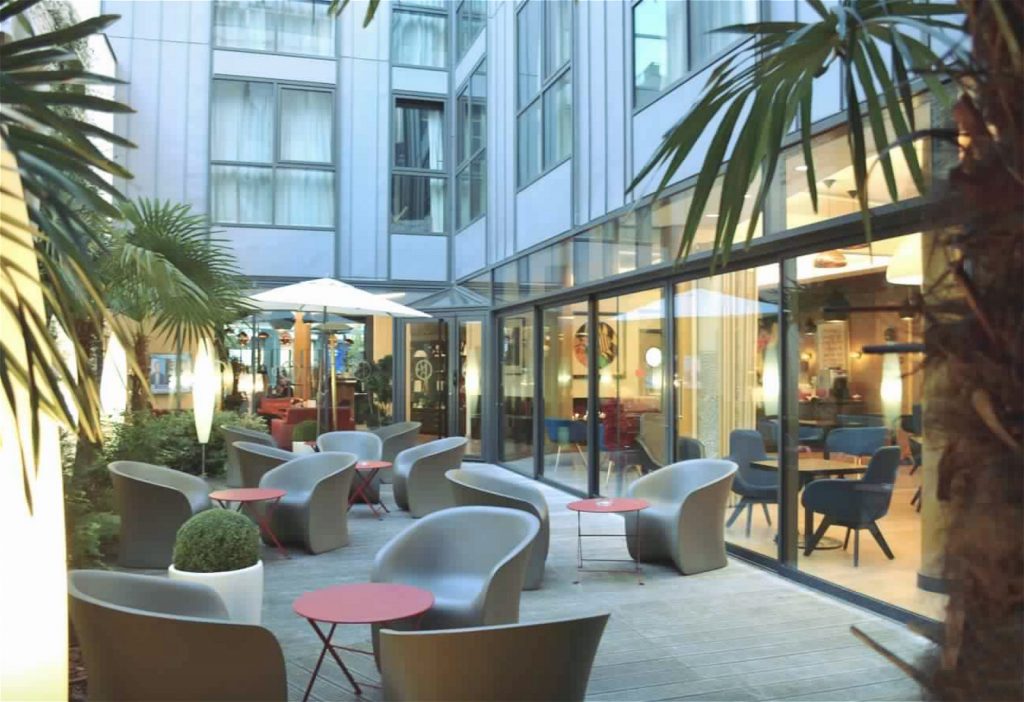 1 Bedroom 1 Bathroom 2 Guests 130 GBP Per Night
3 Hotel Basss
Located close to Blanche and Abbesses Metro stations, in the centre of Montmartre, with an easy access to mythical places, Hotel Basss is definitely a wonderful choice for you.
It is wheelchair friendly with the accessible parking area, bathrooms with roll-in shower and toilets with grab rails. Come to this designed boutique hotel, you will enjoy a cosy stay for a very attractive price!!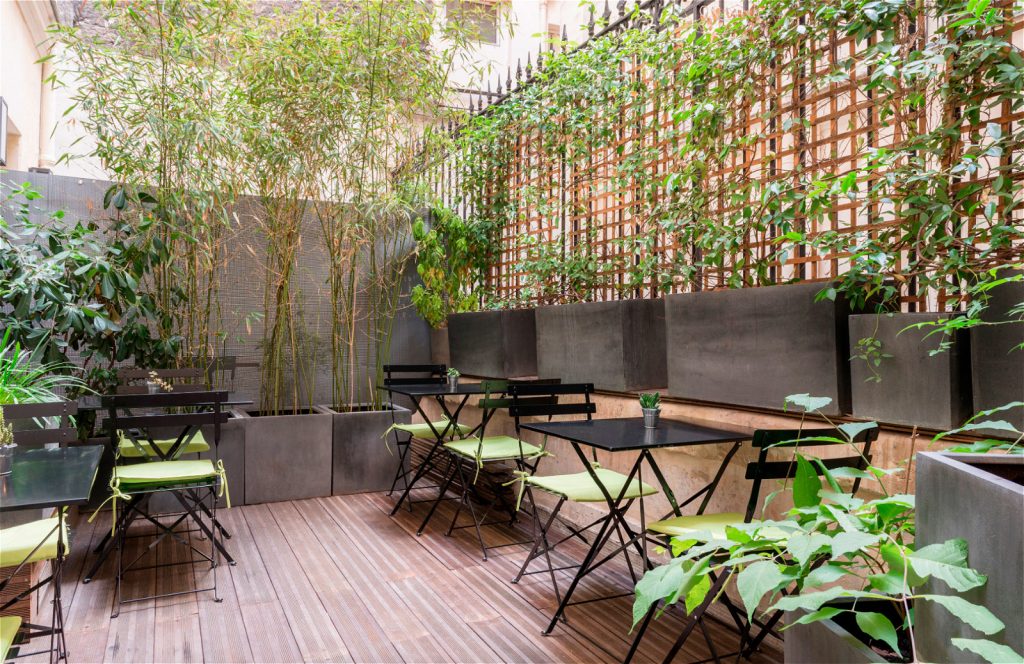 1 Bedroom 1 Bathroom 2 Guests From 86 GBP Per Night
Type where you would like to go and we'll show you some fabulous options for accessible accommodations!
Other Useful Travel Tips!!
Other Popular Destinations and Beaches Around the World!!
About the Author:
Cory Lee is a wheelchair user, travel addict, and accessible travel writer. On his blog, Curb Free with Cory Lee, he hopes to inspire others to roll out of their comfort zones and see all the beauty our world has to offer.
To keep reading become a member.
Already a member? Login
Over 400 pieces of exclusive content
Tips and advice on Accessible Travel