You can walk and can handle going up a few stairs.

Maximum of 15 steps (1 floor up) to reach the accommodation or manoeuvre into it.

You can only handle one step at a time.

The accommodation is quite accessible, can suit wheelchair users.

You need a fully accessible accommodation.

Maximum thresholds of 3 cm (1 inch), suits wheelchair users.
How to Travel for Free (or Almost Free) as a Wheelchair User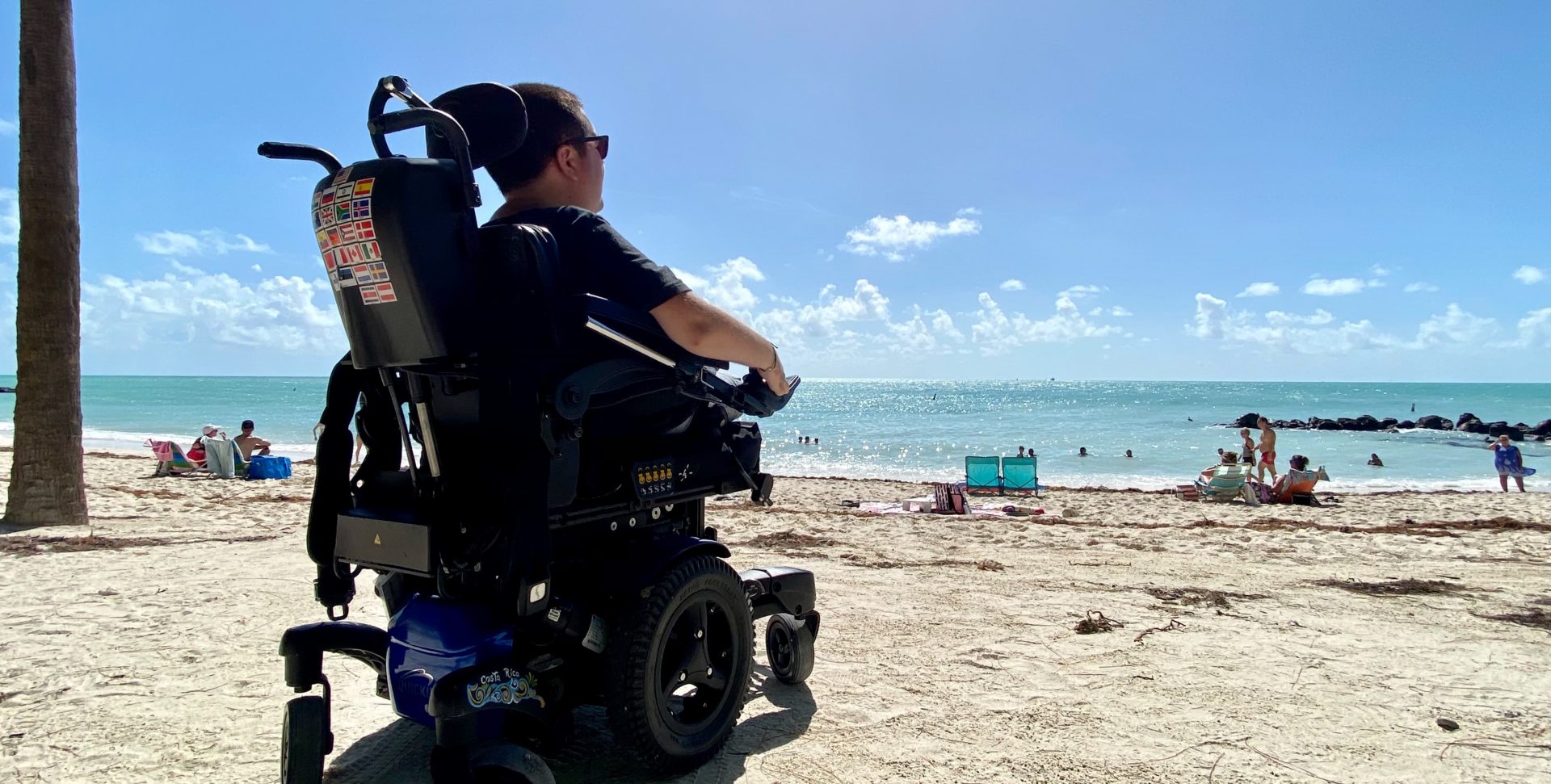 Planning a getaway, from a family vacation to a fun exploration abroad, is always a great undertaking. Taking the time to put the pieces together, from choosing your destination to booking hotels, flights, and excursions is a great way to get excited and celebrate your upcoming trip, whether it's weeks or months away. Along with planning a trip comes the expense, which is often the reason why people don't travel as frequently as they'd like. Sometimes, the cost to travel is just too much.
The following tips provide a bit of insight into how to travel for free, or almost free, by using some insider tips on tracking websites, racking up points, and using your money wisely. These ideas use your ability to spend and save before the trip to help you reduce your trip cost overall and can be applied to your next big traveling adventure.
How to Travel for Free (or Almost Free)
1: Use credit card points
Many big-name credit cards have a rewards system where you can get cash back or earn points by using the card for purchases such as gas, groceries, and online shopping. A way to travel for cheaper is to use this money to pay off your airline tickets or travel booking. To use your credit card points, you can set the reward amount aside as a travel fund in your budgeting, or use the funds later to pay off your credit card after you've purchased your tickets.
The best way to maximize the savings here is to look into the specifics of your credit card's rewards or points system, as often you can choose which area gives you the most savings, such as double points on online shopping. Reviewing your credit card rewards will help you align your spending with your ability to earn more money back months before your trip.
2: Apply for an airline or hotel credit card
Another great way to travel for free or almost free is to use an airline credit card. These cards typically have specific rewards for flying with the specific provider, and it can be a great way to earn free flights, especially if you travel a lot. The best time to apply for an airline credit card is during a trip, as the flight attendant may have a special promotion for those aboard the flight.
This tip doesn't necessarily save for your current trip, but for future trips you can use your points and because you applied during a promotion, you may have more points to use sooner than if you waited and applied at home. There may also be promotions online, so it can be worth it to subscribe to your preferred airline's email list, as they may send you promotions directly to entice more frequent travel.
3: Consider bundling and travel packages
Another great way to save money is to take advantage of the packages destinations may offer, places like theme parks, resort hotels, and even cruises. These travel packages can save you money without needing a travel agent. Make sure to take the time to do the math because you may not need a rental car or other package items. Packages may also save you more money if you're traveling with a group, compared to a solo trip, because things like family packages or groups of four are offered a discount to increase family travel.
Even if you choose not to go the package route, looking at travel packages gives you an idea of the things to do at the destination, hotels that may be popular, and is a good starting point to scour the internet for deals on each piece. Packages may run for times or stay lengths that don't fit with your timeline, but they're always a nice way to see how much the trip could cost, and with research you may be able to find the trip for less elsewhere.
4: Use private web browsing to find the best deal
Travel websites use cookies to track website visitors, which can decrease your chances of finding a deal. By using private web browsing, such as "incognito mode", you will get a fresh set of deals with discount travel websites.
While private web browsing doesn't store your information, it can be harder to remember where you found a deal when trying to compare prices. It's a great way to lock in your plans with the lowest price after all the research you did to save money and travel cheaper.
5: Skip the guidebooks
A popular way to plan a vacation is to use professionally published guidebooks and travel guides to help visitors plan their stay. These can be fun to look at, but ultimately may not provide the most accurate or current information about a destination. A cheaper alternative is to use Google and personal blog posts to research your locations.
This is a great, free way to gather useful and realistic information that may provide clearer insight into your destination over the typical guidebooks and official websites. As a wheelchair user, choosing to read travel blogs that highlight accessibility and first-hand experience will give you a much better idea of if your destination will be accessible, what there is to do there, which restaurants to put on your list, and all the good stuff to take your trip to the next level.
6: Use discount websites to find deals
Lastly, there are a few websites that are specifically designed to help you not only find great deals, but they can also track the destination you want to visit and alert you of any price drop or current promotion. Popular sites include airfare tracker, which allows you to set up alerts, so you don't have to search for deals on a daily basis just to save money.
Sites like this also can highlight what's called "mistake fares" which are airfares offered at a drastically reduced rate. These book quickly so you'll have to be ready to take advantage when they do pop up. Mistake fares are a fun way to plan a trip on a whim, you may find a great deal on the flight and plan the rest of the trip around that.
You can also use Google alerts to set up alerts for airfare, shopping, and other discounts. This will save you some time once the initial alert is established, as Google can email you when something fits your criteria. Choosing to take the time to set this up, in addition to getting on mailing lists for theme parks, airlines, and popular destinations will give you a good base for finding deals without a ton of time and research.
Traveling for free, or almost free, does take a lot of time and effort to find the best deals and book the reservations before the time runs out, but it can be well worth it if you're able to take that dream trip within your budget. These how to travel for free tips are great whether you're planning a dream vacation, or just choosing your next destination.
Check out more of our blog posts!
About the Author:
Cory Lee is a wheelchair user, travel addict, and accessible travel writer. On his blog, Curb Free with Cory Lee, he hopes to inspire others to roll out of their comfort zones and see all the beauty our world has to offer.
To keep reading become a member.
Already a member? Login
Over 400 pieces of exclusive content
Tips and advice on Accessible Travel