You can walk and can handle going up a few stairs.

Maximum of 15 steps (1 floor up) to reach the accommodation or manoeuvre into it.

You can only handle one step at a time.

The accommodation is quite accessible, can suit wheelchair users.

You need a fully accessible accommodation.

Maximum thresholds of 3 cm (1 inch), suits wheelchair users.
10 Awesome Paralympians to Follow This Year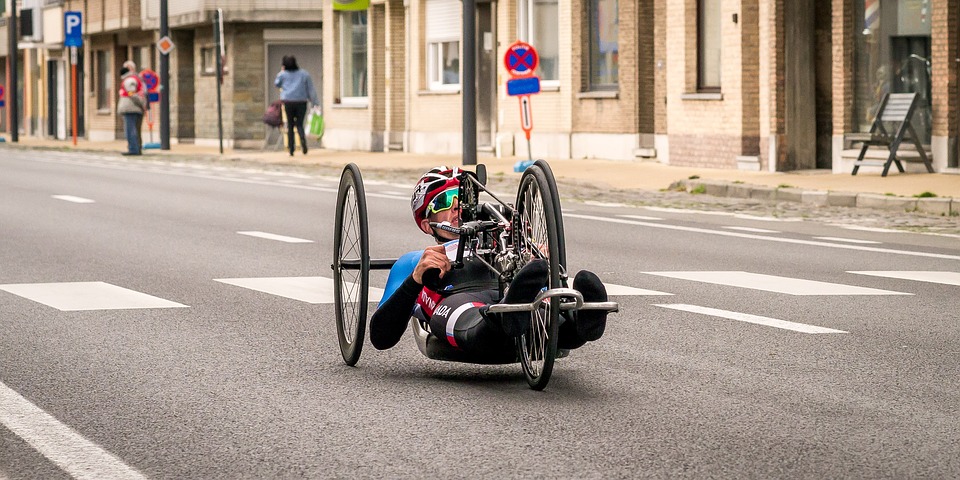 With the 2020 Paralympics taking place at the end of August, now is a great time to read up on the Paralympians to follow and check the schedule to watch the must-see athletes compete in their sports. These 10 Paralympians to follow are competing in this year's games and have an online presence, making it easy to watch them compete in real-time as well as follow their behind-the-scenes activities on Instagram.
10 Paralympians to Follow
1: Markus Rehm, Long jumper, Germany
Markus Rehm, known as The Blade Jumper, is a gold medal winner and has a leg impairment. He won gold in 2016 in the long jump event. He is also fresh off of setting a new long jump world record and recent win at the European Championships, providing a good look into his abilities leading into the 2020 games. Knowing he's in great shape, Markus is ready to defend his title, which makes the long jump a must-see event.
2: David Smith, Boccia, Great Britain
David Smith is a two-time Paralympic champion and a wheelchair user. He won in his sport, Boccia, in 2008 as well as in 2016, and is now looking to win for a third time in 2020. In addition to being a champion athlete, David is also known for his unique hairstyles. When he last competed in the Paralympics, he wore a blue mohawk. Everyone will be watching this year to see David's skill as well as his style, hoping to cheer him on to winning another medal.
3: Ricardo Ten Argiles, Track Cycling, Spain
Ricardo Ten Argiles is an athlete with impairments in both arms and one leg, and has found success as a three-time Paralympic champion in the sport of swimming. In the 2020 games, he will be competing in track cycling, in which he started actively competing in 2017. Ricardo has been a noteworthy competitor this year, as he won gold medals for two events in the world championships and is hoping that success continues in this year's games.
4: Jannik Blair, Wheelchair Basketball, Australia
Jannik Blair is a Paralympic champion and a wheelchair user. He was part of the wheelchair basketball team in 2012 when the team won silver. Jannik and the team are hoping to be competitive this year and place again, bringing another medal home for their country. Wheelchair basketball is a popular Paralympic sport and is a great team sport to follow during the games.
5: Scott Martlew, Canoe Sprint, New Zealand
Scott Martlew has competed in one previous Paralympics in the canoe sprint and has a leg impairment. He is another athlete to watch this year, as he participated in the 2016 Paralympic games where he placed 8th in the canoe sprint. Since then he's more recently competed against able-bodied canoe sprinters in the national championships where he placed 3rd and won bronze. Don't miss out on the action on the water when Scott competes and hopefully places in his event.
6: Zahra Nemati, Archery, Iran
Zahra Nemati is a two-time gold medal winner and a wheelchair user. Her first gold medal was won in 2012 and the second in 2016. She is known as the one to beat, making now the perfect time to get invested in her path to gold in 2020. Zahra is also a must follow athlete because she was the first woman to win a gold medal for Iran and is a champion in her sport, archery.
7: Leani Ratri Oktila, Badminton, Indonesia
Leani Ratri Oktila is champion in her sport, para badminton, and has a limb difference. With para badminton making its Paralympic debut this year in Tokyo, she is an athlete to watch. Leani has had great success in badminton as a three-time world champion, first in 2019 playing women's singles, and in 2017 and 2019 playing mixed doubles. Watching Leani in the 2020 Paralympics is the perfect opportunity to watch a new sport and support a champion in her playing for gold.
8: Yu Chui Yee Alison, Wheelchair Fencing, Hong Kong
Yu Chui Yee Alison is a well-known Paralympic champion in wheelchair fencing, and she is a wheelchair user. Yu Chui Lee Alison debuted in her first Paralympics in 2004 and made it to the podium. That win has propelled her forward to place in every Paralympics since then. Overall, she has won 7 gold medals and 3 silver medals as a Paralympic athlete. This skilled champion is definitely one to watch in the 2020 games to see how the competition stacks up and how many medals she brings home.
9: Sanne Voets, Equestrian, The Netherlands
Sanne Voets is a gold medal champion in Dressage and has a condition that affects her joints and legs. Her win in the 2016 Paralympic games was the first gold medal for her country in equestrian, making her one to watch in the 2020 games. Since 2016 she has also won the world championships in three categories. She will be competing in team, individual, and freestyle this year, giving viewers plenty to watch and space to cheer her on.
10: Amanda Dennis, Goalball, United States
Amanda Dennis is a three-time Paralympic athlete and has a visual impairment. Her first Paralympics was in 2012 where her team placed sixth in Goalball, and in 2016 the team won a bronze medal. This year they're hoping to be fierce competitors and place again among their competition. If you're a fan of team sports, following Amanda and team USA could be a great Paralympic opportunity this year.
There is plenty to see during the 2020 Paralympic games, and these 10 paralympians to follow are all must-see in their sports. Following these athletes gives viewers a range of sports to observe, learn, and support, while watching amazing athletes work hard to find success and earn medals for their country, becoming champions in their sports.
Check out more of our blog posts!
About the Author:
Cory Lee is a wheelchair user, travel addict, and accessible travel writer. On his blog, Curb Free with Cory Lee, he hopes to inspire others to roll out of their comfort zones and see all the beauty our world has to offer.
To keep reading become a member.
Already a member? Login
Over 400 pieces of exclusive content
Tips and advice on Accessible Travel