You can walk and can handle going up a few stairs.

Maximum of 15 steps (1 floor up) to reach the accommodation or manoeuvre into it.

You can only handle one step at a time.

The accommodation is quite accessible, can suit wheelchair users.

You need a fully accessible accommodation.

Maximum thresholds of 3 cm (1 inch), suits wheelchair users.
Why You Should Plan Your Dream Trip Now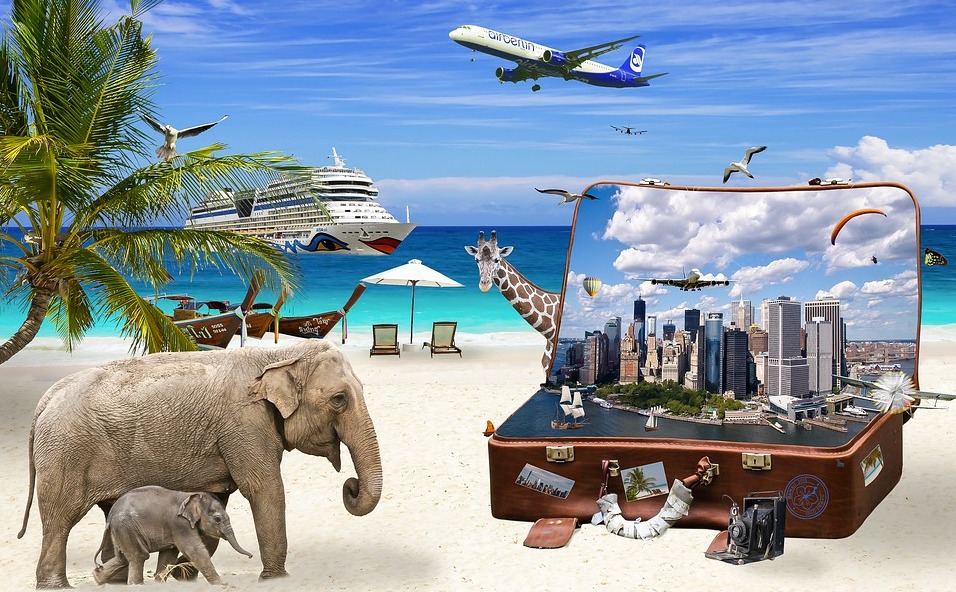 Now is the perfect time for planning your dream trip, as there are so many resources available to help you create your ideal itinerary and lots of inspiration online in the form of blogs, Instagram posts, and websites. It's also the perfect time to take advantage of travel deals, as many hotels, airlines, and destinations are packaging vacations to inspire travelers to plan and take that trip they've been dreaming about.
Whether you're taking the first step to make your dream trip a reality or are further along and ready to get into the details to make that trip happen, these reasons why you should plan your dream trip now will get you inspired, and help you make that trip happen very soon.
1: Inspiration is everywhere
The first reason why you should plan your dream trip now is because inspiration is everywhere and very easy to access. Everyone has that one destination they would love to visit if only things came together, but now is the perfect time to take that dream trip seriously and make it happen. There are great ways to get started planning your dream trip, and the first way is to find some inspiration.
Wherever your dream trip takes you, get on YouTube to watch travel vlogs, tours, or even driving videos to see what your dream trip could look like. There are travel videos for almost every destination and getting to see this place you've been dreaming of as an attainable trip on the screen is the best way to take your trip from a dream to a reality.
Alongside YouTube content, there are amazing travel blogs and websites to help provide useful information about destinations and accessibility along with ways to travel, such as planning flights, saving money, and how to create your own itinerary, booking things to do and places to visit within a specific destination.
Both YouTube vlogs and travel websites provide the best inspiration to help you see that your dream trip can in fact become a reality. Other people who are just like you are visiting this destination, taking that cruise, or even going to an amusement park and having a great time. No matter where your trip is, a few hours away to clear across the globe, spending some time watching the experience others documented will help you realize your dream and provide tips on how to get started.
Starting your trip plans here also gives you the opportunity to see how some of the road blocks you may have in your mind, things that are stopping you from turning that dream trip into a real trip, can be overcome, and this is exactly what you need to be able to start planning.
2: Turn that dream into reality
Now that you've seen your dream trip in the lives of others, it's time to realize that you are in control of when and how you take your dream trip. With the information and inspiration you gathered from social media, websites, and information pages, now it's time to turn that dream into a reality.
Turning your dream into reality means you have to get your dreams on paper. Writing or typing out what you want in your dream trip, what makes it a dream, is the best way to turn your dream into a goal. As they say "the difference between a dream and a goal is a plan."
Allow yourself to indulge in your dream and write down your ideas, so that you have a place to plan from and can start putting research behind each piece, which will make everything so much more real and gives you a path to making your dream a reality.
3: All travel starts with a plan
You should plan your dream trip now because you need to make that dream come true sometime. It's great to have a dream, to lust after visiting a place, but there's so much power and fulfillment in knowing that you made that dream happen and accomplished it.
You should start planning now to see how feasible it is to actually take that dream trip. Now that you've put your dream on paper, you can start researching parts and pieces to see how close you are to taking that trip.
With the right planning and preparation, you can take your dream trip and do all the things you have been wanting. The plan is the key, as it gives you a space to collect all the ideas you have, from places to visit, things to eat, activities to do, and who to travel with. This is your starting point, now you have a space to research about each item and figure how to include it in your trip as well as how much it will cost and how long each piece will take. The two biggest roadblocks to planning are time and money, and having a plan with a space to research will help you overcome these obstacles.
4: Travel is cheaper right now
A practical reason to plan your dream trip now is because in the current market, travel is cheap. After last year, many airlines, hotels, and vacation packages are cheaper than they were in previous years. By starting to plan now, you can discover the discount packages, unique opportunities, and see that maybe your dream trip can happen sooner than you thought.
This is especially true if your main blocker has been the cost of your dream trip. You may be able to save on airfare or hotel stays with the current package options. With a lot of these packages, you can plan almost a full year in advance, so don't let the urgency of right now get in the way.
Take your plan and look into flights, airfare, and excursions to see if you can book things within your price range. Using the opportunity to book something for next year will give you space to continue research and preparation, while also taking advantage of the cheaper travel opportunities.
5: Plan to save now, travel later
Planning your dream trip now is important because along with the cheaper travel opportunities, being able to plan now for travel later gives you time to save money while you plan. If you start planning now, you can figure out how much the trip will cost, which puts you in the perfect position to shop for deals and book your trip for months or a year into the future.
Planning right now shows you what you need to do to make it a reality, so having a plan can help steer your future financial savings, allow you to save time away from work, learn about your credit card benefits, and even gives you time to join a travel club to earn airline miles, hotel points, or other discounts.
It's important to remember that planning your dream trip now doesn't necessarily mean that you have to take your dream trip in the next year, and maybe that's what has been stopping you from planning in the first place. Some trips, especially big dream trips, can take years to plan and save for, but planning is the best first step.
Check out more of our blog posts!
About the Author:
Cory Lee is a wheelchair user, travel addict, and accessible travel writer. On his blog, Curb Free with Cory Lee, he hopes to inspire others to roll out of their comfort zones and see all the beauty our world has to offer.
To keep reading become a member.
Already a member? Login
Over 400 pieces of exclusive content
Tips and advice on Accessible Travel